Just a year after the closing of the nightclub Ziegfeld's, one of the founders of the famed club has died.
Christian Jansen III, known to friends as Chris, died of heart failure and pneumonia on Friday, Aug. 31, at the Anne Arundel Medical Center in Annapolis. His death came a little more than a year after living in the dream home he designed in Thailand, according to his longtime partner, Steven Dellerba. He was 61.
"It was beautiful," Dellerba, 42, says of the five-bedroom home that the couple lived in while in Thailand. "They actually hand-crafted it, and built it."
It resembled paradise, Dellerba says, and included a large swimming pool decorated with statues of dolphins, a large wall covering the house with ornamental Asian lanterns, and lots of palm trees throughout.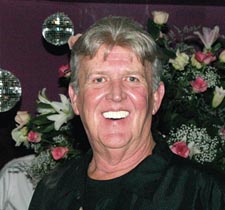 Chris Jansen
Jansen bought property in Thailand after visiting friends there about five years ago, Dellerba says. Every year since he had spent more time in the country, eventually designing their home there.
"Chris was good at architectural design," Dellerba adds. "He didn't have a degree in it, but he dabbled it and really enjoyed doing it."
Jansen, a native of Roanoke, Va., whose service in the U.S. Air Force included a stint as the chief steward of Air Force One during President Lyndon Johnson's term, was well-known among nightlife and gay circles as the co-owner of Phase 1, a lesbian bar located in Southeast, which he opened with longtime friend Allen Carroll in 1971.
Three years after opening Phase 1, they launched The Other Side, also in Southeast, which would eventually evolve into Ziegfeld's/Secrets, before being shut down in 2006 to make way for the city's baseball stadium.
"He was a fun, lovable, over-the-top humorous man," says Donnell Robinson, who performed at Ziegfeld's as Ella Fitzgerald for more than 25 years. "He had a great personality, he just enjoyed life."
Clifton Whitt worked as the dancer manager at Ziegfeld's/Secrets for nearly three years before it closed.
"Chris and Allen were important in the history of the gay bar world in D.C." he says. "They have always given the lesbian community a place to go."
Jansen and Carroll, 66, met while working at two of the city's early gay bars. Jansen worked at Johnny's and Carroll worked at Johanna's, both located in Southeast.
They met while in separate cars at a red traffic light, Carroll says.
"He looked over at me, and I looked over at him," Carroll recalls. "And I said, 'You want to go have coffee?' And that's how it all began.
"We were lovers for 16 years, and then we were friends."
Carroll says he spent the last three-and-a-half months before Jansen's death in Thailand with him, before bringing him back to the states.
"He was sick and the doctor wouldn't approve [the trip]," he says. "Finally he was well enough to go."
Upon his return, Carroll says Jansen was taken to George Washington University Hospital, and later taken to his home in Annapolis where he stayed for about three days before he relapsed.
Jansen, who was buried Sept. 4 at the Cedarlawn Memorial Park in Roanoke, is survived by a sister, Vicky Amos; a niece, Kristina Largen; great niece and nephew Hannah and Ryan Largen; and several friends in the metropolitan Washington D.C. area.
After Jansen's romantic relationship with Carroll ended, the duo remained business partners and close friends.
"It was a relationship that you have once in a lifetime," Carroll says. "He just loved life, and his personality showed it."
Jansen met Dellerba in 1989.
"I had a limousine company and he needed some transportation for his performers and wanted to buy some limos," Dellerba says. "We met and went down to the club, and got pretty tight, and it just went on from there."
Whitt says Jansen was popular and "well-liked."
"Because he was so tall, and had such a presence and a smile, that when he walked into a room, everybody paid attention. He was always welcomed, always well-liked and always popular with everybody."