Like space, Across the Universe has supernovas shining bright, and black holes that suck all matter into oblivion. In between, there are a lot of Beatles songs.
Acclaimed director Julie Taymor's new film is an ambitious attempt to capture the '60s using Vietnam as the backdrop and the music of the Beatles not just as soundtrack, but script. Think Moulin Rouge. In fact, the opening number "Girl" is so reminiscent of Moulin Rouge's commencement with "Lonely Boy" that the comparison is impossible to miss. It's not the only similarity between the two, but Baz Luhrmann created a far superior film to Taymor.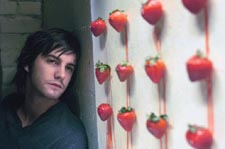 A Beatles bloodletting: Sturgess
That's not to say that Across the Universe doesn't have flashes of brilliance, but it's the darkness in between those flashes — that become fewer and further between as the film drags on — that dulls the shine.
Jude (Jim Sturgess) is a ship welder in Liverpool — home to those other famous Liverpudlians, the Beatles — who travels to Princeton University in search of his father. Though his family reunion is less than loving, Jude befriends soon-to-be dropout Max (Joe Anderson) and they head off to Greenwich Village where a commune-type apartment allows for all sorts of characters to populate their lives. This eclectic mix includes the Janice Joplin-channeling Sadie (Dana Fuchs), Jimi Hendrix-wannabe JoJo (Martin Luther McCoy), and lesbian Prudence (T.J. Carpio) who literally just comes through the window one night. But it's the Village in the '60s, man, so it's all cool.
ACROSS THE UNIVERSE

Starring
Jim Sturgess, Evan Rachel Wood
Rated PG-13
131 Minutes
Area Theaters
Joining them is Max's picture-perfect sister, Lucy (Evan Rachel Wood), who has already lost her boyfriend in the war. When Max is drafted, her passion to protest the war is only matched by her passion for Jude. As her involvement with the peace movement leads her to become more militant and Jude becomes more withdrawn, their relationship threatens to become another casualty of war.
Across the Universe comes so close to being an experience that could leave you gasping for breath that, watching it, you mourn the film that could have been. Taymor creates magic with the musical numbers in the film. Using everything from dancing businessmen to gospel choirs, she evokes emotions with song that remind you of her stage days with The Lion King.
Additionally, there are moments — big and small — that demonstrate what Taymor can accomplish: rows of bleeding strawberries pinned to the wall; the imaginary joint that produces smoke when exhaled; and Prudence's "I Want to Hold Your Hand" lesbian-serenade with football players choreographed as tackling backup dancers. But then there are moments when it feels as though Taymor is trying too hard. For example, halfway through the film we're taken on a psychedelic trip with Dr. Robert (Bono) and Mr. Kite (Eddie Izzard), which crosses the line from innovative to extraneous. Even with the cameos, it's one of those bad trips you wish would just end.
Ultimately it's the sappy love story of Jude and Lucy that fills the space between the songs that's the film's greatest liability. Sturgess is downright dreamy as Jude — he's cute, got a sexy accent, and can even sing. Meanwhile Wood is beautiful, passionate, and gives Lucy real independence and spirit. But their story is just so formulaic and stilted that it never finds its groove.
The supporting cast also falls through the plot holes. Poor Max is sent to war — with great fanfare — but his resolution is given short shrift. Though their story is tangential at times, Fuchs and McCoy are wonderfully cast as echoes of real life musicians of the day. Their performances alone justify inclusion in the film. Sadly they're relegated to little more than music videos between other scenes.
It's clear that Taymor dreams big and had a vision for her movie that she mostly captured. Ultimately, the plot barely gives her the vehicle needed to share the vision, which can be visually and aurally stunning. For those moments of beauty and magic, Across the Universe is a fanciful world worth inhabiting. But enjoy the moment while you can — it doesn't last.
From YouTube:

Across the Universe: Trailer