What happens when a dedicated scene idolizes female vocal pyrotechnics a tad too much? In today's gay club scene, you could say Jason Walker is one result.
Jason Walker shrilly shouts as the startling title track to his new album kicks off. "He's gay, he's straight, he's black and he's white. He'll be anything you want him to be tonight." He'll even be a woman!
No, Walker is not a woman — he's no female diva — but he sounds like one on record. He may have only one X chromosome, but he's got a voice big enough for two — and both mark the spot where the shrinking and segmenting gay club scene seems to be looking for the next star.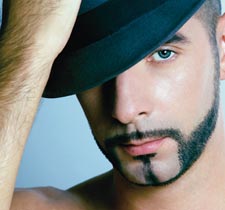 Dude sounds like a lady: Walker
With a few obvious exceptions, there hasn't been much to inspire gay diva devotees these past few years. Most of the women who ruled the '90s club roost have failed to keep us crowing, and most of their progeny have failed to really ruffle our feathers. And not for lack of trying.
It's always seemed a bit sad anyway that all our gay love is spread to straight women, not men. But then, not too many men have tried. Jason Walker is one exception. Walker occasionally sounds like the man that he is — and even a couple times he sounds like the gay man that he is, addressing his fellow travelers in a manner that's refreshing to hear because it's still so rare. But most of the time, Walker sounds like Jasonetta. And while it may be too much to take all of the time, and it certainly takes a while to get used to, Walker has managed to score several club hits over the past couple years and recorded an impressive debut, This Is My Life, produced with Junior Vasquez. Two years later, Flexible (


), at its best, offers more of the same. It too should generate several club hits. But it's not nearly as enjoyable or as consistent.
"Flexible" is not an auspicious start to an album that actually grows on you, both as it goes and as you listen to it repeatedly. First single "I Can't Get You Off My Mind" has full-on house energy reminiscent of Junior Vasquez's glory days, when he was practically the only DJ that mattered, and whatever he played became hits.
Advertisement

| | | |
| --- | --- | --- |
| Hotel Costes: Vol 10 | Jason Walker: This is My Life (2005) | Anthony Callea |
In fact, the house energy that Vasquez patented at Twilo is stamped all over this album, and it shows for the most part to be either of a timeless sort or at least a sound that has yet to lose all of its luster. "This Time Baby" features Walker drawing inspiration from the Freemasons, themselves the leading new-school champions of that old-house sound. The song gradually builds and builds in the manner of disco/electronica pioneer Giorgio Moroder and his work with Donna Summer. "Give me one more chance to prove my love," Walker sings, even though there's no need to do that here. More perfectly realized songs like this and his love — and ours — would be proven beyond a doubt. Unfortunately, there's something not quite right with most of the other tracks here, be it stilted arrangements or especially overdrawn vocals. Or unconvincing feeling, such as on "Confusion."
"Confusion" is actually a dazzler of a song, in the mold of '90s R&B, especially of the British persuasion (especially Craig David). It also implicitly channels Justin Timberlake. That is, up until the bridge, when Walker takes his emulating of Timberlake or Usher too far and breathily coos, "Gurl! Uunh." Nothing about it works: The effect is not seductive, sexual or even believable, and Walker is too serious to come off as playful or camp. It's embarrassing.
And that's not all to get embarrassed by here. Later on, Walker invites you to "Watch Me Dance." Well, watching him dance would surely be better than listening to him shout about it here. "You can watch me dance in the morning,… watch me dance in the evening/Just as long as the music's on, you better get out of my way." Okay, we will then. No need for that sass.
We don't want a man who acts like a diva. In this case, we just want one who often sounds like one. When that Walker is around, he's worth spending time with. But too often, he's too busy showing off how flexible he is, trying to please too many, with too much pyrotechnics, instead pleasing too few, who inevitably get burned along the way.
From YouTube

Jason Walker, "No More," Live