WALK ALONG 12TH Street NE, near the intersection with Newton Street, and Washington begins to feel downright homey. In this rather bucolic corner of the capital, amidst the trees and quiet, there is a string of shops and restaurants, flower boxes and strollers. You could almost be forgiven for expecting Aunt Bea to turn a corner and ask if you've seen Opie.
Despite the gruesome triple homicide in 2003 at one of Brookland's most iconic venues, Colonel Brooks Tavern, this neighborhood looks every bit the quintessential urban village. And things just keep looking up.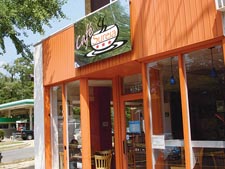 Cafe Sureia
"Since I've moved in, there's been a bigger police presence, more development," says Marcel Gaines, who's lived about eight blocks from Brookland's busy 12th Street strip since 2004. "The streets are much quieter. You used to hear people in the streets. It feels much safer than when I first moved here."
Sitting in the shadow of the gigantic dome of the Basilica of the National Shrine of the Immaculate Conception, a stone's throw from the manicured lawns and vowed silences of the campus of the Catholic University of America, Brookland may draw upon its institutional neighbors for a sense of serenity. Really, it's hard to walk along 12th Street, past spots like Café Sureia, the CVS fashioned from an old theater, Brookland Hardware and the rest, down to the festive and welcoming Colonel Brooks and adjacent Island Jim's Crab Shack & Tiki Bar at Monroe and Ninth Streets NE, without feeling a sense of serendipity. It's just that cute. That's not to say that Brookland residents don't find the more residential corners of the neighborhood equally alluring.
"The 12th Street area is more gentrified. We're more east of that," says Tim Helm, who lives in a single-family, detached home he bought about four years ago, which he shares with an African college student he sponsors, and two cats. "On our block, people know each other. It's very friendly…. It's a predominantly African-American block, multi-generational. There is a sense of community. It's the first place I've lived where I can sit on my front porch and name every neighbor I see. The whole, little scene down on 12th Street, I don't participate in at all. But Colonel Brooks Tavern is a favorite spot for after-church brunch. It's a very easy and open place, less than five minutes from the house."
Gaines says that, like Helm, he has not participated much in the 12th Street hubbub. That doesn't mean, however, that his Brookland reality is the same as Helm's. Unlike Helm, Gaines was a first-time homebuyer when he came to Brookland from Petworth, though not ready for a full-size house of his own.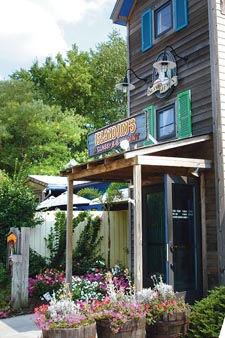 Island Jim's in Brookland
"I have a condo — it's an apartment that was gutted and redone," Gaines says, describing his bit of Brookland as one less filled with long-established families than with young pioneers. "Most of my block is old apartment buildings turned into condos in the past couple years. There are a lot of young people. There aren't too many kids or much traffic. Brookland is pretty quiet. It's like you're in the city, but you're away."
The club Delta Elite, on 10th Street NE, a favorite among area African-American gay men, has been serving clientele for years. But there are other signs of gay life and gay-friendliness brimming in Brookland.
"I've found Brookland to be very welcoming," observes Helm. "We were moving into a section with not many GLBT folks, and you're always a little concerned about your reception. But the concerns of the neighbors were the same as any: Are you going to be a good neighbor? When they saw that we were, we were as welcome as anyone on the block."
Gaines finds his block to be a bit more gay than Helm's, saying, "This is probably the most gay-friendly neighborhood I've ever lived in. There are two other units in my building with GLBT people. There's a presence, but it's not huge. You'll see the rainbow flag on some people's houses, maybe a gay sticker. It's growing."
That the cost to join the Brookland club is reasonable — along with having a Red Line Metro stop about two blocks from the 12th Street corridor — just adds to the charm.
For rentals, $1,700 per month equals a two-bedroom apartment within easy walking distance of everything Brookland has to offer. A bit further out, but only five blocks from the Metro, a two-bedroom, newly refurbished apartment goes for $1,200.
Near the new branch of the Yes! Organic Market on 12th Street NE, a two-bedroom condo with renovated bathroom and updated kitchen is being offered for $294,000. On a quiet edge of Brookland, $550,000 is asking price for a three-bedroom, two-and-a-half bathroom house with a large yard, completely gutted and restored less than a year ago.
With all that Brookland has going for it, Helm is clear on what he doesn't want for his neighborhood: "It doesn't need any publicity!" As far as Helm is concerned, things are great just the way they are.
"My first home was at 10th and N Streets downtown," says Helm, 49, who first moved to Washington in 1989. "That was kind of in the heart of the gay community. I've rented at 15th and Massachusetts NW. This was my first venture out of the center of the city. And in terms of living situation, it's the best choice I've made in my life."
---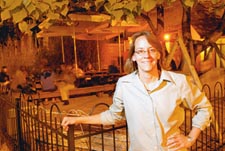 Lyn Stoesen
IT'S URBAN, IT'S GRITTY and it's got gravlax. Welcome to D.C.'s co-mingled Petworth and Park View neighborhoods.
So very residential once upon a time, the vibe that flows outward from the neighborhood's Georgia Avenue-Petworth Metro station at the intersection of Georgia and New Hampshire Avenues NW is becoming ever more metropolitan.
Served at Domku Café, on Upshur Street NW, which specializes in Scandinavian and Baltic fare, the afore-mentioned salmon — gravlax — is a hint of hip-ness that has landed here.
"There are some tricky blocks, but I see development coming over now on Georgia," says local Lyn Stoesen. "There is sort of a leak-over effect from Columbia Heights and the Howard University corridor."
A stickler for details, Stoesen is quick to point out that her home on Warder Street NW, running two blocks east of and parallel to Georgia Avenue, officially sits in Park View. It's a locale that gives her a good vantage point to compare Petworth-Park View to the rapidly transforming Columbia Heights neighborhood, as the namesake Metro stops are roughly equidistant from her single-family home, which she's occupied for seven years.
"I do like the proximity to the Metro. I do like Temperance Hall. And there are a number of things going on 11th Street and Wonderland [Ballroom, previously Nob Hill, among the oldest black gay bars in the country], Red Rocks pizza, which is pretty good. I was just there, and there were definitely gay people," says Stoesen.
According to the District government's online neighborhood maps, the Petworth Metro is the southernmost point of Petworth, extending west to Rock Creek Park, eastward a bit past North Capitol Street, and north to Delafield Place, roughly. Park View, meanwhile, falls south of the Petworth-Georgia Avenue Metro, to Morton Street NW, bordered east to west loosely by 13th Street and Park Place NW.
However you slice it, it's an area whose proximities to Adams Morgan, Mount Pleasant, Columbia Heights, Howard and Catholic universities, and two Metro stops make it very accessible. Not so accessible, however, as to be so prohibitively expensive.
Take Sterling Washington, for example. He's roaming around a three-bedroom, two-bath apartment by himself for $1,200 per month, about four blocks from the Metro.
"I'm kind of a packrat, so I need lots a space," he says with a laugh. "It's in a converted townhouse. The landlord put down new carpet, painted, updated the kitchen and added French doors — they open into my bedroom. And there's a parking spot in the back."
Working at the relatively new headquarters of Us Helping Us, the local organization specializing in HIV/AIDS prevention and services for gay and bisexual black men, which sits across from the Petworth Metro, Washington's quick, pedestrian commute is another plus. That walk, though, is along some of the tough streets that help keep the housing prices low.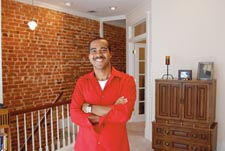 Sterling Washington
"Everything is fine till you walk out the door," warns Washington, pointing to an adjacent housing project as something of a trouble spot. "It's not the best neighborhood. I don't have much interaction with the neighbors…. [But] one of the good things about Petworth is it's called 'up and coming,' so the rent's not outrageous."
There are other relative bargains to be found here. Four blocks from the Metro, sits a four-bedroom, two-bath, fully renovated row house on offer for $489,000. That includes an eat-in kitchen, hardwood floors and rear patio with a security fence. Renovated, one-bedroom basement apartments near the Metro go for about $1,000 to $1,500 per month, with amenities like central air and stainless-steel appliances.
While having found a competitively priced condo a few blocks south of Washington, at Lamont Street and Georgia Avenue, Brent Elrod and John Martin share some of Washington's reservations about the neighborhood. They've been living in the recently renovated Lamont Lofts for nearly two years. And while they've not been victims of crime, they say they've often felt uneasy.
"There have been a couple instances where I've felt threatened on that walk from the Georgia Avenue-Petworth Metro," says Elrod, adding that someone on the street once threw something inconsequential at him. "I just kept walking.
"It's transitional," he continues, "meaning that gentrification is going on. There is still a level of poverty that's evident, especially when you walk up Georgia Avenue and get panhandled frequently."
Says Martin, Elrod's partner, "Georgia Avenue seems to be kind of trashy, meaning you'll literally see trash on the streets, and a lot of loitering. That's bothersome. I've had someone threaten me, a person who was angry, probably drunk."
For these two — and, it seems, for a growing number of residents like them — Petworth's rough edges don't outweigh getting a good deal on a New York-style loft with 11-foot ceilings, a wall of windows, polished-concrete floors and upscale kitchen appliances. And that's just for starters.
"The proximity to Rock Creek Park is one of the draws for me," Elrod says, starting his list of Petworth-Parkview plusses. "It's about five minutes away by bike. I certainly like the proximity to the evolving 14th Street corridor. Domku is great. I like Temperance Hall. It draws a mix…. It's primarily straight, but gay, too."
Elrod and Martin both say that while they may not have found much community on the streets of Petworth, they've definitely found it among the other tenants in their building, about a third of whom they guess are gay.
Stoesen, on the other hand, says her more residential street exudes a sense of community, gay and otherwise.
"In my block, there are at least two other gay households. When I moved in, there were none that I knew of," she recalls. "My girlfriend is two blocks away. I met her before she moved here. She was in Southwest. She didn't know this neighborhood before she met me. She learned what a beautiful and charming neighborhood it is….
"It's not Takoma Park — we're not passing anti-nuke laws — but I'd say it's a friendly, accepting neighborhood. We want people who care about their neighborhood, and I feel like that's what we have. I feel like my neighbors are looking out for me."