What's so enthralling about Synetic Theater's production of The Fall of the House of Usher, is how thoroughly it braids conventional theater with dance and performance art. Director Paata Tsikurishvili creates a fusion so complete, he produces a whole new genre of storytelling. And if this sounds like a highbrow nightmare, rest assured that what it actually means for the viewer is an absolute feast for the senses. It may not please the more literal-minded, of course, but no one will be bored. Indeed, for those experienced in the demands of Shakespeare and the sometimes deeply embedded subtexts of contemporary (and, of course, irresistibly wordy) drama, it is really quite amazing to find oneself using a wholly different set of story-processing "muscles."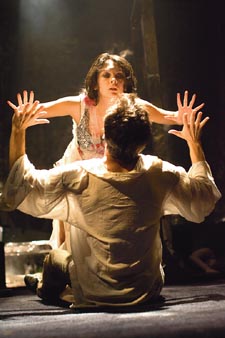 Poe(try) in motion: Marzullo and Koval
Still, Usher's is not so abstract a staging that we do not have timeline, plot and character. None are typically interpreted, but the points of reference are strong enough to reveal the bones, if you will, of Edgar Allen Poe's strange saga of the Usher family and their demise. So even if the dramatic leads blend drama and dance in their performances and the "House" (as in the family name and the physical walls which contain them) consists of a body of dancers, the narrative never wavers. It may wander into mood or concept, but it is never lost from the stage.
Irina Koval as Madeline, one of the two downwardly spiraling Ushers, and Theodore M. Snead as Edgar, the Usher's unsuspecting visitor, are the strongest dramatic anchors. Snead is a particular standout with his extremely subtle emotional range and his ability to transmit Edgar even at the production's most abstract moments. He is the kind of actor who, quietly and utterly without ego, steals every scene. Koval, who expresses her Madeline in movement more than in voice, goes a little Hollywood with a few gestures, but otherwise very imaginatively captures the feverish hell of her character's existence.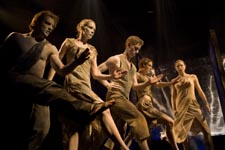 Greg Marzullo as Madeline's brother Roderick, who invites Edgar into the maelstrom, is unfortunately somewhat less effective. Although he has presence, his voice is just affected enough to be a distraction. As Snead demonstrates, though it may be Poe and creepy, it just isn't necessary to go "trans-Atlantic" on the intonation. Marzullo also has a slight tendency to over-act and that diminished his believability. Which highlights yet another remarkable thing about this piece — though it is loud and seriously visual, there is not only plenty of space for subtlety, the interpretation demands it.
Of the House, Marissa Molnar and Renata Loman bring extra layers of spatial intrigue to their performances and both deliver exceptional poise and fluid movement in their dance. As a whole, the entire House moves with gorgeous, connected tension, both when they are in synch and when they break open. Thanks to Irina Tsikurishvili's choreography, they are a joy to experience. Philip Fletcher as the House's powerful Servant gives a strikingly memorable mimed performance.
THE FALL OF THE HOUSE OF USHER

To Oct. 31
Rossyln Spectrum
1611 N. Kent St.
Arlington, Va.
$30-$35
703-824-8060
www.synetictheater.org
A large part of Usher is the music of Konstantine Lortkipanidze and the sound design of both he and Irakli Kavsadze. Though it is one tiny iota too loud, the textures, moods and, indeed, occasional auditory humor, is wonderful. It's highly accessible without sacrificing a strong intellectual component.
Synetic is a small, obviously tightly knit company with a devout following and an impressive and growing national profile. Tsikurishvili, who serves as artistic director, clearly has a fascinating vision for the company. Seeing a production of this quality in the spacious but extremely low-key Rosslyn Spectrum makes for a transporting and most un-Washington evening. Don't miss it.