Imagine this: you're shaving your legs in a bathtub. You slip and fall. Somehow, during the slip, the razor meets your wrists. There's blood everywhere, and your whole life flashes by. A thousand thoughts fill your head.
That sort of sums up how Helen Hayes Awards nominee Amy Ziff, of the band BETTY, finds herself at the beginning of her one-woman show titled Accident.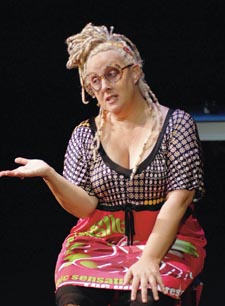 Amy Ziff
"It's kind of like a stop moment in time to explore how I've lived my life," says Ziff, a native of Fairfax, Va. who now lives in New York City.
"If I'm ready to go, what are the payoffs of leaving, what are the payoffs of staying, and what kind of choices do you make when you have some difficult things happening in your life, and some great things happening in your life?"
Those are just some of the questions the self-proclaimed "rock 'n' roller" takes on during the 55-minute exploration of life, the afterlife and everything in between. But she doesn't do it alone.
There's plenty of insight to go around from her father, her grandmother, her gynecologist, a D.C.-based BETTY fan, a B-movie heroine, and many other people, all portrayed by Ziff.
"I do all of them and more and tell stories about my brushes with death during my life," she says.
Ziff, who is gay, says she was inspired to write the show after a "horrific" break up about a year and a half ago.
"It kind of grew out of that," she says. "I think [BETTY bandmate Alyson Palmer] wanted me to write it, kind of cathartically…so that I could get my mind off [the breakup]."
In addition to singing, Ziff says she also plays the acoustic cello during the performance.
"I usually play an electric cello [with BETTY], but this is all acoustic. It's not miked or anything. It's a little more intimate, I think because it's in a more intimate space, and because I wanted it to be intimate."
Accident, a Theater J production, is playing at the Studio Theatre in Stage 4, 1501 14th St. NW, through Sept. 23. Tickets are $25. The 2:30 p.m. Sunday performance this Sept. 16, will benefit the Whitman-Walker Clinic. For tickets or more info visit www.theaterj.org.