When she began her career as a racetrack veterinarian in the late 1980s, Linda Molesworth was something of a novelty at Maryland racetracks. As a woman working the "backside" — the working end of things where the stables are, away from the grandstand — she was one of a kind, and not entirely welcome. The cold shoulders of some male trainers led to her dismissal, which in turn led her to file a successful sex-discrimination lawsuit.
So when the Atlantic States Gay Rodeo Association (ASGRA) came calling, looking to hire a veterinarian for its annual Atlantic Stampede, it's easy to imagine why homophobia was not a consideration for her.
"People come up to me and say, 'Thank you for coming.' They're glad that I can be there," she says, explaining that among the jobs she's been asked to do aside from her regular routine, the ASGRA folks have endeared themselves by being particularly appreciative.
But there's a lot of appreciation to go around. Robin Brungard, who sees Molesworth throughout the year as a pastor at her Chesapeake Church, says Molesworth has been an asset in helping the Church reach out to kids who need help.
"We had a special focus on providing mentorship to foster kids," says Brungard. "Linda was part of that."
Brungard points to "Hooves 4 Hope," a program Molesworth suggested and now runs on her farm, offering abused and neglected kids a shot at some emotional stability through horsemanship.
"She created something that wasn't there," says Brungard. "That's a very special program. Hooves 4 Hope is quintessential Linda."
Molesworth has also shown her compassion by working first with Big Brothers Big Sisters, then as a foster parent.
But before you go thinking Molesworth is some sort of saint, remember that she's a gal who has no qualms about getting her hands dirty.
"She's only 5-foot something, but she'll get in there with the bulls and the steers," says ASGRA Rodeo Director Matt Kamornik of his tiny staff vet. "She's a go-getter. She can handle herself."
Adds Kamornik: "She's down to earth, she doesn't care who you are. We like her as a vet. She's always there when we need her. And she loves us guys."
METRO WEEKLY: You're a straight mom from Huntingtown, Md., correct?
LINDA MOLESWORTH: Yes. Right now I'm a foster parent. I have one 14-year-old son with me, who I'm going to be adopting.
MW: With foster parenting and Hooves 4 Hope, you seem to look out for other people.
MOLESWORTH: I started out as a mentor for Big Brothers Big Sisters and got involved with a couple of the girls that I was a big sister for, and then became a foster parent. That was five or six years ago.
MW: Does this sort of magnanimous character go back to the beginning, to when you were a little girl?
MOLESWORTH: [Laughs.] No. I got involved in my church with a group that helps foster kids. Through that group, I started getting involved in 2000. The interest developed from there, once I got to know the kids.
MW: Back to your farm, with all the horses, would you consider yourself a "cowgirl"?
MOLESWORTH: Well, I'm actually a city girl. I grew up in downtown Boston. I got interested in horses because my dad owned some racehorses while I was growing up, so I started at the racetrack in high school. I walked horses, groomed them, and I eventually got my trainer's license for standard-bred racehorses.
MW: What came first, a love of horses or your involvement with them? Were you begging your dad to go hang out with the horses, or was he telling you to go groom them?
MOLESWORTH: I always wanted to be a veterinarian. Then from being at the racetrack, I just stayed with the horses, versus any small-animal work.
MW: What's special about horses?
MOLESWORTH: Their personalities, their use. A lot of other large animals, like cows, they're food animals. They're raised for slaughter, which is a very different way of life than for horses, which are pets. Or livelihood, if you're dealing with racehorses.
MW: From downtown Boston, how did you end up in Maryland?
MOLESWORTH: I went to veterinary school at the University of Pennsylvania in Philadelphia. From there, I got my first job in Maryland as a veterinarian at the racetrack, Laurel [Park] and Pimlico.
MW: How did you get involved with the Atlantic States Gay Rodeo Association and Atlantic Stampede?
MOLESWORTH: A couple of my clients are involved with the rodeo and asked me if I would be the vet.
MW: Someone with the rodeo told me that they'd had trouble finding a large-animal veterinarian in the area who would work with them.
MOLESWORTH: Sometimes with the after-hours work, we're just so busy it's hard to do. You have to be there for two straight days, all day. You can't leave. When I say "no" to a couple of those requests, it's just a time thing. Our weekends are precious. It's hard to be away from family and other personal commitments for two straight days. It's more of a time issue than people not wanting to do it.
I pick and choose which events I'll do. With [the Atlantic Stampede] I have a lot of fun when I go. They are great people. And you feel appreciated, which is the reason you keep going back.
MW: Is it paid or volunteer?
MOLESWORTH: I do get paid. But there are some things you get paid for that still are not worth doing.
MW: Members of the Gay Veterinary Medical Association have reported some homophobia within the larger American Veterinary Medical Association. Have you come across that?
MOLESWORTH: I haven't seen that on the East Coast, but I went to Idaho in June, to a cattle ranch. I rode horses with the cowboys across the mountains. They were all Mormons. I could see a lot of problems if [a gay rodeo] was out there with that group of people. But I've not come across that on the East Coast. It was a very different environment in Idaho than it is here at home.
MW: On the other end of the equation, have you taken any flack for your involvement with the Atlantic Stampede?
MOLESWORTH: Not any flack. But there was an amusing incident: My boyfriend's sister looked me up on the Internet and that's the first thing that came up. She called her brother to ask, "Do you know who you're dating?" That was kind of amusing. I'd already told him I was working there. He was not surprised, but his sister was surprised. I'm not dating him anymore.
MW: Not because of the rodeo, I hope.
MOLESWORTH: Not because of the rodeo.
MW: Do you have any involvement with the GLBT community outside of the rodeo?
MOLESWORTH: Two of my foster kids have been gay. And I have a number of friends and clients who are gay, but not any other official relationship.
MW: How many foster kids have you had, total?
MOLESWORTH: Six.
MW: Coming out to your farm seems like it might be some kids' dreams.
MOLESWORTH: [Laughs.] It would've been my dream. But most of these kids have grown up in D.C., in a city atmosphere, or in Calvert County, where we have what's called the "Ranch Club Estates." It's a very tight, heavily populated area. A lot of the kids come from there. Coming out here, to a 47-acre farm, they feel like they have no friends, like there's no one to talk to, that they're isolated. They play with the horses and have a good time with the horses. We have babies that are born every year, and they really enjoy that. But overall, most of the foster kids miss having lots of other kids and people around.
MW: Were your gay foster kids impressed by your connection to ASGRA?
MOLESWORTH: I don't think it meant anything either way to them.
MW: Maybe one of these days you might see them competing at the rodeo.
MOLESWORTH: [Laughs.] I don't think so.
MW: Moving away from the GLBT community, you've faced discrimination yourself. When you began your career, was it rare to have women veterinarians at the track?
MOLESWORTH: I wouldn't say it was rare. At the Maryland tracks, I was the first woman veterinarian on the "backside." There were [other women veterinarians], but their job was very different than ours on the backside.
I just ran into a couple of trainers who didn't want a woman vet in the barn. They were very well-known trainers, and people followed their lead who might not have otherwise.
MW: You came out ahead in your sex-discrimination lawsuit, correct?
MOLESWORTH: Yes. I won the initial lawsuit. Then it got appealed and they won the appeal. I appealed that. I finally won in the end.
MW: It must've been quite a commitment to follow that through to the end.
MOLESWORTH: It was a very large ordeal. There was a five-day jury trial. Then we had to go to the Maryland Court of Special Appeals and the Maryland Court of Appeals. It was a big deal.
I didn't really realize [until then] how people really get discriminated against, whether it's race, sex or anything else.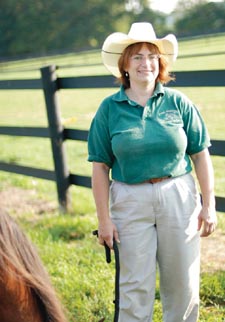 Linda Molesworth
MW: Do a lot of people at the rodeo know about that lawsuit?
MOLESWORTH: Probably not.
MW: Does that experience help you relate to the GLBT community?
MOLESWORTH: I think it helps you relate to all people better.
MW: The suit must have helped change the local "racetrack culture." Would you agree?
MOLESWORTH: There are other women veterinarians who have worked on the backside since I left.
MW: Do you think you made it easier for them?
MOLESWORTH: I don't know if that's true in reality. I left in '90. I lost my job in 1990. I think [sex discrimination] was rare then as well, but that it was just this pocket that I got into. I grew up on the racetracks, I'd been around them all my life, and I never ran into what I ran into at this particular track with this particular group of trainers. I don't think that was very common across the country, even at that time. It existed, but I think most racetracks I could've gone to and not had that problem.
MW: Looking again at Atlantic Stampede, some people say rodeos are cruel to animals. Do you find them to be cruel or harsh in some way?
MOLESWORTH: In general, rodeos have the potential to be cruel. The ones I have worked at, I've not seen any behavior that I would consider cruel. The animals are very well taken care of and watched out for. All the events are events that, on working cattle ranches, this is what you do for a living. There's nothing out of the ordinary done at this particular rodeo. Probably they do less rough-stock events than at most rodeos.
MW: What are the most serious injuries you'd typically have to deal with at the Atlantic Stampede?
MOLESWORTH: A couple of years ago, we did have a horse break his leg that we had to put down. Coming out of the ring, he just took a bad step and broke a leg. But that could've happened anywhere. We humanely euthanized him with a needle, like you'd do anywhere else.
MW: They don't shoot horses anymore?
MOLESWORTH: If it's done properly, it can be very quick and effective. However, most of the places we have horses now are residential areas, places where you wouldn't want to pull a gun out and shoot them. It can be traumatic for the people watching, whereas me giving a shot of euthanasia solution is a lot easier on the people around.
MW: During that particular incident, did the audience seem shaken?
MOLESWORTH: Everybody was shaken by it. It was a very sad event.
MW: From a medical point of view, do the rodeos seem more difficult for the animals or the competitors?
MOLESWORTH: Oh, it's probably a lot harder on the people. [In 1999,] one boy died. [Dean John Berkan] was in the pen with a steer and he got hurt and didn't survive. Every year, they have a safety vest for the participants to wear and they have a patch with his name on it.
MW: That was an anomaly, right?
MOLESWORTH: Yes. Both the horse that we lost and that young man, that was unusual. At most rodeos, people can get broken bones, they can get concussions, those kinds of things. But something as serious as those two events is not at all common.
MW: Tell me more about your facility.
MOLESWORTH: I bought it in 1999. It was a 47-acre cornfield when I bought it. I put up everything. It's an agricultural preservation. I can build one house, but it can never be developed. The development rights have been taken off it. It will always be a farm. I built a 10,000-square-foot barn and I have an apartment in the barn that I live in. And my office and veterinary clinic are all here in the same building.
MW: Is it rustic, or pretty comfortable?
MOLESWORTH: It's very comfortable. We don't get cable and we have no satellite dish, and no high-speed Internet. We have a TV aerial on the roof. But I consider myself very comfortable.
MW: It's probably appropriate for a vet to have "rabbit ears" on her TV.
MOLESWORTH: [Laughs.] My son doesn't think so!
MW: How many horses do you have?
MOLESWORTH: We have 30 horses here now. Six of them are mine. Three are rescues who will be here till they find homes.
MW: What about your Hooves 4 Hope program?
MOLESWORTH: That came out of our church group, when we worked with the foster kids. We wanted to get the kids to come out to the farm and be able to ride, so we started the program. It's for abused and neglected kids from 8 to 18. They can come out here and get riding lessons and horsemanship lessons at no charge.
We have 13 kids in the program right now. We built an indoor arena for the program. We've been going about two years now. We just gradually worked up. Of all the kids we've had, we lost one who turned 18 and moved on. She's the first girl who ever got a real high-school diploma from our local special school, Calvert Country School. That school takes a lot of physically handicapped kids, mentally handicapped kids, and most leave with that school with a certificate. So that was a pretty big achievement for us, to have one of our girls leave that school with a diploma. We have a couple who've moved out of state, but other than that, everybody who started is still with us.
MW: What's the age range you have right now?
MOLESWORTH: They're 9 to 17. Most of them are from Calvert County. We do have one from St. Mary's. We'll take them from anywhere. There's no residency requirement. They just have to be able to get here.
MW: How do you find kids for the program? How do you know who might benefit?
MOLESWORTH: The people that call us already think their kids will be interested, or we wouldn't get the initial phone call. But we get referrals from the church. We get referrals from counseling centers, and we get referrals from social-service workers.
MW: What kind of success have you seen?
MOLESWORTH: We had one 16-year-old who her parents said wouldn't leave her room. She had no interest in going anywhere. She didn't have any friends. They came back to us and said she'd made friends. She's brought friends out here to ride with her. She's much more outgoing. They think it just made a tremendous difference in her emotional state. Now she's outgoing, wants to do things, whereas before she would just stay in her room and not do anything.
We get a lot of kids who've been abused, and having the relationship with the horse gives them a safe environment, something to relate to that's not going to hurt them. And they get some control. If you can take a thousand-pound horse and be in control of it, you can be more in control of your own life.
MW: Would you like to expand the program?
MOLESWORTH: The only thing that limits us is our volunteers, because our kids work one-on-one with our adult volunteers. We could take four times as many kids if we had more volunteers.
MW: Volunteers aside, do any of your farm staff help you with your Atlantic Stampede duties?
MOLESWORTH: I go on my own. I did have an assistant who came one year and participated in the Dolly Madison Race. She did not win, but she had fun. She's in vet school now.
MW: Are there any Atlantic Stampede events you enjoy, particularly?
MOLESWORTH: Bull riding.
MW: I would've expected you to pick a horse event.
MOLESWORTH: The bull riding gets me every time, the excitement of it. I hoot and holler and cheer.
MW: Have you considered competing?
MOLESWORTH: I never thought about competing — [but] I would do barrel racing, I would do pole bending. I would not get on a bull. I would not get on a bareback bronc either. I would not do rough-stock events, but I would do the speed events.
MW: Would you say the Atlantic Stampede organizers do a pretty good job putting all those events together?
MOLESWORTH: I think they do a very good job. The officials are very professional. The competitors are professional. What I like about [Atlantic Stampede] is everybody cheers for everybody else, everybody encourages the other competitors. There are a lot of horse competitions these days where it's very cutthroat. People don't cheer for the other people. They'd try to sabotage somebody before they'd cheer for them. At this rodeo, people honestly look for everyone else to do well. Bull riders are cheering for other bull riders. A lot of other rodeos or horse events, you don't see that anymore.
For more information about Hooves 4 Hope, visit the site for Linda Molesworth's Fresh Meadows farm at www.freshmeadows.net.