Talking to Bruce Ward about his play, Lazarus Syndrome, is like navigating a minefield — albeit one in which you long to step on the mines. If that sounds rather odd, consider this: Ward's breathtaking play harbors a powerful twist that is as eloquent as it is illuminating, turning his work from a competently-written familial comedy into something, well… utterly magnificent.
Lazarus Syndrome, which details how a 49-year-old AIDS survivor, copes with his pushy Jewish brother and even pushier Jewish father over a night of matzo ball soup and brisket, is having its world premiere at Theater Alliance, which has already extended the run to Sept. 16.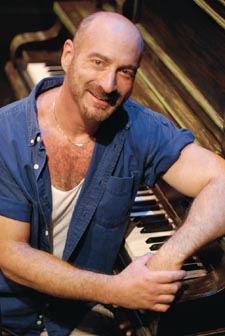 Bruce Ward
Ward, himself Jewish and a longtime AIDS survivor, having lived for 23 years with the disease, says the work is not autobiographical, but creating the piece had "theraputic" value.
"Obviously, there's things that go on through the play that are personal," says the 49-year-old Ward. "But I wouldn't call it an autobiographical play. I think the issues involved — the emotions, the feelings and the thoughts — are obviously things I've been concerned about and have wanted to explore. But the characters themselves are not necessarily me or my family."
Through Lazarus Syndrome, Ward attempts to deal with the guilt that survivors feel while those around them perish. Think Holocaust, 9/11, AIDS.
"Who knows why some people survive and others don't?" posits Ward, who, from 1988 to 1989 served as the first director of the National AIDS Hotline. "But I think some of it may have to do with the support you get from people. Somewhere along the line I learned how to be resilient and to fight for survival. I think that's very important. I learned very early on that I had to take matters into my own hands. Instead of ignoring or going into denial about [AIDS], I found mechanisms to stay as healthy as possible."
Presented by the Theater Alliance at the H Street Playhouse, 1365 H St. NE. Through Sept. 16. Thursdays through Saturdays at 8 p.m. Sunday matinees at 2 p.m. Tickets are $30. Call 866-811-4111 or visit www.theateralliance.com.