Mayor Adrian Fenty's (D) office announced Sept. 7 that Christopher Dyer, who has served as interim director of the Mayor's Office of GLBT Affairs since the February departure of former Mayor Anthony Williams (D) appointee Darlene Nipper, will be moving into the position permanently.
"I'm very excited and happy," says Dyer, an active supporter of Fenty during his mayoral campaign in 2006. "I am honored that the mayor has selected me to be the director of the Office of GLBT Affairs. I am looking forward to continuing our work with members of the GLBT community, and encourage anyone to call the office if they need our assistance."
While other names surfaced early as possibly candidates to replace — Jeff Marootian and Khadijah Tribble, notably — no word on a permanent appointment came from Fenty until July 24, when he met with his LGBT Advisory Committee and promised to name a permanent director, among other commitments.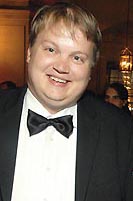 Chris Dyer from 2007 WWC Spring Gala
(Photo by Ward Morrison [file photo])
The reaction from some community activists very familiar with the post and players has been largely supportive of Dyer, though not necessarily exclusively so.
Sheila Alexander-Reid, a longtime community activist and head of the Women in the Life Association, told Metro Weekly in a February interview that she believes this particular position should be reserved for an African-American lesbian: "To have a black lesbian in that position of power is key… I think that as long as we can find strong, qualified, African-American lesbians, then that's a job we should be able to count on."
Following the appointment of Dyer, who is white, Alexander-Reid says she can offer only "no comment."
Rick Rosendall, vice president for political affairs for the Gay and Lesbian Activists Alliance of Washington, D.C., offered a statement on behalf of his organization, which opposed the creation of this particular office by statute, though supported the mayor having a liaison to the GLBT community.
"We are pleased with Mayor Fenty's permanent appointment of Chris Dyer as director," Rosendall said, via e-mail. "Chris has kept in contact with a wide range of community members, has brought his usual energy and community commitment to the job, and has shown a clear understanding of what it means to be a liaison. I called to congratulate him as soon as I heard the news."
Mario Acosta-Vélez, president of the Gertrude Stein Democratic Club, a GLBT group and one of the city's most influential political clubs, says he was interested in the appointment, but kept the club out of the discussion, in that Dyer, Marootian and Tribble are all Stein Club members. He's greeting the Dyer appointment on both Dyer's merits and the community's needs.
"First, the appointment of a permanent director strengthens the role of the office. A permanent director allows us to move forward with more confidence," Acosta-Vélez says. "I think Christopher has demonstrated that he can do the job. He's put a lot of effort and energy into making the office visible. Since he was appointed interim director, he's come to every single meeting of the Stein Club and given us updates."
As for whether Dyer will remain in the position for as long as Fenty remains mayor of the District, Dyer posits in the language of appointees: "I serve at the pleasure of the mayor."