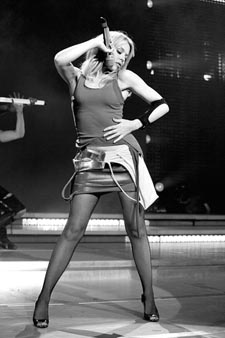 Kylie Minogue
RED-BLOODED VALENTINE?… Chances are it'll be February before we get more love from Kylie Minogue. But many an American gay boy will consider that a happy Valentine, just as her last set, Body Language, was in 2004. Billboard reports Minogue's first album since her battle with breast cancer will see release November 26 internationally — meaning everywhere but here. (The North American release has not yet been determined.) The album is titled X, a nod to the fact that it's the Australian superstar's tenth album more than it is a sign that she's feeling as sexually charged as before. Though with song titles such as "In My Arms," "Sensitized," "Wow," "Like a Drug" and especially "Nu-di-ty," chances are, as she would put it, she'll skip a beat and move with your body. First single "2 Hearts" will start beating a few weeks prior to the album's November release everywhere but here. Also on the way is a documentary, White Diamonds, which chronicles Minogue's return to performing after her surgery in 2005….
MATERIAL GIRL, NEW AND OLD… But before we hear new Kylie, how about some Madonna? Reincarnated Madonna, that is. Specifically, a Madonna tribute album to benefit Madonna's own Raising Malawi charity, which works with HIV/AIDS orphans in the African country. But don't get too excited. We're not talking Justin Timberlake covering "Justify My Love." Or Pink doing "Like A Virgin." There's no Rihanna being a "Material Girl," or Britney Spears sassing to "Human Nature." Can't you just hear the Brit tearing into that one?
No, Through The Wilderness features a bunch of artists and bands you've likely never heard of, recording in a genre you've never heard of either, dubbed "freak-folk." One of this eccentric genre's most famous, wonky purveyors is Devendra Banhardt, and he's on tap to cover "Material Girl" in conjunction with the band Mountain Party. Other folks who will get a little freaky with Madonna classics include Ariel Pink, The Chapin Sisters, as well as acts named VietNam, the Bubonic Plague and Giant Drag. Interesting. The new freak-folk label Manimal Vinyl will release the collection November 27.
As for new Madonna, don't worry. She may have consented to allowing the freak folks to play with her, but she's strictly working with pop heavyweights. Though Confessions on a Dance Floor's producer extraordinaire Stuart Price is supposedly still on tap, all indications are that the new set will be more hip-hop leaning than dance/electronica. In fact, Tim "Timbaland" Mosley was quoted in the British press as saying the album is "kinda like 'Holiday' with an R&B groove." Beyond the Timbs (Timbaland and Justin Timberlake), Madonna has spent time in the studio with Pharrell Williams, Akon, Swizz Beatz and pretty much every other leading hip-hop producer. Clearly Madonna is in search of major American hits, the likes of which she hasn't really seen for a decade now. Despite a few leaked tracks and rampant rumors, there's no official word on a release date for the album or a first single, though she is said to be wrapping up production….
Advertisement

| | | |
| --- | --- | --- |
| Ultimate Kylie | PJ Harvey: White Chalk | Bjork: Volta |
CHEERS TO MORE WINEHOUSE… Amy Winehouse has been in the news the past few months, though less for her noteworthy music than for her indulgent approach to life. Which is, of course, reflected in her music. Does anyone really expect someone who sings about the wonders of alcohol and the killjoy of rehab to be restrained and responsible? In any case, Winehouse lost this year's Mercury Prize, one of the most respected music awards in the UK. A panel of judges decides each year's winner; past recipients have included Artic Monkeys, PJ Harvey and M People. Winehouse lost out to Franz Ferdinand in 2004 with her debut Frank. This year, her album Back to Black lost out to the debut from nu-rave kingpins The Klaxons, even though she was heavily favored to win. No doubt her poor showmanship through frequently canceled concerts and general unreliability contributed to the loss. Adding insult to injury, the Klaxons weren't exactly humble in accepting victory. When asked how it felt to beat Winehouse, one group member was quoted by the press: "Her record is a retro record, ours is the most forward-thinking record of the year. We are moving forward." But if you don't care for the Klaxons' new forward direction? Well, you can always look back to Winehouse: Her debut Frank is expected to finally see a stateside release in November….
WINEHOUSE CONNECTION TO A 'DREAMGIRL'… Winehouse's debut was helmed by sometime hip-hop producer Salaam Remi, who also worked on Back to Black, including current single "Tears Dry On Their Own." Right now, Billboard reports Remi is busy "fine-tuning" songs he created for Jennifer Hudson's debut. Sounds exciting, huh? Further, the Oscar-winning Dreamgirl has said that she's staying away from hip-hop on the album. So it's probably not too much to expect a similar sound to Winehouse. Now the bad news: The album has been pushed back from a November release until early next year….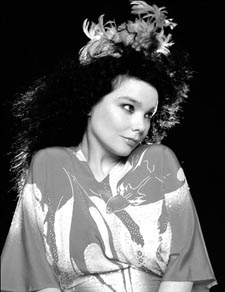 Bjork
BJORK BUTCHES IT UP… Bjork is still touring in support of Volta, the album on which she collaborated with Timbaland. But Billboard reports she's planning to release a second album this year, one on which she's working with a brass band to alter her previously recorded material, with an aim to making it more butch. For this "Live Session Album," Bjork is working with two keyboardists and a drummer along with a 10-piece, all-female brass section from Iceland that has been supporting her on tour. "A lot of the songs that were previously done with strings turned out even better with brass," she told Billboard. The magazine had few details to report about the album, from its actual release date to whether it would include songs only from Volta or if it would go deeper into her catalog. Just the idea of a brass-enforced "Big Time Sensuality" is exciting. And it couldn't help but enhance her recent output, including the eerie Timbaland co-production, "Earth Intruders."
"Having two guys on electronics and one drummer means that I can go as macho as it is possible for me," she continues, adding that the brass helps her out even more, "with that obviously being quite 'butch.' Overall the importance is on dynamism — really, really quiet songs and really, really loud ones." Say this for Bjork: She may not always — or even often, depending on your perspective — succeed in her efforts, but she never quits experimenting and never seems to run out of ideas….
From YouTube:

Bjork: Earth Intruders