When Ernest J. Gaines' novel A Lesson Before Dying was published in 1993 it found fast fame. Nominated for a Pulitzer Prize, awarded a National Book Critic's Circle Award and, perhaps more important than any other modern literary accolade, named a book club pick by Oprah Winfrey, Lesson achieved the stature of instant classic.
This creates an interesting dilemma for those wanting to translate it from the page to the stage. How does one take a work of such pedigree, whose writer has been honored by the MacArthur Foundation, and make it one's own? Should it be handled gently, its contents guarded like a case of fragile eggs or should it be dangled fearlessly over the edge, as courageously and boldly as it was first written?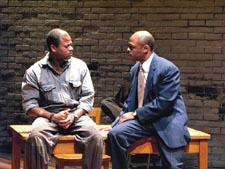 Dignity denied: Taylor and Rogers.
(Photo by Danisha Crosby)
With Round House Theatre's production of award-winning playwright Romulus Linney's adaptation, that decision is never fully made. While it is clear that much of the heart of Gaines' novel has been carefully protected, creative decisions distract rather than contribute. The end result is largely uneven.
Set in 1940s Louisiana, Lesson tells the story of two men: Grant Wiggins (KenYatta Rogers), a teacher desperate to escape life in Bayonne, and Jefferson (Shane Taylor), an innocent man awaiting his execution. Grant is brought into Jefferson's life by Emma Glenn (Beverly A. Cosham) who is determined to see that the young man she raised is allowed some dignity in his final moments, a dignity too often denied the black men and women of the community.
It's an undeniably powerful piece of theater and when it works, it is brilliant. However, there are too many times when Round House's production doesn't work and a play that has great promise is obscured by poor decisions. Music comes in and takes the place of honest emotion, staging decisions seem odd and distracting and parts of the scenic design (specifically a looming portrait of Jefferson that mysteriously peeks through the set) seem completely unconnected to the work on the stage. It's as though the members of the creative and production teams were all coming at Lesson from completely unrelated directions.
This lack of connection carries over to the cast as well. There is a kind of hollowness to the performances. In place of rising tension, emotion comes at the audience either white hot or ice cold. Because of this, the audience is denied the chance to build the relationship we need to truly feel what is at stake.
A notable exception to this is Rachel Leslie as Vivian Baptiste. There's an elegance and strength to Leslie's work that allows her to bring to life one of the show's most breathtaking moments. It is simple and lovely and deserving of ovations.
There is so much obvious potential on the stage at Round House with this production of A Lesson Before Dying. Unfortunately, what we are not seeing is a willingness to commit to a singular vision, and that does not serve the playwright's work or the faith of the audience. It is a lesson to be learned.
---
On some level, the families of writers live with the constant fear that they will find their mannerisms, eccentricities — their very lives — writ out in black and white. What we hear less about, and this is probably because this feedback would come from those family members who are not offered a few thousand words in Vanity Fair, are those times when the writer has tidied up those lives, simplifying them for the sake of artistic structure and creative vision.
"That's not how it happened. Mom smoked on the back porch." Or, "That wasn't Uncle Sal who brought the smoked fish to Christmas. I don't think Sal was even there that year."
As readers, we happily go along with what the writer has selected to show us. After all, we're reading (or watching, in the case of a playwright's work) for new ideas and insights. We're looking for writing, not reminiscing.
So what would possess a writer to invite her mother to sit on the sidelines of her very autobiographical performance? Or, as playwright Lisa Kron consistently reminds us, what would possess a writer to invite her mother to sit on the sidelines of "a multicultural theatrical exploration of issues of health and illness both in the individual and in a community"? This is not, Kron tells us, about her and her mother. She's seeking to share a universal truth. And sometimes that journey means events must be condensed, re-ordered and, yes, re-cast.
To that end — and this is where things get a little confusing — for Arena Stage's production of Well, the playwright Lisa Kron, who really wrote the play and originated the role of Lisa Kron in all senses, is played by Emily Ackerman. Ackerman is funny and smart and causes one to wonder, even ever so slightly, if the real Lisa Kron would like to perhaps be just like the actor playing Lisa Kron as she plays Lisa Kron. Confused? No? Well, give it a minute.
Mixing elements of her own story as a patient in an allergy unit, her mother's work for racial integration in their neighborhood in East Lansing, Mich. and, later, her mother's chronic fatigue and bouts of illness, Kron brings something unique and wonderful to Arena's Fichandler Stage.
Well is incredibly difficult to categorize. It's a one-woman show, with the one woman played by another woman, which actually has six people in it. It's a play that is actually the rehearsal of a play or, rather, a theatrical exploration. Our narrator is constantly foiled by her mother (Nancy Robinette), who literally sits on the edges of the performance, offering the audience — and actors — cold drinks and correcting Kron's memory about how certain incidents actually occurred.
The play does fall into some of the usual traps that one sees with autobiographical works. There are points where it feels as though we are wandering a bit into territory that is slightly self-indulgent, where the cleverness of the show begins to feel gimmicky. But those difficulties are easy to forgive in light of Kron's well-paced and brilliantly written play.