DRIVE WESTWARD OUT of Washington, and you'll most likely come to a fork. Take the high road — the Dulles Toll Road — and you'll hit Herndon just before Dulles Airport. Take the low road — Interstate 66 — and Centreville sits just south of the airport. But these communities have far more in common than their proximity to the airport.
From Maria Elena Gonzalez, who has lived in Centreville with her partner for about four years, her summary of Centreville is not too far off the mark from the description David Rosenberg and Richie Stevens offer for their home in Herndon.
Says Gonzalez, "Centreville is very family — not like gay 'family' — oriented. We're not hurting for anything out here, but there aren't exactly rainbow flags flying on every corner.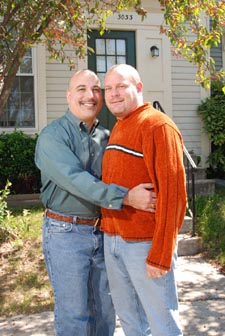 David Rosenberg and Richie Stevens
"But I love living out here…. I don't advertise my homosexuality. I just live here. My neighbors know, and they don't care. They don't say, 'Keep the children away."'
Rosenberg, who with Stevens has lived in Herndon since 2000, says, "I just want to be a good neighbor, a good member of my community. It's more about that than being gay. Being gay is just part of who I am. Neighbors have always been very accepting. I thank God we've been very blessed. We've never had any signs of hate, or people being malicious with our cars or home."
The issue of homophobia must come up in any discussion of GLBT people living in Virginia, considering the November 2006 passage of the commonwealth's Ballot Question No. 1, making Virginia — at least where the law is concerned — one of the most oppressive places in the country to be a same-sex couple, prohibiting any legal recognition of same-sex couples. That's not really an issue for Rosenberg and Stevens, or for Gonzalez and her partner, who asks not to be named due to her position with the military. Instead, the similarities continue with all three talking about their roomy townhomes with yards. And each couple owns two small dogs — miniature pinschers for the guys and "chiweenies," or Chihuahua-dachshund mixes, for the girls — that are right at home outside the hustle and bustle of downtown.
Roominess and room for dogs is often a bit less expensive in this Dulles area. In Centreville, it's possible to rent a three-bedroom, four-bath townhouse for $1,795 per month. Or, for $335,000, buy a three-bedroom, four-bath townhouse with a fenced backyard. In Herndon, a five-bedroom mini-mansion rents for $3,000 per month, sitting on more than half an acre. A three-bedroom, three-bath townhouse sells for $234,900 — also with a fenced yard, of course. For someone in the market for a studio loft, Centreville and Herndon probably won't suit.
"I think I would go nuts living in D.C.," reckons Gonzalez, listing her home's amenities: deck, fenced backyard, three bedrooms, two-and-a-half bathrooms, a finished basement. "There's just not enough room to do what I enjoy doing. We could never afford a house this size in D.C.
"I don't need to be with trendsetters, and movers and shakers," she adds. "From here, I can join in once in a while."
Rosenberg and Stevens seem to miss some of the District's cosmopolitan qualities — Stevens having lived in Adams Morgan in the '90s — but not enough to move back. The couple's familial ties to Virginia, as well as jobs in Tysons Corner and Shepherdstown, W.Va., respectively, have tipped the scales.
"It's a trade-off," says Rosenberg. "[Adams Morgan] is very diverse, you could walk anywhere. You do miss that out in the suburbs…. We probably just don't take advantage of D.C. because of where we live. We just never think about going into town."
Adds Stevens, "I'm basically 13 generations of Virginia…. Everything is not going to be at your fingertips [in Herndon]. A lot of people hang out in Dupont Circle, and there are a tremendous number of gay people who are visible. You're not going to see that in the suburbs. It doesn't mean people aren't going to be friendly…. Overall, it may be more conservative, but there are places that are certainly more welcoming."
To the contrary, Virginia's relatively conservative draws may be an asset to a substantial number of GLBT people who prefer their home states to lean "red," in the sense of political demographics.
"I have an HRC sticker on my car and that's it," says Gonzalez. "To be honest — don't shoot me now — my politics tend to run on the conservative side. It's harder to tell your gay friends you're conservative than it is to tell your straight neighbors you're gay." Gonzalez adds that she can feel more comfortable talking about same-sex marriage with the straight, married, Catholic woman who lives next door, than she might talking about the GOP with gay people at a District gay bar.
Stevens and Rosenberg add that Virginia's new anti-gay law is not a great concern for them. Though the state won't recognize the couple's Vermont civil union, they insist that their families recognize their relationship and would ensure that the couple's relationship is recognized no matter which "next of kin" is recognized by Virginia authorities.
Beyond that sense of security, these two also like the quiet life they've built in Herndon. Whatever connections to gay community may be lacking, they readily admit it's their own making.
"A part of me is saying it's difficult [to meet GLBT people in Herndon], but we really don't make the effort," Rosenberg admits. "We're pretty quiet people…. We can walk to the grocery store. We live right behind a shopping center. There are all kinds of restaurants, banks, a dry cleaner, fast food…. We go to Dulles Town Center at Dulles. This is where we live. This is where our families are. I happen to like it here. It's not as urban as a suburb like Arlington, but it's a nice place. My experience has been very positive in this community. I would recommend it."
Unlike Rosenberg and Stevens, Gonzalez has found plenty of local gay affinity with the gay Dulles Triangles, who meet every Thursday at the Sheraton in nearby Reston.
But though Rosenberg and Stevens haven't much in the way of gay in Herndon, that's not to say they're uncomfortable, or that they've not found other sorts of diversity where they live.
Concludes Stevens: "In my experience as a gay man, I feel like I've not had to be any different in Herndon than in D.C. — or Boston, or College Park or Iowa. It could be that I'm very comfortable with who I am…. [And] while there aren't other visible gay or lesbian couples here, our neighborhood speaks to diversity. We have African Americans, Latinos, Asian Americans, single parents. We have lots and lots of diversity within our community."