For the first time in its 17-year history, the country's premier conference dealing with issues of workplace equality and GLBT employees is making its way to the nation's capital. That's not to say local members of the group that sponsors the conference, Out & Equal Workplace Advocates, has spent these 17 years lobbying to bring the conference here. After all, the regional affiliate is a nascent organization itself.
"What came first was the summit-application process," explains Wes Combs, president and co-founder of D.C.-based Witeck-Combs Communications, and a member of the new Out & Equal regional affiliate. "Last year, when the summit was named to Washington, the regional affiliate, like a chapter, was formed. It was launched in April of this year and kicked-off with an event at HRC."
Though it's obvious from listening to Combs that he's excited about the Out & Equal Workplace Summit 2007, running Sept. 27-29 at the Hilton Washington just north of Dupont Circle, an upcoming conference is not really the sort of thing that excites the romantic imagination. What's so thrilling about job-talk at an 8 a.m. workshop — aside from the endless coffee and mini-muffins included in the conference fees? Well, this is where the gay flair comes in.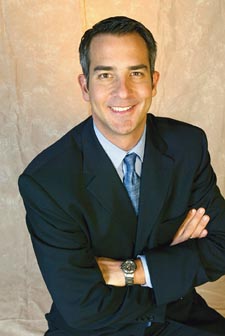 Wes Combs
The Out & Equal Workplace Summit offers speakers both familiar and provocative to just about anybody. Attendees are going to hear from Chrissy Gephardt, the lesbian first made a household name when her father ran for president in 2004, who today directs the Grassroots Campaign Core for the National Stonewall Democrats and serves as a board member at the Gay & Lesbian Victory Fund. John Amaechi, the first NBA player to come out publicly, will be offering his insights, which go far beyond basketball. Keith Boykin, award-winning author and politico, will be talking about race and sexual orientation and professional identities. Mitchell Gold, who with business partner Bob Williams has created a retail furniture empire, will join other executives sharing their experiences as corporate bigwigs. Sen. Gordon Smith (R-Ore.) and Rep. Tammy Baldwin (D-Wisc.), who is gay, will offer their insiders' scoop into GLBT-related legislation on Capitol Hill.
Baldwin's and Smith's appearances underscore what only D.C. can offer as a host city: the possibility of witnessing federal, legislative history being made. Chances are good that the proposed Employment Non-Discrimination Act (ENDA), which would prohibit discrimination against employees based on gender identity or sexual orientation, may see groundbreaking movement in Congress during the summit.
"It may be voted on the day of the conference," Combs guesses. "There couldn't be a better time to have 2,200 people in town. It's serendipitous — it wasn't planned."
There's no way it could have been, as Combs explains that the process to bring the summit to D.C., while not as old as the summit itself, has been going on for quite some time — and not always with success. About three years ago, local affiliates of Out & Equal proposed D.C. for the 2006 summit, but lost out to Chicago. For 2007, Washington went head to head with San Francisco, where Out & Equal is based, Austin and Philadelphia.
"The way the process works, there are questions like what are the available venues, what are the resources in the city that might enhance a conference like this, access to unique business leaders or media," explains Combs.
Selisse Berry, founding executive director, of Out & Equal, adds that Washington offers a great mix of international businesses, non-profit organizations and the Federal GLOBE (Gay, Lesbian or Bisexual Employees) organization. Like Combs, she also says that having conference in D.C. at a time when ENDA may see action is fortuitous.
Talk of ENDA may, however, leave one wondering what would make Out & Equal relevant in a country where being fired for being gay or transgender is no longer legal. If Out & Equal's mission is to achieve workplace equality, ENDA would, at first glance, seem to make the organization obsolete.
Not by a long shot, says Jaye Holly, training coordinator for Howard County libraries and a member of the Out & Equal regional affiliate.
"That's sort of like asking if there's no longer a need for the NACCP," she reasons. "I think the 'Jena 6' is the answer to that. Equality is about more than, 'You can't fire me because I'm gay,' it's about workplaces where everyone can be their best self. You can't do that if you have to hide who you are."
Adds Combs, "Once the law passes, there will be an even greater need for Out & Equal as a huge resource to these organizations who need guidance to [apply ENDA] and minimize future litigation. And I do believe ENDA is just a matter of time."
The resources Combs cites will come from people like Holly, who will also be presenting at the summit. Notably, about 20 percent of attendees already identify as straight. Holly's workshop, "Training Tips for Non-Trainers," is designed to help attendees take what they learn in D.C. back to their workplaces.
"One of the things I learned about Out & Equal conferences is that there is so much great information," says Holly. "But attendees don't really have good tools for turning it into training, for translating all that good information into presentations." Holly aims to clear the confusion with her workshop.
Another measure of confusion may come from similarly named events in D.C. coinciding with the Out & Equal summit: OUT for Work, a D.C.-based organization, is holding the Third Annual National Student Career Conference for LGBT and Ally College Students, Sept. 29-30 at the Washington Plaza Hotel. Meanwhile, Candidate Five, a Los Angeles-based GLBT job recruiter, is holding the Washington, D.C., Career Forum Sept. 28 at the Capital Hilton.
When it comes to employment, Combs says these two similar, yet unrelated, events have a very different purpose than Out & Equal. Summit organizers, he says, have purposefully and pragmatically chosen to bar recruiting events.
"There was a discussion once of having a job fair be part of this conference," Combs explains. "But there's a consideration that corporations don't want to send their employees to a conference where they may be recruited. This is about best practices and learning."
For locals who think they may want a taste of that learning — or the film screenings, networking lunches and various receptions — but have not yet joined the 2,200-plus, record-breaking crowd of registered attendees, Combs offers that day passes are available on-site.
"I would urge people to take a look at the Web site and see what amazing resources there are," he says. "It doesn't matter if you work for a large company or a small company. To have all these resources in town at one time is like a counseling session. It's a great opportunity to learn and network. It's the only event of its kind in the country, and there's really no other place to get this type of information."
The Out & Equal Workplace Summit 2007, "A United Vision — Leveraging Our Diverse Human Capital," runs from Sept. 27 to Sept. 29, at the Hilton Washington, 1919 Connecticut Ave. NW. For more information, visit www.outandequal.org or call 415-694-6500.