He created a stir earlier this year by stripping Macbeth down to its bare essentials. But one Shakespearean tragedy performed entirely in the buff is enough for José Carrasquillo. Instead, he has an intriguing idea for the bard's Romeo & Juliet.
"I would like to explore the Israeli-Palestinian problem," says the soft-spoken, gay director. "So I would set it in the Gaza Strip."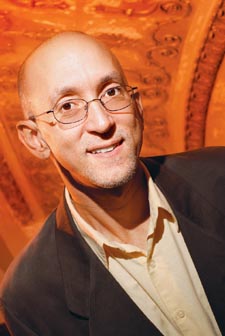 José Carrasquillo
Carrasquillo has been part of the Washington theatrical landscape for more than two decades. He left in 2004 for a brief hiatus, but recently returned full force, first with that very naked Macbeth for Washington Shakespeare Co., and now with Cita a ciegas (Blind Date), for GALA Hispanic Theatre, a company to which he's deeply, warmly attached. The play, which stars GALA powerhouse Hugo Medrano, is written by Mario Diament, one of Argentina's most prolific playwrights. "It's kind of a 'six degrees of separation' story," explains Carrasquillo. "It's about inevitable love [springing from] a simple meeting."
The show is presented in Spanish but utilizes English Surtitles. Carrasquillo came up with a novel way to incorporate the Surtitles into the production — by projecting them directly onto a Plexiglass portion of the set.
"I didn't want the Surtitles up above the grid of the lights," he says. "I wanted them to be part of the visual picture of the story…. I love the fact that you don't have to specifically look up above the set, but are looking at the set and at the Surtitles."
Carrasquillo, who spends a portion of his time in his native Puerto Rico where he owns and operates a guest house (www.acaciaguesthouse.com), is thrilled with the upgrade that the 32-year-old GALA received when it moved into its new home at the Tivoli a few years ago.
"The Tivoli renovation really spawned a Columbia Heights urban renewal that I never imagined in my life would happen," says Carrasquillo. "It's been an amazing thing.
"Gala is like a home to me," he continues. "It's not only the culture and language, but the people there have supported me — I just love them dearly. I'm so proud and happy about the theater. I think their future is really bright." — Randy Shulman
Blind Date runs through Oct. 14 at GALA Hispanic Theatre, 333 14th St. NW, in the Tivoli Square Complex. Tickets are $32.50 to $36.50. Certain discounts may apply. Call 202-234-7174 or visit www.galatheatre.org.