What's so remarkable about The Taming of the Shrew is that, despite all the changes to the status of women in the last century, Shakespeare's depiction, albeit comical, of a strong-headed woman as dangerous and antisocial remains alive and well in our contemporary storytelling. As does the notion (equally comical, but for different reasons) that there exists a man born to tame every such shrew.
Even a cursory glance at a year's worth of TV and film reveals The Shrew again and again. She may be disguised as a female executive, a fighter pilot, a trial lawyer or a cantankerous old lady, but she's still in our vocabulary and she still gets her "makeover." Boil away all the trappings and the process is always the same: After a good dose of some form of humiliation, the shrew is "rescued" from herself by man-hero and finds herself madly in love. An excellently empowering fantasy for the male half of the viewing audience. Less so for the women.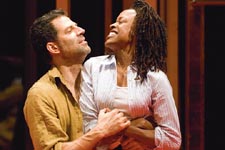 (Photo by Scott Suchman)
So how to stage a post-feminist revolution Shrew? Play it Elizabethan with ruffles and bodices and let the audience laugh and indulge? Or try and embrace our 21st century consciousness with all of its un-quaint complications? In this Shakespeare Theatre Company production, director Rebecca Bayla Taichman goes modern but with a twist: This is a Shrew in the here and now but it is also a 1950s movie poster come to life, a Fellini-esque dream and an MTV video all rolled into one. It is awash with fabulous loud music and lights, flashy bits of set, and all manner of witty allusions to modern life. And so, despite any deeper statements Shrew may have for us today, this is first and foremost a fun, frivolous and happy parody fully in keeping with Shakespeare's intentions.
And yet Taichman also explores the poignancy that any contemporary Shrew must address. At the core of all the fanfare, she gives us a Katherina/Kate who is in as much pain as she is defiance. This is a woman who embarrasses her father, who knows that she is reviled and ridiculed by men. It is not a joke to her — she clearly cares, but she also has no choice but to be true to herself. Taichman's contrast between the madcap silliness and this very realistically drawn Katherina is compelling and original. At times it's as if this modern Kate is trapped in her own nightmare.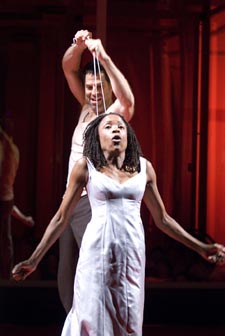 Katherina Petruchio
As Kate, Charlayne Woodard is very adept and searingly good in the moments of emotion. Unfortunately, she never quite fully connects with the rest of the character, especially when she comes to love Petruchio. The smiles seem false, the jokes forced. It is as if the interpretation of Kate is so literal and real for Woodard that she can't find any sensible way to make the leap to capitulation. Even when she shows us that she's complicit with Petruchio in her playing of the subservient wife, it doesn't quite fit. Her final monologue has everything in place, from gesture to pained voice, but it feels calculated, not clever or cathartic. If this is some new interpretation of the finale, it is too hard to parse from Woodard's performance.
Christopher Innvar's Petruchio, conceived as something akin to Indiana Jones without the whip, makes the most of his stagecraft and some very nicely choreographed wrangling with Woodard, but try as he might, he can't get the chemistry going with Kate. There are some charming and unexpected moments when he looks longingly at her, but the passion never crosses over, despite the legs that do. Innvar has great timing and relishes the language, but this mismatch with Woodard is hard to surmount.
The rest of the cast in this wonderful, zany world are superb with each person bringing plenty of energy and nicely conceive detail to their roles, big or small. We are left wanting far more of J. Fred Shiffman as the fierce but out-gunned Gremio, suitor to Kate's younger sister, Bianca; and Michael Milligan as his unapologetically amorous rival, Lucentio. Shiffman, in particular, layers up the Bard's prodigious wit with all manner of facial and vocal nuance. Aubrey Deeker, yet another of Bianca's suitors, delivers an uneven Hortensio, but his scene disguised as her guitar-wielding music teacher brings down the house.
Erika Rose is excellent as Petruchio's servant Curtis, delivering the largely non-verbal role with exceptional physical humor, and Louis Butelli, as Petruchio's manservant, manages to evoke both Tom Waits and Ian Dury in his fun sidekick. Among the non-speaking players, Andy English, in various background roles, delivers perfectly understated but clever reactions to the action.
In managing to hugely entertain us and yet never pull any punches on Kate's misery, Traichman walks a very fine line and never stumbles. In doing so, she proves what some have called the impossible: Feminists can be fun.