"I'm not a miracle worker," scowls Michael Clayton (George Clooney) to a self-important client of Kenner, Bach & Ledeen, a corporate law firm for whom Clayton works as a "fixer," someone who trades in the backdoor dealings of the firm, straddling the fine line between legal advisor and bag man. "I'm a janitor. The smaller the mess, the easier for me to clean up."
Unfortunately, Michael finds himself up to his eyeballs in mess in the alert, compelling Michael Clayton. The movie is a throwback to the glory days of directors like Sidney Lumet and Sydney Pollack (who makes an indelible appearance as the ethically slippery head of the firm). It's a tale of remorse and redemption, of sizing up the options and choosing the least objectionable path. It's cut from the cloth of films like Erin Brockovich, and while it's not as "feel-good" as that movie, it grips you in an adult fashion. It gives you faith that there are some folks in Hollywood who still believe in quality.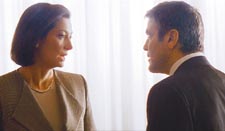 Swinton and Clooney in 'Michael Clayton'
It's a movie well-served by its writer, Tony Gilroy, the scribe who adapted all three Bourne films, and who with Michael Clayton makes his directing debut. There's nothing flashy about Gilroy's work — it's steady and strong, seeded with classic gravitas. But you have to pay attention, as the first two-thirds of the film are told in flashback. Gilroy tosses out a handful of puzzle pieces, permitting us to make our own decisions about the meaning behind specific scenes — Why is Swinton's character in a bathroom sweating profusely, massaging her hand under her armpit? And why did that automobile just explode? — before putting everything together, revealing the truth.
That truth, of course, leads to a rousing climactic encounter that defines films of this type, a chance for the protagonist to achieve some manner of personal vindication, preferably with a satisfying bite.
When we meet him, Clayton is in dire need of a life overhaul — he's in debt due to a failed venture with his drug-addicted brother; he's divorced from his wife and has a young son who idolizes him, but for whom he barely has time; and he's worked for 18 years at his firm, giving up a promising career as a criminal-defense attorney for one of shady encounters and backroom dealings. This gives Clayton much to do, as the firm is no stranger to cases that, as principal partner Marty Bach (Pollack) puts it, "reek from day one." When one of the firm's top lawyers, Arthur Eden (Tom Wilkinson) , undergoes an epic meltdown, stripping naked in a deposition room and embarking on a tirade against U/North, the agrichemical corporate giant he's been defending in a $3 billion class-action lawsuit for the past six years, it sparks a series of events that frame four critical, life-changing days in the life of Clayton, who must quickly stop the bleeding or face the consequences.
On the other side of the fence sits Karen Crowder (Tilda Swinton), chief counsel for U/North. Crowder takes matters into her own hands in a decidedly Shakespearean fashion, hiring a pair of shady operatives to shadow Eden, realizing that, if she's to save her company, she must make an unfathomable choice and step into a dark, awful, murky terrain.
There is no good guy in Michael Clayton, no savior. Still, Clooney's character emerges as a borderline heroic figure. The actor turns up the grim factor, portraying Clayton as a man who, suddenly realizing the majority of his career has been misspent, yearns for redemption. When that moment eventually arrives, I suggest you stay seated during the end credits and pay careful attention to the extended shot of Clooney's face — it's a master's class in expressive, wordless acting. Swinton is masterful, playing Crowder as an insecure dragon lady, uncertain of her next move, but all-too-clear about the various options laid before her. The grime-covered path she chooses is surprising only because Swinton imbues her character with such self-piety.
MICHAEL CLAYTON

Starring George Clooney, Tilda
Swinton, Tom Wilkinson
Rated R
119 Minutes
Area Theaters
Wilkinson is similarly stunning, balancing Arthur's dementia with clarity. We see through the fog of his crazy banter, and know instantly that he's doing the right thing. But the right thing in a movie like Michael Clayton only leads to one place. And when the movie arrives at that place, director Gilroy handles it with startling, chilling efficiency.
Michael Clayton delivers its message with determination and style, never turning overbearing or preachy. It asks us to trust where it's going, just as it trusts our intelligence. It's an adult's night out at the movies, providing an unforgettable visit to a genre missing from the movie landscape for much too long.