Despite the title of her new album, Annie Lennox isn't exactly marching off to war. But one listen to Songs of Mass Destruction (





)and it's clear: This isn't the same waif we heard at the end of Bare, pleading with God to lend her a helping hand.
"Oh God, where are you now?" Lennox sang in a fragile voice on her last album, with halting, minimal keyboard accompaniment. "And what you gonna do about the mess I've made?"
Four years later, it's not clear God did anything directly. But Lennox has changed.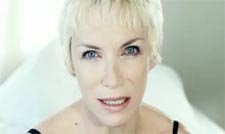 Annie Lennox
For one, you could say she's re-imagined a philosophy she first sang about when she was part of the Eurythmics: Sisters are doing it for themselves. Lennox offers several calls for activism from womankind around the world. Ultimately, however, the philosophy is broader, extending to all humankind. Songs of Mass Destruction kicks off with first single "Dark Road," on which Lennox stresses the need for self-empowerment in a dark world designed to bring you down, burn you out. "I've got an open door," she sings. "It didn't get there by itself."
Songs of Mass Destruction also didn't get here by itself. More than any of her previous solo albums, you can hear the influence of her days with Dave Stewart in the Eurythmics. The album often pulses with energy from rock and early electronica, recalling the '80s as much as it is in the present. The shift was intentional: Lennox opted to forego working with her longtime producer Steve Lipson, and instead worked with producer Glen Ballard, most noted for Alanis Morisette's career-defining Jagged Little Pill.
Hopefully, it won't be their last collaboration. Because as colorful as Diva was, as wonderful as Medusa was and as artful as Bare was, this is the album we've always longed for from Lennox. In press notes, Lennox says she feels "closer to my own cutting edge than ever before, and my voice seems to be in its prime." To quote one more time from an earlier Eurythmics' hit: Who am I to disagree?
Lennox exhibits a full range of emotion and uses the full power of her pipes like never before. She's created music with more impact and spirit than ever. It all fits in one cohesive package, a perfectly realized album from swelling start to settling finish, with no middling filler. Not one song here leaves you wishing for more, or for less. She didn't try too hard to please, nor too little. Even "Sing," with its all-star cast of female pop singers, an obvious successor to Quincy Jones' "We Are The World," isn't overdone. The cause this time out is the global HIV/AIDS pandemic — or "genocide," as Lennox quotes Nelson Mandela calling it. Don't be surprised if, as the calendar nears Dec. 1, you start hearing more of this World AIDS Day-ready track. You can really only make out the voices of Madonna, Anastacia and Fergie behind Lennox, even though some big-voiced belters — from Melissa Etheridge to Gladys Knight to Celine Dion to Shakira — also sing in the chorus.
Advertisement

| | | |
| --- | --- | --- |
| Songs of Mass Destruction | Bare | Medusa |
Lennox is still struggling to overcome her own personal travails, the source of Bare's fraught austerity. But on the new album her concerns are now far more global, as she weaves in her own struggles and crises of confidence with those of the world. Lennox dedicates the album to "all humanitarian workers, peace activists and NGOs across the globe." And it's clear they were the inspiration for her renewed hope in humanity amidst all the world's recent despair and destruction.
On the deceptively sweet, charged rocker, "Love Is Blind," Lennox sings of her being "sick and tired of devastation, give it some consideration," by which she clearly means peace, or at least conflict resolution.
"Can't you see that I'm addicted to the notion of a someone who could take me from this wretched state, save me from the bitterness and hatred of humanity," she sings. "It's so screwed up."
Lennox explains in press notes that she titled her fourth album with obvious "reference to weapons that were never found" in Iraq, nonexistent weapons that were nonetheless used to justify a war. Four years later, "Iraq is a total debacle," and she goes on to write about her outrage at the lies and exploitation that continue there as well as all around the world. But Lennox generally keeps out of her lyrics such explicit political anger. She adheres to the notion that art is at its most powerful and timeless when it expresses universal thoughts, and does it with grace and subtlety. Whether these songs become found and used to help destroy tired, facile ideas favoring war and domination, at the least they'll provide ammunition to help a listener carry on in a dark world. They'll provide you with full listening entertainment.