Melissa Etheridge reassures herself that she's fine on her bright and boisterous new single "Message to Myself." The song is suspiciously sunny and sweet. It even ends with a choral "la la la" chant that would make Hannah Montana jealous.
This, from the woman who charged onto the scene two decades ago with bloodstained, nearly NC-17-rated scorchers such as "Like the Way I Do?" and "Bring Me Some Water."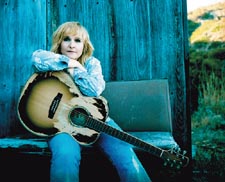 Melissa Etheridge
Yes, indeed. And in the context of Etheridge's new album, The Awakening (



), the song is even more suspect. Because, after all, Etheridge lost much of her needing, bleeding rock edge years ago — and schmaltz had pretty much become her stock in trade. But her ninth solo set is a "concept album" fired by her battle with breast cancer as well as her increasing political activism. The album's songs stand testament to her progression through life, love and faith. As such, you can't help but notice a marked contrast between the album's few emotionally light, universally appealing showstoppers, such as "Message to Myself" and "Threesome," and the rest of the album, pensive slow-burners or, more often, achingly anthemic ballads urging you to think and act and do.
Etheridge's bout with breast cancer certainly gave her more than just an appreciation for life. It gave her an appreciation for making life better — for using her music to inspire and compel others. After 2004's cloying Lucky, Etheridge turns in a set that shows she's still got some bristly passion burning beneath her now-happy heart. When she rages now, she's mostly raging against the intolerant, the stubborn and the powerful.
George W. Bush and his supporters are her chief targets, as Etheridge chides them to consider other points of view as well as the consequences of their actions, in war and in faith. Etheridge also draws on her inspiration from Al Gore and his crusade for the environment — which, of course, also helped her earn this year's Oscar for Best Song, "I Need to Wake Up" from An Inconvenient Truth.
Truth be told, Etheridge also draws some inadvertent influence from the former vice president in her occasional skirt toward smarter and holier-than-thou edges. Etheridge plays the part of a preacher here. As you might expect, she strays a bit too far in the bleeding-heart zone of sanctimony and stridency. Album closer "What Happens Tomorrow" is a stirring call to arms to help shape a brighter future. It's one of Etheridge's best recorded performances, both tender and torched. Unfortunately, however, she gets a bit carried away in her fervor, ending the song in full bluster, transferring to a principle the same power Abraham Lincoln credited to an institution, democratic government: "Truth is of the people, by the people, for the people," she shouts. One problem: Lies are all that, too.
Etheridge also resorts too often to using mundane, even clichéd phrases. Among otherwise poignant lyrics that delve into understanding the complexities of religion and religious belief, "The Kingdom of Heaven" isn't aided by its childishly simplistic chorus. "My God is love, My God is peace/My God loves you, My God loves me," Etheridge sings, as if she were rocking one of her kids back to sleep after a nightmare about God.
Advertisement

| | | |
| --- | --- | --- |
| Melissa Etheridge: The Awakening | Melissa Etheridge: Road Less Traveled | Gravy Train |
Etheridge has said in press interviews that she didn't worry about making hit singles this time out, that her aim was purely on "speaking her truth." But suspicion about her aim isn't helped by the fact that her lighter fare, more than anything else here, sounds like hits in the making. The barnstorming "Threesome" is ripe for play on country radio, currently pop music's most profitable genre. The song is also just waiting for the D.C. Cowboys to whip up a choreographed routine to it. Etheridge gets folksy in the song as she talks about how she wants to keep her baby "all to myself." "I don't want to have a threesome," she sings, though later she completes the thought: "ever again." And the acknowledgement is followed by a hearty, endearing chuckle.
Yes, a chuckle. From Melissa Etheridge. As fired up as she may be about the state of the world and the fate of the planet, an older, wiser Etheridge doesn't seem to need help cooling down. Unlike the protagonist of "Bring Me Some Water," this Etheridge is no longer burning alive.
From YouTube:

Melssia Etheridge: Message to Myself