From violence, to dilapidated schools, to alarming HIV-infection rates, Washington is not necessarily the easiest place to be a kid. These understood realities of the day-to-day in the District didn't prepare James Millner for the latest headline involving a 10-year-old quadriplegic boy living in a public-housing unit so infested with mice that the vermin had gnawed through the feeding tubes on which the boy depends for his very survival.
The D.C. Housing Authority recently found 13 rodents in the Northeast apartment that LaDesha Morton was living in with her four children. Morton says she would often stay awake at night to keep the mice from crawling on top of her quadriplegic son, DaJuan.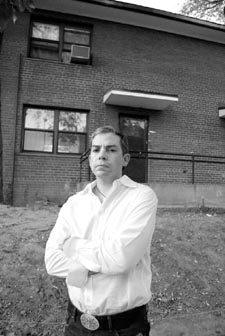 James Millner
When ABC 7/News Channel 8 broadcast its investigation of Morton's home and the D.C. Housing Authority's pending response last Wednesday, Sept. 26, Millner, a gay resident of Arlington, couldn't bear to just watch.
He had to do something about it.
"I didn't know this woman, but it bothered me," he says. "It's just appalling to me that this child couldn't get nutrition because the [mice] had extracted his feeding tubes and I just couldn't imagine why something couldn't be done. I just thought this is something that somebody can do something about."
Millner, a communications consultant, says he initially sent e-mails to three government officials: Mayor Adrian Fenty; Councilmember Marion Barry (D-Ward 8), chair of the Council's Committee on Housing and Urban Affairs; and Councilmember Jim Graham (D-Ward 1), who serves on that committee and for whom Millner once worked when both were at the Whitman-Walker Clinic. Millner requested immediate action in getting Morton out of the rodent-infested public housing unit.
"I hope as a member of the Housing Committee you will act immediately to fix this situation," Millner wrote to Graham. "I would suggest you or another of your Council colleagues use some of your constituent-services funds to get this woman and her child in better surroundings immediately until this situation can be resolved."
Graham, a former chair of the housing committee, was the sole official to respond to Millner, opening a dialogue in which he first suggested that only Barry, as committee chair, had the authority to assist Morton. In a follow-up e-mail, however, Graham advised Millner that he had personally contacted the D.C. Housing Authority on Morton's behalf.
Continuing to attempt to turn the wheels of government, however, is not Millner's style.
"It doesn't take rocket science to realize that if there's [mice] there infesting the house to the point where her children can't sleep at night because there are [mice] crawling all over them, then she needs to get out of the damn house," says Millner.
Millner acted with longtime friends Thomas Drury, a real-estate agent, and Drury's partner, Philippe Suissa, general manager of Suissa Hair & Skin Salon in Arlington's Pentagon City Mall. The three friends treated Morton and her children to two nights at the Hotel Palomar at 2121 P St. NW, just a few hours after the Channel 8 investigation aired.
"It took me about half an hour to do what I did, and she's been working with the city government…for the past two months," Millner says.
Dina Michaelson of the D.C. Housing Authority, told Channel 8 that the Housing Authority was aware of the rodent problem, "but did not know of the dire situation with her son."
In addition to the nights in the hotel, Suissa offered Morton a job at Suissa Hair & Skin Salon after discovering that she was a hairstylist in training.
"I told her, 'Your braid looks really good,' and she said, 'I'm a hairdresser."'
Suissa says he asked Morton if she was currently employed. Upon learning she was not, he offered her a job.
"You could always come work for me, I've always got room for you," Suissa recalls saying to Morton, adding that he hopes to hear back in a few days.
Suissa adds that his staff are considering staging a "cut-a-thon" to help raise money for Morton and her children.
Like Suissa, Millner says he got involved in helping Morton simply because he felt he could.
"The only reason I cared about the news coverage is because that puts pressure on people to change the situation," he says. "It sort of embarrasses people to realize that a private citizen can come in and do more than the government can do."
On Saturday, Sept. 29, Morton moved to a handicap-accessible apartment, which accommodates all of her children.
Despite the good deed, Millner remains modest.
"This is something that anybody could have done. The reason that most things that should happen don't is because people assume that either they're powerless to help, or someone else is going to do it," he says.
"I didn't think either of those things. If people would just act on what their hearts and heads tell them to do, the world would be a whole lot better place."