Traditionally, when money moves in Washington, it's by appropriation. Stock trades and profit motives seem downright ruffian compared to the elegance of a five-star lunch with a lobbyist that leads to the allocation of mountains of taxpayer dollars. D.C. has moved more than its share of money, but not generally according to rules of supply and demand. Leave the chaotic shouts of Wall Street on Wall Street, thank you very much.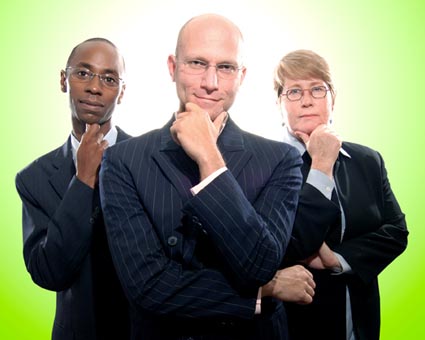 PEN's Ken White, Joseph Kapp and Colleen Dermody
But, as they say, the only constant is change. And D.C. is changing. From fledgling capital, to African-American boomtown, to overcrowded wartime headquarters, to riot-torn battleground; from the small center inside a ring of affluent suburbs to today, Washington, D.C., is not your grandparents' D.C. It's probably not even your parents' — and possibly not even the D.C. you grew up with. In its 16th year, the Potomac Executive Network (PEN) is also breaking out of tradition.
In this first decade of the new millennium, Washingtonians have voted in a dynamic, young mayor. Even as the real-estate bubble takes a massive hit, construction cranes still dot the skyline. Those bedroom-community suburbs now share the Beltway ring with companies such as Discovery Communications, Booz Allen Hamilton, Fila and the Sprint Nextel Corporation, to name a few. The District's federal institutions are sharing space with the likes of XM Satellite Radio, a cutting-edge industry. And PEN is busting out of its self-made closet.
"PEN was very quiet about being gay," remembers Joe Kolb, a graphic designer and owner of The Graphic Issue, who joined PEN in the early 1990s and has served on the board at various times during the past 10 years. "It was never listed as a gay organization, but that was a product of the times. All that probably changed in 2000, 2001. By that time, it was a fait accompli, but I can remember in the early '90s there were holdouts, people who didn't want it called gay.
PEN's official moniker today includes the tagline: "Metro DC's LGBT Chamber of Commerce."
"Now [being gay] is a plus," says Kolb. "You want people to know because the D.C. government gives business to gay-owned businesses."
Kolb is referring to District government contracting rules, managed by D.C.'s Department of Small and Local Business Development. As part of the mission made obvious by the department's name, special consideration is given to "disadvantaged business enterprises." That may include the GLBT community, explains Colleen Dermody, vice president of Witeck-Combs Communications.
"It gives a slightly extra leg up for [GLBT] businesses looking to do work for the District, and there are lots of things the District has to vend out," says Dermody, a former PEN president and current board member, who credits gay City Councilmember David Catania (I-At large) with getting the gay community included in the process.
"The evolution of the District of Columbia government has been influenced to some degree by PEN," Dermody continues. "David Catania has been a PEN member, off and on, as long as he's been a member of the Council. He's been an advocate of LGBT-owned businesses."
The D.C. government and PEN are working together in other ways, and a large part of that will be evidenced Saturday, Nov. 3., at the LGBT Economic Development Summit. PEN is joining with the Office of the Deputy Mayor for Planning and Economic Development, the Office of LGBT Affairs, the Department of Small and Local Business Development, the Washington Economic Partnership and the National Gay and Lesbian Chamber of Commerce, as well as Metro Weekly and The Washington Blade, to present this daylong event covering myriad topics aimed at GLBT business owners, professionals, etc. There will be information on financing, hot neighborhoods for gay businesses, marketing and so on.
"PEN is fully engaged in the summit," says Dermody. "There is going to be a real growth period for all businesses in the District: Penn Quarter, the stadium area, [the] 'Gateway' along New York Avenue. The District of Columbia has a business plan to take a step at a time. They're really concentrating on enhancing those areas of the city. As it turns out, GLBT businesses are really poised to come of age and participate in this growth. We own larger and larger businesses. We have more services and products we can offer to the city."
Though PEN certainly seems to be on the move, just who are these guys? Many area GLBT residents who don't already count themselves among the 400 to 500 members of the group, or among the roughly 2,000 people who receive the group's e-mail updates, may have some familiarity thanks to PEN's "Networking Thursdays." These are monthly socials that have floated around the city for years, open to all — $5 for members, $10 for non-members — and probably the most easily accessible of PEN's events. It seems for most that Networking Thursdays are the doorway into PEN.
"My reason for joining was to access a network," explains Art Hernandez, who moved to D.C. from Hawaii in 2001. He landed first at the Silver Spring chapter of the Capital Area Rainbowlers Association gay bowling league, but it wasn't long until a fellow bowler mentioned PEN's Thursday social.
"At first glance, it seemed like an 'old boys' network,' a 'slap each other on the butt' meeting," recalls Hernandez. "But I don't look at things superficially like that, and I actually met a lot of GLBT community leaders. It's a great rainbow of people — albeit not as large as I'd like to see it.
"I attended the Networking Thursday and I liked what I saw. I attended for a year or two, then I saw a need: Forgive me for saying it, but it was basically all white men and women on the board," continues Hernandez, who identifies as Cuban, Mexican and Hawaiian. "We needed some diversity. I said I wanted to put my hat in the ring."
Today, after having spent two years on the board, Hernandez serves as PEN's vice president, and shares an entree to PEN not so dissimilar from President Joseph Kapp's. Hernandez came to PEN looking for a business network to help him in his field: mortgage banking, which he does for SunTrust. Kapp needed a network as well to help him build a financial-planning business with Lincoln Financial, leading him to Networking Thursdays.
"I've been involved for a little over four years," says Kapp, counting the years back to his first Thursday. "I came to PEN to really look for an organization to really help me grow my business, and to help me help the gay and lesbian community at the same time. I saw there were a variety of professionals. The diversity was fantastic. From an economic-development background, I liked the professional/entrepreneurial background, and that PEN would allow me to focus on growing my business, and at the same time help bring benefit to the GLBT community.
"I saw opportunities for the organization to grow. I think the organization has a fantastic history. There were some things within the history that made it more of a social organization than a business organization. I wanted to operate within both of those realms, but expand the business opportunities."
Kapp says he started out in PEN by suggesting a small-business committee to then-president, TJ Flavell, adding that the culture of PEN appreciates entrepreneurial spirit and that members with an idea and a bit of tenacity will usually get a green light, as he did. But he didn't stop with his committee: "I was ultimately elected to the board, as vice president, and then president. March will be the end of my second year as president."
Kapp, as president, has been credited by some with helping to modernize today's PEN. Ken White, a board member and business banker at M&T Bank, is one such creditor.
"Joe Kapp invited me to come and check PEN out," recalls White. "I met some of the core people, board members, and saw that it was a good opportunity for people to network. I subsequently had coffee with Joe to talk about he future of PEN, its direction, increasing its value to the community. That's what got me hooked: Joe showing me his vision. I agreed to get involved and do my part to help him get it there. Now, I've been a board member for about two years.
"I would have to credit a lot to Joe Kapp," White continues. "I came on board when PEN was beginning to look and feel like a chamber of commerce. We've been working on the transition to the next level. What are the best practices for a chamber of commerce? Do we have the resources and skill sets? That's what we've been concentrating on. I hear that people are pleased with the professionalism. I'd heard it was once more of a social organization. It's evolved into 'Let's do economic development.' The face of everything has changed. PEN is a place where not only do you network, but [have] resources and opportunities available."
Beyond Kapp, there seems to be consensus regarding a recent retreat that brought PEN leadership together in August to talk about the direction the group should take. There's was plenty to look at. In one corner sat economic development in the District, and what part PEN can play in it. In another was PEN's involvement with the D.C.-based National Gay & Lesbian Chamber of Commerce (NGLCC), celebrating its fifth anniversary at its national dinner on Friday, Nov. 2. In another corner, there was talk about how to get PEN more involved with metro D.C.'s GLBT community. And in yet another, discussion about how to improve infrastructure. All in all, it was a full and facilitated day that left PEN with its plate full.
"We really came away with a greater sense of our mission, slightly streamlining it to make sure we're each singing from the same song sheet," offers Dermody, reading the newer, concise PEN mission, which is "to advocate, promote and facilitate the success of LGBT businesses and their allies in the metro D.C. region."
Dermody adds that the mission will be part of PEN's brand-new Web site, being readied for a Nov. 1 launch.
"We'd had a strategic-planning session maybe five years ago, so we were due for another one," she explains. "We'd sort of set a five-year plan and realized we'd fallen behind. The things we'd fallen short on were infrastructure and systems. We'd talked about a new Web site, but hadn't done it. The bane of every organization's existence is membership databases and keeping them up to date, functional, interactive. Ours was not. But now members will be able to go on the site and update their memberships themselves. It's the internal workings.
"The other thing we talked about, but tabled, is something that's been on our minds: creating some scholarships [for GLBT] students going into business programs. Once we get through some of these infrastructure issues, the boring stuff, then we can get back to the exciting things like creating scholarships. Mentoring has been on the agenda. We want to talk to the NGLCC about whether there will be a national LGBT mentoring day — or week, or month. We're in a really good spot because there are so many schools here. With a mentoring program, we can show young people what they can do, how far they can go. We can tap into people who have leadership positions in government, business and associations. This is a really rich area, both culturally and from a leadership standpoint."
If Dermody was looking for song-sheet synergy, she's certainly got it with Hernandez. As with many other PEN leaders, the phrase "next level" pops out when talking about the group's future.
"The retreat put us back on track," he reckons. "We need to be a chamber of commerce rather than a 'meet once a month for cocktails.' … [Compared to GLBT chambers], we're not on the map. That's part of the challenge that we have. This is part of our goal. How do we get bigger membership? Notoriety? We're willing to implement whatever it takes to grow with meaning. I really believe in the core group, in the concept. I was the first person of color on the board. Now we have several people. We're getting the Web site going. We had a very functional retreat. I want us to be an example. I want to see us being a model. I feel that the direction we're going in is the correct one. Because it's all on a volunteer basis, that has to taken into consideration, but we're all dedicated to the success of the organization."
Though any community organization needs to ensure its machinery is oiled if it's going to run smoothly — and the retreat was actually so beneficial to PEN's operations that the retreat facilitator, John Hockman, has been retained to help the group for at least the next three months — Kapp seems to prefer to talk about that vision of his, the one that so inspired White. He tends to talk not so much about Web sites and membership, though he certainly does when asked about them, but prefers the big picture. If there's a fire in his belly, the flames are stoked when he discusses D.C.'s dynamic economy. At a time when many would bemoan indicators of economic depression on the horizon, Kapp speaks more like a cheerleader waving business cards and economic-development plans in place of pom-poms.
"How can PEN and gay and lesbian businesses grow?" Kapp asks. "It's such a passion for me, because we see LGBT business owners consistently giving money back to the community, and recognizing LGBT organizations in estate planning. It has a huge impact on the community in the long run. Working with businesses is not just about increasing wealth, but the long-term viability of the gay and lesbian community…. If you look across the community, you see gays and lesbians have an impact in gentrifying different cities. We create communities seen as open, welcoming and accepting. That draws in an artistic component, which is a wellspring of economic development. Logan Circle, for example, has seen significant appreciation as a result of the LGBT community.
"That's one of the discussions we've had with the community: For economic development, how do we marshal our economic muscle so that we do have a place at the table to help define where economic growth will take place?"White echoes that component of economic development, adding that he speaks as both a gay man and an African American, who understands the importance of any given community's stake in economics, whether the actual members of that community are business-minded or not.
"D.C. is getting more recognition because the market is growing," says White. "Economic development is booming. The GLBT community has always been very active…and everyone needs to be aware of economic development, how the economy affects you. I'm involved with the National Black Chamber of Commerce. I want to see resources put into that population, and the gay population. If there's something that's going to affect me and mine, I want to be involved. I want access to the resources, the information. It's no different than being a member of the PTA. Look at the economic impact you contribute when you pay taxes. Are you getting back the same?"
Dermody adds a similar perspective, looking at the entirety of the GLBT community's vested interest in economic development. After all, when she came to PEN, she was working as the communications director for the Humane Society International. She wasn't glad-handing in an effort to chase profits, but could see the value of networking just the same.
"For all LGBT people living in the area, the majority of them are probably employed," Dermody says. In other words, if you work, PEN likely has something to offer you.
"PEN helps people in the employment realm. PEN advocated for the District to add domestic-partner benefits. All these 'fairness in the workplace' kinds of legal protections that LGBT people enjoy, PEN was certainly part of the mix.
"Businesses in the District pay more taxes than the residents. Businesses in the District are just as important as residents, and LGBT-owned businesses have played a very important role. In years past, the Dupont Circle area had a majority of gay-owned businesses. Now they're moving east and helping up-and-coming areas. The City Council and District government recognize that. We're sort of a coveted population. That's why there's going to be this LGBT economic summit. PEN told the city it needed to do more for the LGBT community, to get them into the rubric, to be considered for these jobs coming up. The District government — all city governments — are very bureaucratic, complicated. How do the LGBT-owned businesses get into that? You have to get into the system. And they're not just doing it with our community, but with other communities as well."Without PEN, there wouldn't be anyone watching out for the business owners in a collective way," she concludes. "This is an organized group that has been in existence, an organizational player in the District of Columbia. If we call to talk to somebody in city government, they understand who PEN is and that we should be listened to. We've been a very logical, even-keel voice." And the upcoming summit, free and open to everyone, is a good chance to see PEN in action, promises Kolb, who will be there along with Dermody, Hernandez, Kapp, White and so many other PEN leaders and members.
"I think people are getting more active than they have been in the past," says Kolb. "We hope to become the premier gay organization here, with more outreach into Maryland and Virginia. We're not just D.C. The summit will give a good indication of PEN, the board and members. We'll have a real presence there."
Kolb adds with a laugh that the PEN set will be obvious to anyone looking to make contact.
"You can find us without any problem — we always push our way through a crowd."
For more information about PEN, visit the group's new Web site after Nov. 1 at www.pendc.org. To register for the LGBT Economic Summit, or for more information, visit the Mayor's Office of LGBT Affairs at lgbt.dc.gov or call 202-442-8150.