There's not exactly a "main event" on National Coming Out Day. Mark Shields, the 30-year-old Logan Circle resident, who directs the D.C.-based Human Rights Campaign's Coming Out Project, says he's yet to meet someone who has actually come out of the closet on Oct. 11.
Shields has, however, discovered the importance of the day for many members of the GLBT community in Washington and beyond.
"It's kind of a day set aside that people get to celebrate who they are and acknowledge the real significance of coming out," he says. "We should have a holiday for that. It's this huge thing that people do."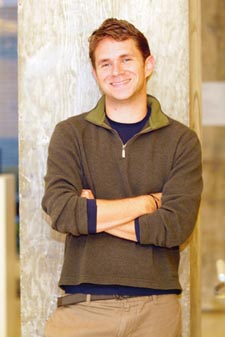 Mark Shields
This year, HRC is celebrating National Coming Out Day on the video-posting Web site, YouTube. It's there you can watch movies of everyone from cartoon character "Lizzy the Lezzy," who spins an unapologetic rap about being a "pussy engineer," to youths from across the country sharing their coming out stories.
"The AIDS Quilt 20 years ago was a patchwork of stories," Shields says. "We would like to create another patchwork of stories, on video, of people saying what inspires them."
According to Shields, National Coming Out Day's origins can be traced to the Oct. 11, 1987, national March on Washington for Lesbian and Gay Rights, which included the first public display of the NAMES Project AIDS Memorial Quilt.
"A year later, the organizers of those events got together and they wanted to maintain that momentum and energy," he says. "They formed the National Coming Out Project and threw a National Coming Out Day, which is held every year on the same day as the march and the AIDS Quilt unfurling were."
The Human Rights Campaign presents that history in a mini-documentary on YouTube, featuring interviews from HRC President Joe Solmonese, local activists and many others, while allowing viewers the chance to share their inspirations in coming out and living openly as GLBT.
"Our slogan for the Coming Out Project is 'Talk about it,' because that's primarily what you do when you come out," says Shields. "But it's also the most important thing any of us can do in our day-to-day lives to help people really get why these issues matter." He adds that there is no cutoff date for video responses on YouTube.
A Chicago native who arrived in Washington five years ago to work for HRC's media relations and communications department, Shields shifted gears two years ago to run the organization's Coming Out Project.
"It's a place for LGBT people to find common ground," he says. "I believe everybody has something that makes them feel different or separate from the pack."
Don't blame Shields' Irish-Catholic background for keeping him in the closet until the age of 23, when he had already graduated from Marquette University in Milwaukee.
"I didn't have huge terrible stigmas that I carried with me for being gay," he says. "But at the same time, I couldn't see for myself what laid beyond coming out. I couldn't see a life that was rich and full and happy as a gay person."
It was only a matter of time before he decided to take control.
"It was just rolling up my sleeves, and doing the work of coming out, no longer living the life that others thought I should, but learning to be who I am, and then certainly making friends in the GLBT community and learning about the compelling stories that are here."
Shields says HRC's Coming Out Project is helping "paint that picture a little more clearly for everyone."
In the end, Shields' own coming-out experience was a good one.
"My friends were all wonderful and supportive, and my younger sister said, 'That's it? You're gay? I just thought you couldn't get a date."'
To view HRC's You Tube video, visit www.youtube.com, and search for National Coming Out Day 2007. For more information visit www.hrc.org.