It's funny the way the mind works. We hear a story of political intrigue, of petty grudges fueled by unhindered access to great power, and we want to take it as our own, shaping it into a commentary of our modern condition. Whether we see the villain on our own shores or behind the borders of a country far from here, there is an urge to transform their vile acts into the kind of fable we will watch on the evening news.
The clever translator — whether playwright or stage director — will take advantage of this, keeping us slightly off center, reminding us that there have always been individuals careless, even vicious, with their authority.
This is exactly what the team at the Washington Shakespeare Company has done with Albert Camus' Caligula. Drawn from David Greig's translation of Camus' original 1938 work, WSC deliberately keeps the play suspended in time. Caligula appears in the torn and tartan uniform of a sullen punk rocker one moment and the rich silk sari of an exotic foreign royal the next. His retainer, Helicon, wears a little black dress, and the patricians appear in togas.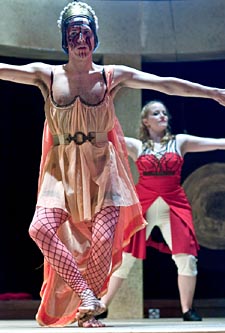 Caligula tells the story of the titular Roman emperor (Alexander Strain) and the brutal madness of his reign after the death of his sister and lover Drusilla (Heather Haney). No horror is too great for the emperor to inflict, no degradation too base for him to enjoy. Aided by his concubine, Caesonia (Rahaleh Nassri), and the conniving Helicon (Abby Wood), Caligula kills without provocation and manipulates without regret. At least that's what he wishes his people to believe.
In truth, Caligula struggles to maintain some degree of his humanity, some shred of the man he was before Drusilla's death drove him to madness. But that flicker is too slight to save him.
WSC has made the brilliant decision to cast Strain, most recently seen at Theatre J in Pangs of the Messiah, in the leading role. Watching Strain perform is not unlike watching the teenagers skateboard on Freedom Plaza. He is fearless and takes great risks on the stage, pushing the edges of common sense and control with his choices, only to land solidly and squarely on the other side. His range is impressive, his generosity to his fellow actors obvious and his performance outstanding.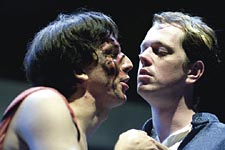 Also notable is Kathleen Akerley who acted in the title role of WSC's production of Macbeth. Playing both Albert Camus and the writer Cherea, Akerley gives both characters an entertaining smugness, clearly tying the two to one another despite the centuries that lay between them.
Wood's portrayal of Helicon is interesting, a kind of bored and apathetic posturing that is utterly contemporary (think any teenage drama on the CW) and, while it takes some getting used to, ultimately successful.
Most difficult to reconcile in his part is Jay Hardee as the poet Scipio. A talented actor, Hardee seems unable to manage the emotional weight the role requires. His rages are shrill and his acts of defiance seem more a tantrum. There is a lack of strength that the role demands.
CALIGULA

To Nov. 11
Washington Shakespeare Co.
$25-$35
800-494-8497
If there is another complaint to be made, it is one of stagecraft. The deliberate choices made in terms of costuming are often compromised by pieces that seem ill-executed. Caesonia's dress seems hastily conceived and constructed and the togas worn by the patricians are more the stuff of a high school production than the kind of sure handed work we see in all of Caligula's wardrobe.
Still, a few odd bits of tailoring should not keep anyone from venturing across the river to the Clark Street Playhouse. The WSC has once again shown its skill for tackling difficult work — and for keeping an audience on the edge of its seat.
---
When done well, a David Mamet play should feel like an argument — the messy kind no one admits to having, where you interrupt and talk over the other person. It should resemble an uncertain shamble of words and language, unplanned and unstudied.
Done incredibly well, a Mamet play should be like a car accident. At the end of the show the audience should be left surveying the wreckage, wondering exactly who or what is to blame for such an impressive amount of damage. It happened so fast, officer.
Unfortunately, Theater J's production of Speed the Plow seems bent on checking the traffic before pulling out. Performed with a distinctly rehearsed quality, Mamet's story of backbiting and deception in the Hollywood film industry never quite takes off. Too often we are reminded that what we are watching is a trio of actors delivering complex, smart dialogues written by a playwright.
Bobby Gould (Danton Stone) is a Hollywood producer who finds himself torn between delivering to the head of the studio a guaranteed big-name blockbuster, making both his career and that of his friend Charlie Fox (Peter Birkenhead), or recommending an artistic, sure-to-fail film recommended by his secretary, Karen (Meghan Grady).
What might prove surprising to some is the fact that it is the local actor, Grady, who is the standout of this cast. Taking her place on stage with two Broadway actors with lengthy stage and screen credits, Grady takes control with a performance that is fast, unhesitant and vital. Particularly outstanding is her work with Birkenhead. There's a dynamic that happens when the two spar and the energy is palpable, the performances enjoyable.
SPEED THE PLOW

To. Nov. 25
Theater J
$15-$50
800-494-8497
Stone is too practiced, too considered. He allows light into a text that should be a dense wall of sound and never seems to lose awareness that there is an audience just a few steps away.
It's a rare thing when an audience arrives at the theater hoping for a car wreck. It's a shame Theater J did not take advantage of the opportunity.