For some, the sexier elements of the work of William Shakespeare were not fully evident until film director Baz Luhrman set his attention to the classic Romeo and Juliet. Or, as it would become in the filmmaker's hands Romeo+Juliet. Steeped in hyper-saturated colors, laced with urban grit and filled with such visual puns as a "Posthaste" delivery truck — when it absolutely, positively has to be delivered so that your beloved knows you are faking your own suicide — the film brought the text into the present while respecting its past. Luhrman didn't simply dress the Shakespeare play in modern garb, he created a hip-hop translation.
While it's uncertain how director Gale Edwards would feel about the comparison to the work of her fellow Australian, there is something of a kinship between Luhrman's Shakespeare and Edwards' take on Christopher Marlowe's Edward II now being performed by the Shakespeare Theatre Company. Both are filled with rich visuals, clever interpretations and a vibrant, edgy sensibility. Both take the original text and deliver it with a wink and a less-than-subtle nudge. Both fill their frames with pretty boys and drag queens.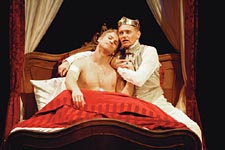 Edward II
But Edward II is live — a raucous production taking place on the stage of the Shakespeare Theatre Company's new Harman Hall — and that gives the audacious undertaking the true upper hand.
It's creative. It's emotional. It's daring. (And did we mention the pretty boys and drag queens?)
Edward II opens as the new King Edward (Wallace Acton) is burying his father. Edward wastes no time in sending for Piers Gaveston (Vayu O'Donnell), who had been exiled to France by Edward's father who found the boys' close friendship inappropriate. (Yes, that's code for the fact that Edward II and Gaveston were lovers and gay men do not heirs to the throne, literally, make.)
Gaveston's arrival completely disrupts life in the court. The King's attentions turn from affairs of state to decadent parties and lavish consumption. He is finally given an ultimatum by his advisors. Either send Gaveston back to France or surrender the throne.
Strangely it is Edward's wife, the Queen Isabella (Deanne Lorette), who pleads for Gaveston. Convinced that Isabella was responsible his companion's ouster, Edward now spends his days suffering from near suicidal depression and nursing a deep hatred for the queen. Isabella is determined to mend the rift, even if it means bringing her rival back to the court.
With the assistance of the powerful Lord Mortimer (Andrew Long), who has set his eye on Isabella and his sights on leading England, the noblemen begrudgingly agree to the queen's request.
But Gaveston's return creates a situation even worse than before. Edward is even more dismissive of Isabella and Gaveston's influence is stronger and fueled by a vindictive rage. Pushed beyond her limits, Isabella secretly turns on her husband, joins forces with Mortimer and the other lords, and arranges for the capture of Gaveston.
Edward II

To Jan. 6, 2008
Harman Hall
$23.50-$79.75
202-547-1122
What follows is a brutal struggle for power that strangles the country and cripples the royal family.
Standouts are hard to find in this well-rounded ensemble. O'Donnell skillfully manages to have it both ways, playing Gaveston as rakish social climber one moment and devoted lover the next. It's an interesting choice, particularly when seen against Acton's emotional, near fragile Edward. This dynamic makes Edward and Gaveston a deeply nuanced couple, and brilliantly sets the play to teeter on a rocky foundation.
Award-winning director Edwards' has recast Edward II in the 1920s. This is the era of World War I seen through the most romantic of lenses, with a constant and steady military drumbeat marking the time of every footstep, even those taken in a pair spectator pumps. Costume designer Murell Horton has filled the stage with garb that evokes a gilded age where a uniform was as much a mark of good breeding as a tailor-made tuxedo. The beautifully rendered pieces play well against the clean, modern sets of designer Lee Savage and the austere lighting scheme of Mark McCullough.
With their production of Edward II, the Shakespeare Theatre Company has given audiences a reason to celebrate the company's new home on F Street. And that Gale Edwards throws one hell of a housewarming.
---
There are some musicals that, through no fault of their own, become taken for granted. We know they are legendary but, after a point, mention of their name does not call to mind a flashing Broadway marquee. Instead, the titles of certain musicals call to mind high school theater productions and choose-your-entrée dinner theaters.
Fiddler on the Roof

To Dec. 31
Olney Theatre
$25-$46
301-924-3100
The argument could be made that Fiddler on the Roof has become one of these musicals. You know the big songs like "If I Were a Rich Man" and "Tradition" and the song that launched a thousand father-daughter dances, "Sunrise, Sunset." But there is comfortable familiarity to the musical. A timeworn classic that seems pale when placed alongside flashier trophies like Wicked and Spring Awakening.
Fortunately for audiences and actors alike, Olney Theatre Center's new production will remind you that Fiddler is a show that deserves attention.
Set in pre-Revolutionary Russian village of Anatevka, where the people live a difficult day-to-day life that is as precarious as that titular "fiddler on the roof," the musical tells the story of Tevye (Rick Foucheux) and his family. A milkman who struggles to make ends meet, Tevye has no money to provide dowries for his five daughters. This leaves his three oldest daughters with limited options, a fact his wife Golde (Sherri L. Edelen) is often reminded of by village matchmaker Yente (the comically gifted Karlah Hamilton).
But one by one, the girls break with tradition — the thing we have been told keeps that fiddler balancing on the roof — and decide to marry for love.
Fiddler is Helen Hayes award-winning Foucheux's Olney Theatre Center debut. Last seen in Woolly Mammoth Theatre Company's Dead Man's Cell Phone, Foucheaux brings a warm humor to the part of Tevye. His voice is remarkably well suited to the role, a big, well-rounded, nostalgic sound that fills the theater. It's the kind of voice you feel in the back row.