The language of Conor McPherson's Shining City is a rapid fire staccato. His characters struggle to finish sentences they do not wish to speak and strain to say things they desperately want another human being to hear.
The play opens as Ian (Donald Carrier), a therapist, tries to make order of the office he's just moved into in Dublin. A slightly shabby environment — wonderfully rendered by Studio Theatre's resident scenic designer Russell Metheny — Ian pulls enough boxes aside to meet with his new client John (Edward Gero).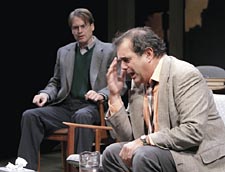 A recent widower, John has begun to be visited by the ghost of his dead wife. Not the memory of her, but her actual spirit. Not the comforting presence of some angelic being here to tell John she is in a better place, but a pale and drawn cadaver, with hair as wet as if she'd been drowned. The situation is sufficiently horrifying that John has abandoned his home for a let room nearby.
What's fascinating and not a little disconcerting about McPherson's ghost story is his manipulation of not only language but of storyline. Time moves forward as it does in real life with characters dropping in and moving on. But great gaps pass between what we see and what we see next. Months vanish between scenes as though we are infrequent visitors to a group of people who are just barely our acquaintances.
Left with missing pieces and lost time, the audience must make sense of events that seem only loosely connected by the presence of Ian. We must root around in the absolute darkness between scenes trying to make sense of where these people are going, what will happen next.
Shining City

To Dec. 16
Studio Theatre
$39-$57
202-332-3300
With this ingenious timing, McPherson has managed to bring something more startling than the dead to The Studio Theatre's stage. He's brought real life.
For Shining City, founding artistic director Joy Zinoman has enlisted all of the theater's resident designers — the aforementioned Metheny, costume designer Helen Huang, lighting designer Michael Giannitti and Gil Thompson on sound. The skill one sees with this phenomenal team of experience and Helen Hayes honored talent is in the most minor of details. The music that gently coaxes scenes in and out of the darkness. The vision of a church at sunset out the office window. The clothes and furniture that seem as worn and familiar as the things that might be in our own homes. There is a care that has been taken here that anchors McPherson's surreal story in the real.
It's a challenge ably met by the cast as well, and while Carrier's Ian is the axis upon which the play spins, it is Gero who becomes its heart. There is a brilliant physicality to the emotional work Gero is doing. John is a man standing on the edge of everything that terrifies him, attempting to contain barrage of emotion he cannot control. It is messy, sometimes ugly work and Gero unselfishly brings that unwieldy mass of energy to the stage. He is masterful.
---
Tamburlaine

To Jan. 6, 2008
Harman Center
610 F St. NW
$23.50-$79.75
202-547-1122
While it may be a little cliché to make any allusion to getting a shiny new toy on Christmas morning, the pull is hard to resist when talking about the Shakespeare Theatre Company's new home, the beacon-like Harman Center for the Arts. All glass and warm light when viewed from outside its F Street NW entrances, audience members taking their place in the new 775-seat Sidney Harman Hall for the company's production of Tamburlaine are greeted by a vast black hole. Or rather, a blank slate.
Absent of any ornament, barren of any set piece, the sensation is not unlike waiting for the start of a dance performance. A calm before the energetic storm to come.
And come it does in the form of a ruthless military leader, the play's namesake Tamburlaine (Avery Brooks), who goes from poor Scythian shepherd to conqueror and ruler of Africa and much of the Middle East. A feat he accomplishes, not unimpressively, by intermission.
The plot of Christopher Marlowe's 1587 play is simple though epic. Tamburlaine, aided by a small but loyal band of men, sets out to take over the world. Armed with a clever tongue and a battle-hard ferocity, Tamburlaine systematically builds an empire by making fast — though occasionally temporary — alliances.
When King Mycetes's (Floyd King) captain Theridamas (Scott Jaeck) arrives to capture Tamburlaine, the Scythian instead convinces the king's man to become his ally. He soon forges a similar, albeit slightly more precarious, relationship with Cosroe (Andrew Long), King Mycetes brother.
In the pursuit of his military goal, Tamburlaine captures and falls instantly in love with Zenocrate (Mia Tagano), daughter of the Sultan of Egypt. Though Zenocrate fends the Scythian off for some time, she is soon pulled into his thrall and, ultimately, returns his feelings of love.
In truth, those encountering Tamburlaine quickly divide into those who are loyal to his rule and those who are slaughtered at his hand. The audience must simply stand by and watch the unspeakable tragedies mount. This is a bloody tale that, oddly, has neither a true hero nor absolute villain in its cast.
And a wide ranging cast it is, led by Brooks in his return to the Shakespeare Theatre. A powerful presence on the stage, Brooks projects a strength that perfectly embodies the emperor's grim focus.
Tagano is forceful Zenocrate. Far from hiding behind or relying on the dramatic presence of Jennifer Moeller's elegant, couture-like costumes, the actress meets her role with phenomenal talent. Her Zenocrate is an iron fist in a velvet glove. Mention must be made of the outstanding performances of Terence Archie as Tamburlaine's man Techelles and Franchelle Stewart Dorn as the enslaved Empress of Turkey, Zabina. Stewart Dorn's transfixing performance is heartrending.
While there is some unevenness in Shakespeare Theatre Company's production — Jay Whittaker, who plays the adult Callapine, mistakes volume for emotion and King's Mycetes is played as such camp it is disruptive — it is evident that a great deal of attention went to showcasing what is possible with the new theater.
Lighting designer Mark McCullough dramatically illuminates the upper reaches of the stage to bathe a perfectly synchronized troupe of drummers. Moeller fills scenes with costumes that range from opulent courtly elegance to down-at-heels rags. And the company's award-winning artistic director Michael Kahn does not miss an opportunity to offer his audience an inventive entrance or dramatic new effect in his adaptation.
There is a new toy feel to Tamburlaine — the comparison cannot be helped. We're exceptionally fortunate to find such a treasure under the tree.