If you are searching for the essential holiday theater ticket for the Aunt Bee in your life, look no further than Arena's premiere of Christmas Carol 1941. Based on Dickens' classic tale of Scrooge and the ghosts who scare him straight, this version is set in post-Pearl-Harbor Washington, complete with the sights and sounds of FDR. Constitutionally incapable of offending, smartly performed, and utterly lacking anything sharper than a butter knife in the wit department, this is just the thing for the dyed-in-the-wool flag-waver who finds high school history textbooks absorbing.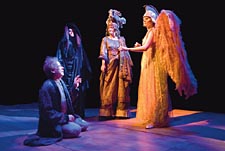 A Christmas Carol
There's a certain charm to this production, a bit of tongue-in-cheek about the costuming, a kind of retro-melancholy to the moods created. Were it significantly wittier and darker, it could have been a quite innovative take on the old story. As it is, it remains a kind and generally gentle trip down memory lane, easy on spectacle, easy on drama. The only exception to this is adapter James Magruder's reference to the Iraq War (and, of course, those that have come before), although anything too heavy is curtailed efficiently by the presence of a singing statue.
Elijah Strube, our D.C. Scrooge, is played by James Gale, who in delivering a most loud and bumptious old man, seems to whirl the stage in a near-fever. Though Gale's energy is fun to watch, more often than not he comes across as a good actor trying to compensate for a pedestrian script. Though the decades have brought us Scrooges both sinister and comic, Magruder fails to enjoy this archetype. His Strube is color-by-numbers, leached of nearly everything that makes such a character fun to watch. He is never that mean, he is never that funny, his foibles have been whittled away like the empty desk and paper-thin blanket that constitute his home. Though Gale works hard to inject Strube with life, his flips between madcap antics and maudlin moments ring hollow for lack of the necessary underpinnings of character.
Still, there are few moments to dwell on Scrooge's psychology, or lack thereof, for despite its gentle approach, director Molly Smith keeps this Carol as near to TV speed as theater gets. The characters in Strube's world fill the stage in well-crafted combinations that move and flow quickly as the story unfolds backwards and forwards through time. Staged in the round, there are challenges to this kind of pace, but the manipulation of props, lighting, and trap doors are nicely executed and often quite as interesting in their way as the action. Gale leads a strong and competent cast of players who capably parachute in and out of their scenes to deliver good, clear moments of drama with consistency and flavor.
Lawrence Redmond as Henry Schroen, (the Crachit father in the original), Strube's downtrodden employee, is an especially striking presence. Redmond plays Schroen largely with his eyes, bringing such integrity to his man it makes Strube cartoonish by comparison. It's hard to believe these two men inhabit the same universe, let alone have shared the same office for years. Nancy Robinette as Schroen's wife Margarette is another standout, doing a lovely job of inhabiting this rather quaint vision of woman and mother.
CHRISTMAS CAROL 1941
To Dec. 30
Arena Stage
1101 Sixth St. SW
$62-$76
202-488-3300
www.arenastage.org
Hugh Nees as Strube's ex-partner Marley and Tim Getman as Donald are both vivid and fun in their small but memorable roles. And Clinton Brandhagen, as Schroen's war-bound son Butch, is suitably guileless and appealing. C.J. Harrison-Davies and Mollie Clement, the production's two children, both succeed in bringing essential charm and dramatic dimension.
And so there are graceful, animated statues in mesmerizing plumage, songs and dance, gently rendered family dinner scenes, bold kids, and Strube in his (surprisingly dubious) Union suit figuring out that it's nicer to be nice. Taken at face value, Christmas Carol 1941 is capable of delivering a certain brand of nostalgia that will make at least some portion of the audience very happy.