They haven't forgotten Jesus. But don't expect Jason & deMarco to sing songs about praising the lord, either.
At least not on Friday, Nov. 30, when the L.A.-based couple's world tour hits Alexandria, Va., for the Northern Virginia AIDS Ministry's "Concert for Hope," a musical celebration recognizing World AIDS Day in addition to the work being done locally to "combat" HIV and AIDS.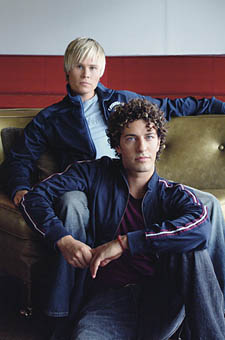 Jason and deMmarco
Instead, call the duo "mainstream pop," or "spiritual," suggests deMarco DeCiccio, 31, a Canadian native who comprises one half of the band.
"It's interesting because if we promote [the show] as a gay Christian concert, the gays won't come because it's Christian, and the Christians won't come because we're gay," DeCiccio laughs. "For that reason we've done some more mainstream music. But basically, the people who come to see us know there's a spiritual aspect to our music, and it's uplifting."
Attendees of NOVAM's concert can expect the lovebirds' set to include songs about hope, loving each other over the past six years, as well as tunes about self-acceptance and "coming out."
"AIDS and HIV have always been an important part of my journey, because when I came out it was an HIV/AIDS organization that took me under [its] wing," says 32-year-old Jason Warner of his experiences with the Houston-based His Touch Ministries. "Although I wasn't HIV positive I knew that was the one place to go because they were familiar with people coming out. And I could talk with someone who was loving me and not judging me."
On Friday, Nov. 30, Warner and DeCiccio hope to use their music to "heal."
"Music is a huge healing tool," Warner says. "It's a universal language and it really reaches people on a level that only music can."
Jason & deMarco will perform at NOVAM's "Concert for Hope," Friday, Nov. 30, at 7:30 p.m., at the Kenmore School Auditorium, 200 S. Carlin Springs Road, Arlington, Va. Tickets are $25-$75. Call 703-533-5505, ext. 13 or visit www.novam.org.
From YouTube

Jason and deMarco: This is Love