GOLDFRAPP'S' NEW OH LA LA'S… Goldfrapp is one of those slow-boil, boiling-under bands: gaining new admirers all the time, not all at once, still below the radar to most. The more you hear the British duo of Alison Goldfrapp and Will Gregory, the more you like, especially if you appreciate eccentric electronica in the mold of Bjork or Kate Bush. In fact, you could think of Goldfrapp as the better Bjork, what Bjork might sound like if she hadn't strayed from electro-pop over the past decade. The better Bjork whimpered onto the scene at the turn of the millennium making theatrical, sluggish electronica, but the duo has turned up the glammy disco heat with each subsequent release. They garnered mainstream European success with 2005's Supernature and then greater worldwide club recognition with last year's We Are Glitter, a collection of Supernature hits as remixed by some of today's top dance producers.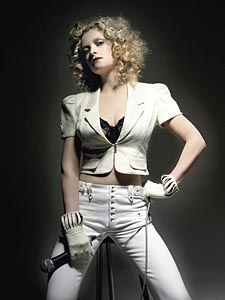 Goldfrapp
And just like clockwork — a "Strict Machine," natch — two years go by and comes word of a new studio set. The duo will release Seventh Tree on February 26. Apparently the album departs from the script. "It's very different to Supernature, so it might come as a bit of a shock to some of you," reads an official post on the band's MySpace page. Another post from the site's maintainers (not Goldfrapp themselves) gets flowery in describing the sound. "A sensual counterpoint to the glitterball glamour of Supernature, Seventh Tree is gilded in the butterfly colors of an English surrealism shared from Lear to Lennon. It shimmers and shines with the warmth of a hazy summer, an electric whirlpool over which Alison's glistening voice soars." Well. Easier seen than sounded. Though that overdrawn description does conjure up aural memories of the duo's cerebral debut Felt Mountain and its chilly sophomore set Black Cherry. At least they still namecheck on one track the Italian disco pioneer who inspired the last album's title, albeit as part of an amusing tie in with Germany's media capital and a famous magician ("Cologne Cerrone Houdini"). And the first single is titled "A&E." Sounds arty and entertaining to me….
KRISTINE W'S CLUBLAND POWER… Early next year will also see the release of at least one new album from Kristine W. and probably two. No word on just when, exactly, her dance album The Power of Music will see release, nor further details about that album or a forthcoming jazz/chill-out album titled Straight Up With A Twist. But there's no doubt they'll be great: Kristine W. never fails to impress. And if this past summer is any indication, she may just now be entering her musical prime, many years removed from her successful bout with leukemia. Tony Moran apparently wrote what became this summer's dance anthem, "Walk Away," with Whitney Houston in mind, but Houston's pass is our catch: Kristine W. does a fantastic job with the song. "Walk Away" became her tenth No. 1 on the Billboard Club Play Chart and it's an easy pick as this year's most emotional and best powerhouse vocal. (Yes, registering higher than Chaka Khan & Mary J. Blige's "Disrespectful.")….
THE EVENT KEEPS HITTING… "Walk Away" is only one of several dance dazzlers to gain notice on Tony Moran's noteworthy compilation The Event, released in limited batches starting around Memorial Day. A truncated, single-disc version of the set was expected right about now, but Moran's publicist informs that the star DJ has since had a change of heart and will stick with his original 2-disc, 2.5 hours affair. For the time being that remains easiest to obtain through Perfectbeat.com. He's got plenty to stick to, of course: "Walk Away" was just the first chart hit to come from the set, which consists largely of new Moran productions, both remixes and original songs. Included are a couple tracks on which Moran lays down his sweet, boyish vocals, something he should definitely do more often. Charting right now: Moran's delirious ode to disco, "Keep Your Body Working" featuring Martha Wash. Charting next? A good candidate would be his anthem with former Madonna collaborator Nikki Richards' "Freedom." "Shine a light on my freedom," indeed. And charting past — and not high enough — was Deborah Cox's moving adaptation of the disco hit "Everybody Dance (Clap Your Hands)" by Chic. A regular chart-topper, Cox's clap-happy track barely dented the Top 25. How criminal. Cox offers a heart-to-heart pep talk to her flock of dancers, but she sings directly to you, the listener. It's hard to avoid goose-bumps as she counsels, "Listen clearly! Yes I know because I've been there before. Oh, can you hear me? I love it when my people dance." You got it, babe….
PUSSYCAT WITHOUT CLAWS… The Pussycat Dolls are still expected to release a sophomore album next year, Double the Trouble. But chances are, the release won't hit until spring at the earliest, since lead pussycat Nicole Scherzinger needs more time to try and make a go of a solo career. Over the past few months her first two singles failed to dent the singles charts, even with assists from star rapper T.I. and Black Eyed Peas producer will.i.am. And so a third single, "Madvillain," will see release next month, while her debut album Her Name Is Nicole has been pushed back yet again, now scheduled five months after its original October drop date. Come February, her name might be just Queen Doll once again. Don't cha wish your girlfriend was not like me…..