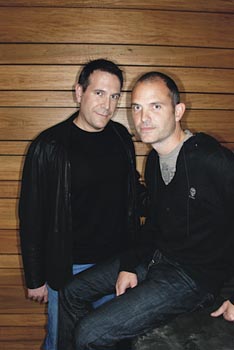 John Guggenmos and Ed Bailey
It's late October and the effort to create the latest addition to D.C.'s gay nightlife is in the home stretch. While on the outside it may seem like time has stood still — banners from the previous club at this Eighth Street and Florida Avenue NW spot, Kili's Café & Lounge, still hang, as does a poster urging Washingtonians to vote "Vincent Orange for Mayor" — the interior offers a different world entirely.
"Everything is an earth palette," explains local nightlife entrepreneur Ed Bailey, standing in the foyer of his new enterprise. He's surrounded by walls in brown and blue, amid ATMs and beer coolers, all still in their shipping crates. "The whole concept is very natural," he says. "There's wood. There's stone. All the colors are picked based on that."
Indeed, a tour of the two-story space confirms that Town Danceboutique's club kids will be treated to an organic, eco-chic setting befitting the greening edge of style. Tables are cypress stumps, the first-floor DJ booth and several columns are wrapped in wood planks.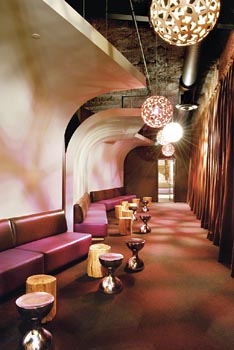 "Is this a green building? No," admits Bailey, adding that he and business partner John Guggenmos had explored the notion of converting the massive space into an environmentally low-impact venue. "Unfortunately, that's not something we were able to achieve."
They have, however, achieved a look and feel that marries the fantasy of A Midsummer's Night Dream with the sensibility of Scan Design. The mood is underscored by projections on giant video screens that will continually delight visual senses with an organic parade of natural vistas.
"It's not going to be like Britney Spears videos," says Bailey. "It's landscapes, sky-scapes, underwater — let's call them 'floating paintings.' It's an animated art piece."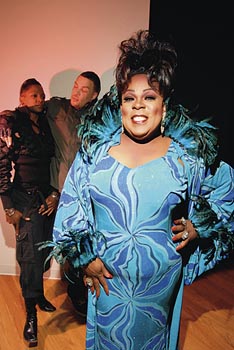 Ella Fitzgerald (right)
While the fantasyland Bailey and his team are constructing is impressive, Bailey seems most impressed by the first-floor stage, a drag-dedicated showpiece.
"We created an actual performance space for drag shows, which has not existed in this city before," observes Bailey. "There was Ziegfeld's, of course, but it was never an actual cabaret space. This is a stage built just for this."
Donnell Robinson, a.k.a. Ella Fitzgerald — who has been treating D.C. audiences to drag performances for more than 30 years — says the four steps up to Town's drag stage are a welcome relief from the 18 steps she traversed twice nightly during years of performing at Ziegfeld's, a victim of the city's Southeast eminent-domain development for the Washington National's baseball stadium.
"Four steps and I'm onstage. I like this a lot," says Robinson, who will host Town's Saturday night drag show. "This is going to be very interesting. Very cabaret, with a twist. I really think this venture is going to be great for the younger generation. It's going to offer a lot for different types of clientele. Hopefully some of the Southeast crowd will come."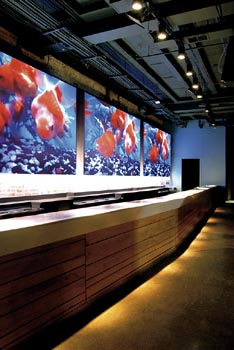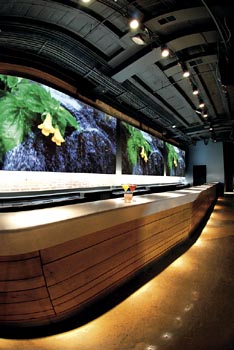 The first floor will offer two drag shows each Friday and Saturday on the first floor. Meanwhile, the upstairs space will offer a flavor more akin to Bailey's dance club days, which he began at Tracks nearly 20 years ago with current business partner Guggenmos, most recently embodied at Nation. The center of the high-ceilinged space is a large dance floor, allowing for the flow of Town crowds to circumnavigate the floor rather than cross it, should they not want to trip the light fantastic.
To counter the boom-boom, Bailey and company have built a quiet space into the second-floor layout. A room running along the front of the building offers an oasis for those seeking some downtime. Smokers will find relief, too, in a planned, outdoor "smoking garden."
While the two floors will differ, so will the mood on Fridays and Saturdays, the only nights Town will be open, at least for now. The 18-and-older Friday affairs, "Downtown," will cater to an audience that Bailey describes as a bit edgier than their other gay peers, those avoiding the mainstream. On Saturdays, it's "Uptown," the tried and true, 21-plus, "classic, gay-boy dance party."
With all the parts coming together, Bailey confesses a "tingly" sensation of excitement as he inspects the new nightspot's progress. Certainly some of that thrill must come from simply knowing that all this hard work will soon be complete.
"This has taken up an enormous amount of time. My personal life is a little complicated by dating someone who lives in New York. I've tried to get away, but I'm here all day, every day, for construction. Then the marketing, the Web site, everything else kind of after hours. I'm exhausted right now, so the excitement doesn't show. But it's all coming together, and it's so thrilling to see that.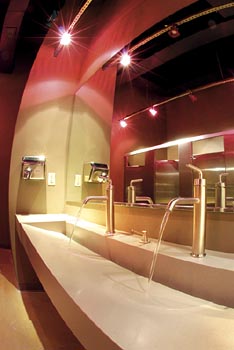 "I want to be here," he continues. "I wouldn't have gotten into it if I thought it was something I could build and walk away from. This is what I love to do."
And the only thing better than doing it, says Bailey, is doing it with people he respects and trusts, such as Jim Boyle, who was the general manager at Nation, and is joining Bailey and Guggenmos as a Town owner; "Shaggy," the sound and technical director at Nation; Jesse Wily, the lighting guru from Tracks; general manager Andy Phan; and Nation dance troupe X-Faction, to name a few.
"What's here is a culmination of everything that John and I have done [over the years], which is a lot," says Bailey, adding work at Cobalt, Ozone and Trumpets to the mix. "This is going to be a culmination of all those experiences, pulling together all the best aspects of what we've learned over the years — and the best people we've met over the years."
Town is located at 2009 Eighth St. NW and opens this Saturday, November 17, 2007. Cover charges are $10 on Fridays and $12 on Saturdays. Doors open at 9 p.m. Drag shows at 9:30 and 11 p.m. 18+ on Fridays. 21+ on Saturdays. On premise parking available. For alerts regarding Town's official opening, register at www.towndc.com. For more information, call 202-234-TOWN.