When the term "flautist" came along — 1860, according to Merriam-Webster — the traditionalists, that bunch who'd been using "flutist" since 1603, may have been alarmed. Baltimore-native Candie Cramer falls into the latter bunch, those preferring "flutist." At least, that's the phrase she uses to describe herself.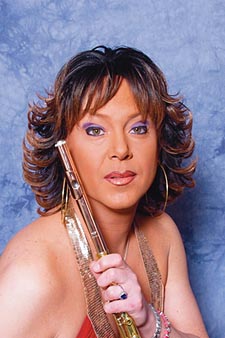 Candie Cramer
Arguably, she is something of a traditional person, having recorded a CD dedicated to Christmas music.
"It's such a classy, elegantly done CD of Christmas music," she says of A Candie Cramer Christmas, including her flute renditions of old chestnuts such as O Come, All Ye Faithful and Silent Night. But she's also mixed things up a bit with newer offerings including Christmastime is Here and Santa Baby. That's not the limit of Cramer's challenge to tradition, however. After all, how many traditional flutists are transgendered?
"I'm not aware of any other transgendered flutists who are actively performing classical or R&B," offers Cramer, who studied at the Oberlin Conservatory of Music. "I've had extremely good training."
But Cramer's identity is one of few non-traditional twists when it comes to her Christmas sensibilities. Her Christmas joy is downright homespun.
"It's a very special time for me. It's also the time of year my parents gave me my first flute. It was a used flute, but it was very shiny and very special to me."
Following the tradition of many modern Americans, Cramer says that while Christmas is special, it can also be emotionally taxing. She says it may leave her thinking about the birth of Christ on one hand, but of family members who have died on the other, particularly her sister, Geraldine, who died in 2001.
"We were a very tight-knit family and Christmas was the most tightly knit time of year," remembers Cramer, 43, who will be spending this Christmas with her surviving brother's family, and Geraldine's daughter, Christina, to whom Cramer is offering any proceeds from this CD. "The holidays are very difficult for me, but music helps me get through."
A Candie Cramer Christmas is available at Lambda Rising bookstores in D.C., Baltimore and Rehoboth, and online at www.fluteworld.com.