It's safe to say that I'm the Scrooge in any holiday gathering. (Hey, it's better than being Tiny Tim.) Christmas spirit — limited. Holiday cheer — barely. Glad tidings — hardly.
So for me to find the holiday play that I could actually consider incorporating into my seasonal routine is a feat indeed. Of course it's not A Very Brady Christmas or some other Hallmark Channel movie, but the Rep Stage's one-man show enacting the hysterical and sardonic David Sedaris story, The Santaland Diaries.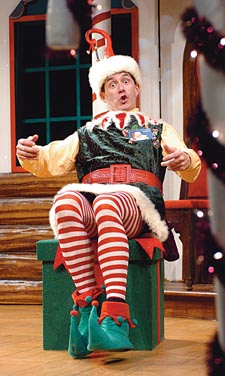 Santaland Diaries
One holiday tradition I truly do enjoy with my friends is a post-Christmas dinner "performance," which has ranged from musical numbers, to personal narratives, to readings of the always entertaining David Sedaris stories. "Seasons Greetings to Our Friends and Family" has been a hit more than once, but our rendition always pales in comparison to the original. Sedaris is so well known for reading his stories that it's hard to imagine anyone would be gifted enough to capture his words with the same dry wit and biting sarcasm that he instills with each breath.
Sedaris has provided fantastic material for this play. The success of the show is going to live or die at the feet of Bruce Nelson in the sole role of David. It lives: Nelson is masterful. He might as well be channeling Sedaris because every word is spot-on perfect. Whether imitating the slimy womanizer, mimicking the uniform manager screaming about wearing panties under the elf tights, or leading the Santa cheer complete with pom-poms, Nelson sheds personas as quickly as he sheds his street clothes. One minute he's an unemployed writer, the next minute he's Crumpet the Elf, sporting an elfin hat and pointy shoes. The sight alone is worthy of a laugh, but the magic Nelson conjures on stage could power a sled around the world in a single night.
Nelson is strong throughout the performance, but a couple moments are such gems that they alone would make the trip to the theater worth it: suicide on Elf Island, sign language with the deaf children, and his Billie Holiday version of "Away in a Manger" is inspired. He even throws in a couple Senator Craig bathroom jokes, which are easy, cheap shots, but still get a laugh. But don't laugh too much — he'll call you out and make everyone look by pointing at you.
Director Michael Stebbins has created a production that is a wonderful combination of polished, professional theater and something out of Waiting for Guffman. The few props used — some garish candy cane structures covered in Christmas lights — are unceremoniously brought on stage and plugged in while the audience waits. At one point Nelson even argues with the stage manager about prop placement and patiently drinks a bottle of water until everything is to his liking. The number of middle fingers flying across the stage is delightful — I hope an angel gets its wings each time the finger is given.
Adding immeasurably to the play is the sound, ranging from the holiday cheer of clanging cash registers, to musical interludes of holiday classics, Phil Collins, and, of course, Cher. What's the holiday season without a little Cher?
THE SANTALAND DIARIES
To Dec. 23
Rep Stage
Columbia, Md.
$17-$23
410-772-4900
www.repstage.org
As great as Nelson is, the show starts to drag after about an hour. Sometime around the Santa/Satan comparison it seems like Christmas is never going to arrive and we'll be stuck in a holiday purgatory. So it's a relief when the countdown to Christmas begins and the clock starts to tick a little more quickly.
The Santaland Diaries is a wonderful story that embraces the commercialized, darker side to the holidays. It's the fly in the eggnog that reminds us that underneath the tinsel and pure white layer of fake snow, the holidays aren't all candy canes and hugs. The holidays can also bring out the worst in people, but we might as well laugh about it. Maybe this year I'll drop my Scrooge nickname and just go by Crumpet the Elf.