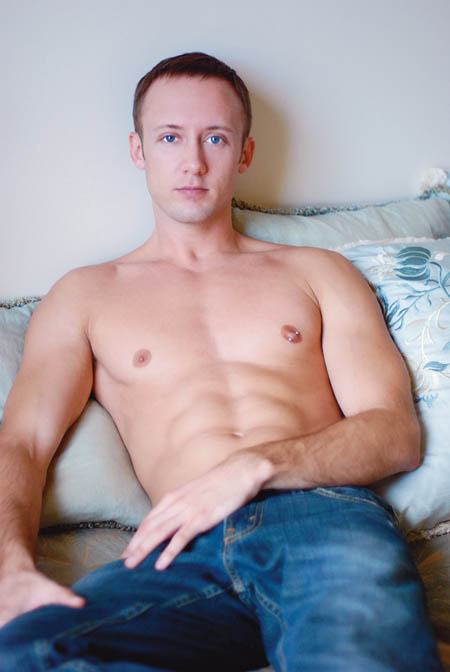 Adam Dahl
When Adam Dahl and Metro Weekly last crossed paths in February he was still a newcomer to D.C. But the small-town Minnesota native had jumped right in to what the city had to offer — in fact, he said he felt like he'd already met half the city. He had just donned his first harness for the Mid-Atlantic Leather Weekend Blowoff to his friends' surprise, and was newly separated from the guy he moved out here for in the first place.
Being a Metro Weekly Nightlife Coverboy possibly helped Dahl meet the other half of the city.
"Even at Capital Pride I had people I didn't know stop me on the street and say, 'Hey, you were in Metro Weekly,"' Dahl says with a smile. "I've had a few guys with strong personalities really tease me. That's to be expected — and welcomed, for that matter."
While Dahl didn't realize exactly how far "out there" he was putting himself with his original appearance, he enjoyed the advantage it gave in starting conversations. "It was an easy talking point," he laughs.
And talking points are welcome in Dahl's world as he tries to hold onto his friendly and low-key Midwestern charm. Anything that might get D.C. guys to open up and start talking would be an improvement, says Dahl.
"They're so guarded. It is so easy to spot a Midwesterner in D.C., because they will actually approach you and say, 'Hi.' If you take the initiative and engage in conversation, you haven't been here for a while or you're not from the East Coast."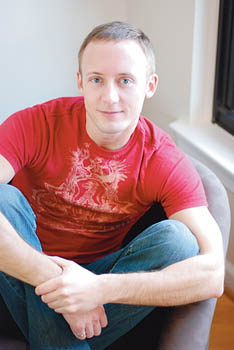 That D.C. guys don't necessarily exhibit the openness of the Minnesotans and North Dakotans of his upbringing has not been the worst, however, of Dahl's relocation. The worst was reserved for his truck, "Pedro the Pickup," on July 4.
"It was beat up like you wouldn't believe. I parked it on 11th Street [NW]. There was close to $3,000 worth of damage. The steering wheel and the dashboard were completely smashed. They apparently ended up hurting themselves, because there was blood."
But Pedro survived and returned to D.C.'s streets three months later.
Despite the stuffy D.C. guys and Pedro's unfortunate beating, Dahl's sunny disposition remains solidly intact.
"I know these things happen to everyone at some point. Yeah, it was disheartening, but you bounce back. You just deal with it. You tackle the problem at hand and move on."
Dahl is settling in well enough that he doesn't foresee leaving D.C. anytime soon. He enjoys his job as an IT project manager in Virginia, as well as his part-time job manning the desk at Results. He also found another part-time job that makes his harnessed foray into Blowoff seem like child's play.
As luck would have it, Mike Watson, a co-owner of Be Bar, teaches a class at Results that Dahl enjoys. "One day he said, 'We have a new concept for a theme night and I'm wondering if you'd be interested."' The theme night in question was Be Bar's regular "Be: Bad" party.
"That was the first of many," says Dahl, adding that the ongoing Be: Bad gig prompted him to go out and get a harness all his own. (For Blowoff he was sporting a loaner.
Though Dahl, 28, plays down his blossoming leather lifestyle, insisting his physique is too slender to pull off a "leatherman" look, there is definitely a component to his personality that appreciates power. It's not all warm handshakes, friendly hugs and an "aw, shucks" attitude.
"I'm a very competitive person," he readily admits, lowering his voice to emphasize just how serious he is about this point. It's a streak that certainly helped him win the "Coverboy of the Year" contest.
"There's no way this was hands-off," he says. "Honest to goodness, it was on. The subject line for texts and e-mails and all sorts of things was, 'It's on.' You have to step it up. And as the momentum builds, the pressure builds because you have more people on board with you and you don't want their energies to go to waste. It's rallying your friends, strategically having some campaign managers throughout the country."
Though Dahl went great guns in his campaign — proof that friendliness and competitiveness are not mutually exclusive — it's the friendliness that may have won out. At the end of it, Dahl seems less concerned about his rank in the final three than with the people he re-connected with thanks to his competition outreach.
"It was all one-on-one," Dahl insists, adding that he found one friend who'd gone as far afield as Homer, Alaska, and a fraternity brother who was recently engaged. "It's been a wonderful excuse to reconnect with people. Sometimes our lives get pretty busy, so why not use it as a silly excuse to phone and say, 'Hi, what's new?' I found a very positive response from a lot of people who just enjoyed rallying behind this, just doing it out of friendship."
With a sly grin, he adds, "It was almost a little test of friendship in a sense, putting some feelers out there to see if people would do it just out of the goodness of their hearts, because it's something you want and they're your friends."
It seems Dahl's friends and family passed the test, proving themselves loyal supporters, but Dahl says this kind of competition is behind him — at least for now.
"I don't need anymore beauty pageants or popularity contests in my future. This was enough for awhile. I didn't think when I said I'd be part of the original photo shoot that it would grow to be this all-encompassing thing my life," he shares with a laugh. "But I'm thankful for it. It's been a new opportunity, a new experience. It's been fun. And now it's nice to see the issues come out and know the [2008] Coverboys aren't my competition!"
Prize Package — Winner 2007 Coverboy of the Year
$500 Cash · 18th & U Duplex Diner — $100 Dinner Certificate · Arena Stage — 2 Tickets to Death of a Salesman · Apex — $200 Bar Tab · BeBar — $200 Platinum Card · Beacon Bar & Grill — Sunday Brunch for 2 · Blowoff — Complimentary Admission from January to June 2008 · Cherry — 2 Host Passes · Club Fuego — 2 Admissions and a $50 Bar Tab · Cobalt — $100 Bar Tab, 10 complimentary entry passes and a selection of continuous mix CDs from resident DJs Jason Royce and Darryl Strickland · D.C. Eagle — $50 Bar Tab and a Black Eagle Sweatshirt · Fireplace — $75 Bar Tab · Freddie's Beach Bar — Sunday Champagne Brunch for 4 · Green Lantern — 2-hour Cocktail Party for Winner and up to 50 friends (exp. 6/30/08) · Groovy DC — $50 Gift Certificate · Halo — $150 Bar Tab · JR.'s — $100 Bar Tab · Kennedy Center — 2 Tickets to My Fair Lady in the Opera House · Landmark Cinemas — 20 VIP Passes · Leather Rack — $75 Gift Certificate · Mid-Atlantic Leather Weekend 2008 — Full Weekend Pass to the Centaur MC-sponsored event, including Reaction Dance · Nellie's Sports Bar — $100 Bar Tab · Omega DC — $50 Bar Tab · Reel Affirmations XVII — 2 Lincoln Theatre Passes to next October's GLBT Film Festival · Signature Theatre — 2008 Sunday Pride Night Subscription for 2 · Shakespeare Theatre Company — 2 Tickets to Argonautika in the Lansburgh · SKIN: Cosmetic Dermatology of Georgetown — $100 of professional skin care products · Synergy Day Spa — $75 Certificate good toward any service · Town — $100 Bar Tab · Universal Gear — $150 Gift Certificate · Washington National Opera — 2 Tickets to The Flying Dutchman (April 10, 2008 performance) · Woolly Mammoth Theatre Company — 2 Tickets to Measure for Pleasure ·
Please Note: Some restrictions may apply to certain prizes.
Our thanks to all those businesses and performing-arts venues who graciously provided prizes to this year's Coverboy winners.