Attending a performance of the Washington Shakespeare Company feels a little like getting admitted to a very hip club. Like the hole-in-the-wall bar that always has great bands or that exclusive underground restaurant that appears once a month in an empty parking garage, heading to the outer edge of Crystal City to WSC's Clarke Street Playhouse gives one a sense of being part of some cool inner circle.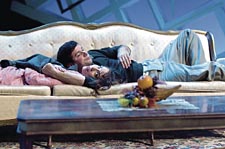 House of Yes
Sure, some of this comes from the building's grim surroundings, its boho-chic vibe. But it's also because WSC can always be counted on to take you somewhere unexpected.
To say that they are a company unafraid to take risks is an understatement. WSC is a company that exists for the sole purpose of taking risks. There is something exhilarating about their daredevil attitude.
Case in point is WSC's decision to mount a production of Wendy MacLeod's The House of Yes. A play that reminds one of the Tolstoy quote about all unhappy families being unique in their unhappiness, The House of Yes is not simply a black comedy — it is the dark-purple color found in a day-old black eye.
Set in the early 1980s in McLean, Va., the action unfolds over the course of the Pascal family's Thanksgiving Day. Wealthy enough to be neighbors of the Kennedys and pathological enough to be the makings of a brutal piece of theater, the Pascals display the fragility of their household with the same formal elegance as their carefully decanted liquor or daughter Jackie-O's (Sarah Barker) numerous bottles of prescription medication.
HOUSE OF YES
KAFKA'S DICK



In rep to 1/13/08
Clark Street Playhouse
601 Clark St.
Arlington
$26.50-$36.50
1-800-494-8497
washingtonshakespeare.org
The audience meets Jackie-O as she frantically rearranges the living room in preparation for twin brother Marty's (Jason Stiles) arrival. Her excitement, tinged as it is with a razor edged mania, quickly dampens when she learns that Marty is bringing a girl home. When it is announced that the girl, Lesly (elisha efua bartels [sic]) is actually Marty's fiancé, the pharmacological threads tenuously holding Jackie-O together begin to slowly and systematically snap.
House of Yes is a show that could easily spiral well out of control. The characters dwell on the outer extremities of believability and the audience is asked to slog its way through all manner of depression and dysfunction. The play is unflinchingly dark and rudely aggressive.
Fortunately, the production has found itself in good hands with director Colin Hovde and the cast at WSC.
In the lead roles, Stiles and Barker have a chemistry that forces the audience to hang on their every exchange and action — no matter how painful.
Wendy Wilmer plays the matriarch of the family to great accomplishment. It is always intriguing to watch actors when they are asked to give life to characters who would rather die than display emotion. Wilmer's Mrs. Pascal, a woman who faces her demons with a stiff upper lip and a stiffer drink, is a loaded handgun in a velvet-lined box.
Acknowledgement must also be made of Jay Hardee's portrayal of Marty and Jackie-O's younger brother Anthony. Clear in his intentions and measured in his portrayal, this is one of Hardee's best performances.
---
As for WSC's rotating rep production of Alan Bennett's Kafka's Dick, well…. Beyond the fact that the play's title sets a particular minefield for those seeking to write about it ("WSC is mounting Kafka's…" or "WSC's handling of Kafka's…"), there is something lacking in the material. Feeling more than a little like the kind of British comedy one sees in high school drama festivals, Kafka's Dick is ultimately disappointing.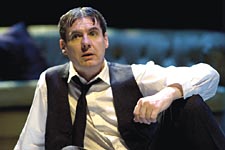 Debugged: Henley as Kafka
Franz Kafka (Christopher Henley) has returned from the dead and arrived on the doorstep of Sydney (John Geoffrion), an insurance adjuster, and Sydney's frustrated wife Linda (Adrienne Nelson).
Kafka's timing is impeccable as his friend Max Brod (Bruce Alan Rauscher), also freshly returned from the dead, has himself just arrived at Sydney and Linda's suburban home. Brod is in a panic because — despite a promise made to Kafka to burn all of the author's work and not write a biography of his accomplishments — Brod published everything and made his fortune being Kafka's biographer.
The premise is certainly interesting and given that the show is written by the man responsible for The History Boys and The Madness of King George, one may rightfully set expectations high.
Yet in spite of an impressive pedigree there is really nothing smart about Kafka's Dick. While there are literary references and inside jokes winked to those in the audience familiar with Kafka's life, the play really never goes beyond the kind of humor found in the title. There's a naughty nurse outfit, some sight gags, a bit of funny flatulence for the kids and, yes, discussion of the penis size of the Metamorphosis author.
Perhaps most unfortunate about the play is the fact that there is some wonderful talent at work here. In fact, some of the show's funniest moments seem to come not from the material but from decisions made by director Joe Banno and his troupe of actors.
Henley and Rauscher, in particular, manage some very respectable performances. Rauscher is a talented comic actor who gives the audience some of the most honest laughs of the evening. There is an improvisational quality to his work that makes the most out of some fairly generic bits.
Henley's Kafka is, for all intents and purposes, the play's straight man. He is insecure and brooding and prone to tantrums. Henley resists the urge to play the author too large or go for the easy laughs. In the end it makes his a much stronger performance, though it's not enough to salvage the show as a whole.
And that's the thing with a company like WSC. The risk is that sometimes you will be disappointed. But make no mistake: You will never, ever be bored.