Never mind her new album's title. Celine Dion doesn't know from chances. Oh sure, she strays a little from her Titanic-sized sentimental journeys. She rocks and takes us to church on Taking Chances (



), and she even puts up her dukes and enters sassy, kiss-off territory that's so a la mode.
And what do you know? Chances are, even diehard Dion dismissers will be surprised to like a few tracks here. But that she succeeds is less of a feat than it might otherwise seem. "The Greatest Singer in the World," as Saturday Night Live immortally parodied her, isn't nearly as flexible as she may style herself to be. But what she does know from is music fashion. She knows the best way to take chances, so to speak, in today's faltering music industry is to dress herself up in the best productions money can buy. The biz's top talent is almost all here, from Linda Perry to John Shanks to even Ne-Yo. Who'd she leave out? Well, she managed to resist the temptation to work with today's most ubiquitous hitmakers Timbaland and Will.I.Am. And in a world turned topsy-turvy, that certainly counts as taking chances.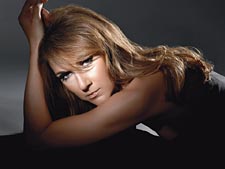 Chance free: Dion
The album kicks off with Dion asking sweetly — and incredibly softly, considering the source — "What do you say to taking chances? What do you say to jumping off the edge?" Well, when you put it like that, why not? But by the end of the second verse, she's already started shouting. And toward song's end, she jumps two octaves to shout the word "say" on high, practically daring you to respond, "No!"
Chances are, you won't though. She ends the title song, written by Kara DioGuardi and former Eurythmics man Dave Stewart, as sweetly and softly as she started it. It's then that you realize she does know about dramatic timing and not just the full-throttle theatrics that make drag queens quake. Too earnest and overwrought by half, Dion has always seemed custom-tailored for drag queens. When a drag queen overacts to a Dion number, you can laugh at and appreciate the music at the same time.
Despite her stylistic chances here, Dion's still got those drag queen instincts; the established Vegas entertainer is all about showboating spectacle. How could she turn down a song called "Eyes on Me?" Especially with lyrics quintessentially Dion. "Temptation is all around, take good care of what you found," she sings. "That's why when I turn around, you better keep your eyes on me…. You better say YEAH!" It's oppressive and controlling, her love. But it's not always hard to understand why some love her anyway. Sometimes, she holds back in just the right measure, making you the one to go over. "Eyes on Me" is a snarling, Middle Eastern-tinged pop song that Dion only flirts with, flitting around the driving rhythm without flailing.
Though Dion still offers up her more typical heart-tugging sappiness, the likes of which will make her fans' hearts go on, it's in fact when she's snarling here that she really shines. (Though we really could do without her cover of Heart's "Alone.") "This Time" starts off like a longing Christmas carol. "Bah-ba-bah-bah-bah-bah-a-ah," the chorale hums. But this ain't an ode to Dion's favorite things. This is a kiss-off song to a lover who has abused her. "'Cause this time is the last time/I know that my eyes have seen too much…and I've had enough."
Advertisement

| | | |
| --- | --- | --- |
| Celine Dion: Live in Las Vegas (DVD) | Celine Dion: Taking Chances | Scissor Sisters: Hurrah! A Year of Ta-Dah (DVD) |
Chances are you've never seen the Scissor Sisters as they appear on the quintet's just-released new DVD Hurrah — A Year of Ta-Dah (





). No matter how many times you may have caught the band's engaging performances at the 9:30 Club or any other venue in America, it pales in comparison to the arena shows in Europe. The DVD focuses on a concert from this past summer in front of a sold-out crowd of 20,000 fans in London. It's as high-production as you'd expect from one of Europe's biggest pop acts. From the band's symbolic scissor legs serving as a dramatic split catwalk, to the fantastically elaborate stage backdrop, to costume changes and a coterie of backup dancers and performers, it's like nothing they can give us, as little more than America's favorite gay band. Which is enough all its own to make this a must-see DVD.
Even better is the entertaining one-hour documentary that takes us behind the scenes and into the crazy, creative minds of the funny five. The documentary features homemade film clips from fans as well as the silly "hallucinations" the band makes up to amuse itself and the camera crew. It also includes snippets from weird European and Australian TV interviews. "I think we're kind of prone to do weird TV shows," says the band's Jake Shears. With a name like that, of course they are. It's especially amusing to watch one Italian show co-host use her hands to demonstrate the lesbian sex act from which the band birthed its name.
Just try to imagine Ellen DeGeneres doing that.