It's been said imitation is the sincerest form of flattery. If that's the case, then Rufus Wainwright's live double-disc recording Rufus Does Judy at Carnegie Hall — a song-for-song recreation of Judy Garland's celebrated 1961 comeback concert, performed in its original venue — goes beyond flattery to outright idolatry.
Garland's original recording, Judy at Carnegie Hall, is one of the most revered albums of all time, having spent 95 consecutive weeks on the pop charts, 13 of those at No.1. Her landmark concert is often referred to as "the greatest night in show business history." Those are big ruby slippers to fill, indeed.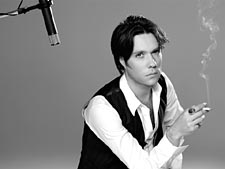 Rufus Wainwright
Whether an act of pure egoism, a passionate tribute to a musical icon or a mixture of the two, 34-year-old gay singer-songwriter Wainwright took to the Carnegie Hall stage for two nights in June of 2006 to pay homage to Garland's crowning achievement. The subsequent recording documents the evening, imperfections and all, just as did the original — a false start here, a missed note there. But it's those glimpses of humanity and vulnerability shining through otherwise spectacular performances that make each album so endearing.
While Wainwright's nasal, tremulous tenor may not have the universal appeal or sheer power of Garland's belting alto, his performance is captivating nonetheless. Backed by a swinging 36-piece orchestra conducted by Broadway maestro Stephen Oremus (Wicked,Avenue Q), Wainwright performs a mix of 26 grand theatrical tunes, jazz standards and intimate ballads, running the gamut of love, loss, longing, rapture and regret. The album is practically a who's who of the American songbook, with gems by Ira Gershwin, Rodgers & Hart, Irving Berlin, and Johnny Mercer, among others.
Advertisement

| | | |
| --- | --- | --- |
| Rufus Does Judy [CD] | Rufus Does Judy Live [DVD] | Naked Boys Singing [DVD] |
The directness and, dare I say, simplicity of Rufus Does Judy is a welcome respite from Wainwright's increasingly baroque recordings, which present him as a grandiose pop crooner with a fondness for opera and cabaret. The majority of the songs have been transposed to accommodate Wainwright's range, though a few are performed in Garland's original key and showcase his reedy falsetto. Like a trombone, his elastic voice gracefully slides from one note to the next, occasionally lagging behind the beat.
Whereas Garland's original performances are characterized by a fragile innocence, Wainwright's performances are permeated with sensuality — from the steamy plea for another forbidden kiss in "Do It Again" to the newly gay subtext of "The Man That Got Away." Wainwright's reading of "Puttin' on the Ritz" is more casually tossed-off and accessible than Garland's staccato-heavy original, but his take on "Rock-A-Bye Your Baby with a Dixie Melody" falls short of being the showstopper it was for Garland.
Rufus Wainwright
Rufus Does Judy
at Carnegie Hall
Geffen Records
$24.98
Live Solo Performance
at the 9:30 Club
12/21 & 12/22
$35
www.930.com
Wainwright's mother, famed folkie Kate McGarrigle, backs him on piano on a gorgeously understated reading of "Over the Rainbow," one of the first songs she ever taught him as a child. His sister, Martha Wainwright, also makes a solo appearance on the album, bringing a smoky, film-noir vibe to "Stormy Weather." But the biggest surprise guest of all is Lorna Luft, Garland's "other" daughter, who appears during an encore to duet with Wainwright on "After You're Gone." It's worth noting that Luft released a Garland tribute of her own earlier this year, Songs My Mother Taught Me.
While Wainwright's song sequencing is faithful to the original album, he only rarely replicates Garland's original stage banter. More often, he offers entertaining anecdotes that allow his wry sense of humor to shine through, such as how as a child he dressed as Dorothy and the Wicked Witch of the West from The Wizard of Oz, much to his father's chagrin.
Rufus Does Judy occasionally toes the line of high camp, and the album has its flaws, as most live recordings do, but it effectively captures the energy, emotion and flamboyant showmanship of a sincere and reverent tribute. While a facsimile by its very nature can never achieve the artistic heights of an original, Rufus, at least for a shining moment on that Carnegie Hall stage, is the toast of Oz.
Judy Garland: Come on Get Happy