It's that time of year, the tail end of it that demands the resolutions. One of the most common in the wealthier parts of the world is simple: Lose weight. Simple, yes; easy, probably not, considering the Centers for Disease Control and Prevention tell us two-thirds of American adults are overweight. A third of American adults are obese.
Carlos Arias, who served as the executive director of D.C.'s gay-arts organization One in Ten between 2000 and 2004, knows exactly how hard it can be to lose weight, as well as how rewarding. It's a story he's sharing in a new book, Start Living, Start Losing, published by the same company that helped him slim down, Weight Watchers.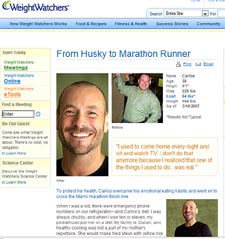 Arias as Featured on Weight Watchers website
(weightwatchers.com)
While Weight Watchers deserves much of the credit for Arias' dramatic weight loss, plenty of credit should also go to an ol' fear of death that got his attention during a routine health-insurance physical in 2004.
"I didn't expect the diabetes," he says, listing the news that a 250-pound Arias was getting from his doctor, which included early warning signs of adult onset diabetes. The high cholesterol and high blood pressure, he admits, were not so surprising. "They were going to give me three pills to take every day. I said, 'There must be something I can do before I start taking all these pills.' She said, 'Why don't you try losing some weight?"'
But at 5 feet, 7 inches, and 250 pounds, Arias was not experiencing simply some spike in an otherwise normal weight range. He'd worked his entire life to get where he was.
"I was always overweight, all my life," he says. "I remember going to the department store to get clothes for the new school year and the clerk yelling back, 'Get out the huskies!'…. I'm good at walking at night in the dark, because when [I was a child], I would get food from the refrigerator at night."
Arias was so stealthy during his late-night raids, he went so far as to unscrew the refrigerator light bulb before opening the door completely — for fear of waking anyone — and screwing it back after pilfering.
"I would eat with a flashlight under the covers, then take the bowl and shove it under my bed as far as I could."
But with the prospect of dropping weight offering him a way out of spending the rest of his life with pills and an increased threat to his health, slimming down was a more tempting proposition than anything his sweet tooth ever encountered. Down he went, with an initial loss from 250 to 227 pounds. To lose more, however, Arias decided he needed help. That's how, along with a friend, Jeff Jackson, he started going to a weekly Weight Watchers meeting on K Street. Jackson's mother, a lifetime member of the weight-loss club, was their indirect role model.
Following Weight Watchers proprietary "points" system, and with the support of the group meetings, Arias says the weight continued to come off and he set his sights on an a previously unthinkable goal: 150 pounds and running the Miami Marathon.
Arias didn't make it to 150 — though nobody will split hairs, considering he did hit 157 — but he did run the 2007 Miami Marathon in January 2007. His 500-word essay for Start Living, Start Losing was taken, in part, from that experience and titled, "From Husky to Marathon Runner."
"I realized when I lost the weight and ran the marathon that there was nothing I couldn't do if I put my mind to it," Arias says. "I'd heard my whole life I was a fat, chubby kid and I couldn't do sports well. I internalized that. I never liked physical education. It wasn't until I ran the marathon, trained for it, that I realized I could do well at sports. It kind of hit me all of a sudden."
Arias has taken that realization so much to heart that he'll be starting the new year with a second go at the Miami Marathon in less than a month. That doesn't mean, however, that Arias — hovering at a weight in the mid 160s that leaves him playfully wincing at all the holiday foods to come before the season wraps — has no resolutions for the new year.
Advertisement

| | | |
| --- | --- | --- |
| Wieght Watchers: Start Living, Start Losing | Weight Watchers All-Time Favorites | Advocate Guide to Gay Men's Health and Wellness |
"For the new year, I'm reducing alcohol. Candy and alcohol are simple sugars: caloric intake, but no substance. That doesn't mean I won't go to a bar or whatever, but I'll intake less."
Those who remember the more robust Carlos Arias may fear that the jolliness synonymous with portliness, as the stereotype goes, may have left him along with the pounds. Arias insists that fear couldn't be further from the truth.
"People who lose this much weight usually feel like a new person," he says. "I do feel like a new person. I've never been this size or had this much energy. I'm still the same, but thinner, more muscular.
"In the gay community, it's funny. I get the comments from friends who might have a challenge with weight. 'Eat something — you look so thin!' Or, 'Are you going to be our friend now or just hang out with the muscle boys?"'
Arias says his answer is often the same, inviting those critics to join him at Weight Watchers, for whom he now leads his own Wednesday night meeting. "I've been a little recruiter."