Given the avaricious nature of the season — when Santa treats everyone like a little baby Jesus, everybody wins — it's no surprise that I tend to mark the passage of time by Christmases past. I also happen to be a Christmas baby myself, proudly born at 12:01 a.m., Dec. 29, 1967, which means I was probably born closer to Christmas than the baby Jesus, who, given the nature of things, was likely actually born in a really boring month such as March.
Nothing good ever happens in March.
It may seem more natural to measure the passing of years by the occurrence of New Year's Eve and New Year's Day. But growing up way out in the dry-county boonies of Kentucky meant that New Year's pretty much consisted of waiting up to watch Dick Clark. And then going to bed.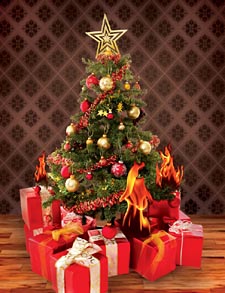 Of course, being on Central Time, after Dick Clark hailed the coming of the New Year we still had another 60 minutes of the old year to burn off. Sort of a temporal two-for-one that's only exciting for an 8-year-old.
Christmas, though, is where stuff happens.
It's the year your sister got the flu and the rest of the family didn't want you joining them for Christmas dinner because you might pass it on to your grandparents.
It's the year your dad wrapped up a really big box that looked like your mom was going to get the nice coat she wanted but it turned out to be a step ladder, a practical joke that probably explains a lot about how things turned out later.
It's the year you peeked through the back window of the car as your parents were packing in the gifts from Sears and you saw you were getting the one thing you wanted most of all, and you felt guilty and sad for knowing.
It's the year that for the first time you had to split your Christmas between your mom and your dad.
It's the year you didn't go home for the holidays and you sat in your post-college, under-furnished living room on Christmas morning drinking coffee and feeling numb.
Tidings of joy, indeed.
To be honest, I'm being a bit of a killjoy. Not because I'm one of those dour people who spend all of December spoiling for a fight — "How dare you wish me 'Happy Holidays,' you cultural-imperialist pig!" — but because the immediate Christmas past and the looming Christmas present are bookends to a year that's been one of the more manic depressive of my life. And anyone who spent time with me in my 20s knows that's saying a lot.
For some reason, I didn't take a lot of pictures during Christmas 2006, likely because I was spending so much time worrying about the Sisyphean task of buying a Christmas present for Cavin. You'd think that with time it would be easier to shop for a partner. You'd be wrong.
But someone more level-headed than I managed to get the camera out and working, so I have a picture of Mom and my stepdad Paul, along with my sister and her husband, and Cavin and me. Although Mom generally decorates the house for Christmas in a totally Martha Stewart type of way, it's been years since she wanted to bother with an actual tree, so the little artificial one sits on a table in the corner, overshadowed by the gifts and the décor. I know that on the other side of the camera, behind the person snapping the picture, is a decorated table with coconut cake, peanut butter and chocolate kiss cookies, and other traditional fare of our family. All things that feel comfortable and right because we've been doing them for so long.
And it's never going to be like that again.
Just a few weeks after that picture was taken, Paul collapsed. He was diagnosed with brain cancer, a particularly vicious kind that left little hope for making it through the year. It was a struggle with high points of hope — he responded well to surgery, at first, and even made the trip to D.C. to be a part of mine and Cavin's wedding. But his health rapidly deteriorated over the summer and by October he was gone.
I've heard that the worst feeling in the world is to be a parent seeing his or her child suffer. That's not something I can verify. But for me, the worst feeling is being the child who watches his parent suffer.
As I said, it's been a wildly up and down year. Even as everything unfolded back in Kentucky, I was lucky enough to marry the man I love, and to launch a new business venture. Here at home in December 2007, Cavin and I have our own Christmas tree up — in true immigrant spirit, he's adopted American cultural touchstones with more zeal than I can often muster — and are rapidly establishing our own family memories and traditions.
So this very different Christmas on the horizon will close out a year that I just can't classify. I want my years to be neat and divisible and manageable — this year good, that year bad — although I know it's impossible. But that's what holidays do, provide milestones and demarcations, no matter how artificial, that help make sense of the constantly changing circumstances of life.
Luckily, that's enough to get by.