At first glance, Atonement appears to be your garden variety Merchant Ivory-style epic. It begins in the 1935 English countryside, all glowy and green and full of serene ahhhhs. But appearances can be deceiving, and the misperceptions of a brash 13-year-old girl propel the drama into a narrative arc that is as compelling as it is completely shattering.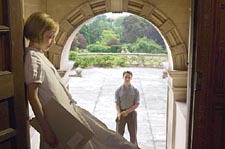 Attonement
Directed by Joe Wright (Pride & Prejudice) from a screenplay by Christopher Hampton (Dangerous Liaisons), who adapted the work from the novel by Ian McEwan, Atonement is one of those intensely rich, cinematic experiences that grips you in ways unexpected, leaving you profoundly, deeply moved. To call it the best film of the year is maybe a bit premature, but it's up there. Way up there.
At its center lies a barely-consummated love between the aristocratic Cecelia Tallis (Keira Knightley) and her family's housekeeper's son Robbie Turner (James McAvoy), whom the Tallis patriarch sought to educate by putting him through Cambridge and now has the promise of a medical education before him. To say that there is sexual tension between Cecelia and Robbie is like saying wolves enjoy feasting on sheep.
Their unspoken affair is triggered when a prank note written by Robbie containing "the worst possible word you can imagine" is misinterpreted by Cecelia's sister Briony (the gripping, brilliant Saoirse Ronan) who should never have read it, but who is too young to grasp its underlying passion, mistaking it for perversity. Events grow progressively darker as circumstances — including those brought on by the escalation of World War II — conspire to usher Robbie's shining, promising life into a pit of grimness and despair.
ATONEMENT

Rated R
118 Minutes
Area Theaters
Wright's direction is extraordinary — he moves from the serene countryside to the pandemonium of war, best represented in a remarkable single-take, five minute sequence as British troops await extraction from the beach at Dunkirk. The smoky, horrific bedlam Wright creates is nothing short of masterful. Wright toys with time — running back over key events when necessary from a different point of view, allowing us to have the information we need to make an emotional connection.
Stocked with stunning performances — McAvoy is especially magnificent, as is Vanessa Redgrave, in a brief yet pivotal role — Atonement continues to surprise up till the very end, which brings everything together in a satisfying — and sorrowful — way. It's an ending that few films today would even attempt. Thank God for those Brits.
Attonement Trailer

---
In the pantheon of films about teenage pregnancies, Juno stands apart. It deals with its subject matter smartly, credibly, affectionately, never losing its sense of humor or its sense of heart. It's sure to please both sides of the Right to Life debate — a happy middle — though it is by no means a politically-charged experience. It's simply a warmly intimate story fueled by young love. A pure, blissful joy, it charms the hell out of you.
Sixteen-year-old Juno MacGuff's (Ellen Page) pregnant predicament comes about one night when, bored, she embarks on a sexual encounter with her best friend, Bleeker (Michael Cera), an awkward, gangly nerd with a gentle, decent demeanor. After a brief flirt with the free-clinic alternative, Juno opts to carry the baby to term find it a loving adoptive home — a move supported by her supportive parents (winningly portrayed by J.K. Simmons and Allison Janney). Juno meets with the new parents, Mark and Vanessa Loring (Jason Bateman and Jennifer Garner), an affluent, barren couple who yearn for a child. All seems right and rosy, but, well, it's not. And Juno, who is intent on providing the baby she's about to birth a good life, comes up with an undeniably sensible solution.
Diablo Cody's screenplay is simultaneously sweet and tart, fostering an authenticity frequently lacking in Hollywood product. Only at one juncture — and it's a fairly crucial juncture — does Cody instigate a manipulative ploy to allow her narrative to achieve its end. It's a bit transparent, but it's forgiven by the time the final credits roll.
Juno wouldn't be half as terrific if not for the wondrous Page, who portrays the title character as ironic and wry and knowing beyond her years. Page is also smart enough to let vulnerability seep through Juno's seemingly dispassionate veneer. The young actress, who made a splash in the revenge thriller Hard Candy, is the real deal, and she carries the film like a champ.
JUNO

Rated PG-13
92 Minutes
Opens Friday,
Dec. 14
E Street Cinemas
Of course, she has help. Cera continues to tap into his gift of stuttering, teenage discomfort. He's played this character before to varying degrees — in the TV series Arrested Development and last summer's superhit Superbad — but never before has he deployed his persona to more graceful effect. It seems, however, to be the only character Cera is able to play. If he's to grow, he needs to stretch his wings a bit and fly into some new parts. (Mind you, that might be a while, since he still looks about 14 years old.) Garner, meanwhile, has never been more radiant and appealing, Janney never more feisty.
Director Jason Reitman, whose last film was the funny, flawed, over-the-top Thank You for Smoking, keeps a check on hyper-creativity. This is his brass ring, and he grabs it without so much as blinking. Juno is all about intimacy. While it may feel small, it has a big, big, big heart.
Juno Trailer