On Dec. 23, Dakota Cowgirl/Titan's Ramrod, formerly known as Hamburger Mary's, at 1337 14th St. NW, will officially close its doors. According to owner Glenn Mlaker, the business has been sold.
Mlaker declined to elaborate on the details of the sale or name the buyer. Moreover, he said he did not know whether the restaurant and bar would continue to be marketed to a gay clientele.
"I really don't want to say who bought it," Mlaker said on Thursday, Dec. 20. "I don't know if the people who did buy it [are] going to keep it as a gay place or a straight place. I do know that there was a lot of conversation with them about my gay clientele, especially the guys on Friday night…. It's up to them."
Last year Mlaker changed the venue's name from Hamburger Mary's to Dakota Cowgirl because he did not want to continue with the national franchise.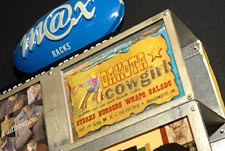 That doesn't mean bears in Washington who found warmth at the venue's upstairs bar during the Titan's Ramrod weekly happy hour — "Woof!" — won't have a place to go starting tomorrow.
Greg Zehnacker, owner of the Green Lantern at 1335 Green Court NW, is inviting regulars from "Woof!" to attend "Grrr!", Green Lantern's new happy hour for bears, cubs and everything in between.
"We'll be happy to accommodate anyone that formerly went to Titan," says Zehnacker, "and we hope they feel at home here at the Green Lantern. We're hoping that people come down to us starting [Friday, Dec. 28]. We're just down the street and it seems like the most logical choice."
While Zehnacker says he is enthusiastic about welcoming Titan regulars to the Green Lantern, he also empathizes with Mlaker.
"It's been a tough year for everybody, so I'm sorry to see [it] happening," he says. "But we've all been scraping by this year…. The smoking ban certainly affected everyone's business. I also think the general national economy has affected everyone."
Mlaker had operated Dakota Cowgirl/Titan for the past eight years and while he's not sure what the future holds, he leaves Dakota with fond memories.
"I really want to thank the whole community for all their support over the past eight years," he says. "Every Friday night I [had] a non-profit group that came in — sport groups, or leather groups, or bear groups — and I'd give them a keg of beer, and they'd pour and they'd make money. The average amount of money those guys would make would be anywhere between $500 and $1,000. That's really why I got into it. It was to really help the community."