Nearly three years ago, Feb. 20, 2005, Geraldine "Jerrie" Linder passed away. At 83, it was no surprise that she died of natural causes. What has been surprising, however, is the recent turn of events begun by the office of the U.S. Attorney for the District of Columbia, Jeffrey Taylor, accusing Robert Bruening, who once managed the D.C. Center, the area's GLBT community center, of attempting to steal approximately $150,000 from Linder's estate.
On Dec. 8, five days after The Washington Times broke the story, several community leaders gathered at The D.C. Center for an unrelated discussion of GLBT events for 2008. But current Center President Michael Sessa addressed the Linder situation by advising the gathered of a peculiar wrinkle: "The shakedown of all this is…we don't know where the body is."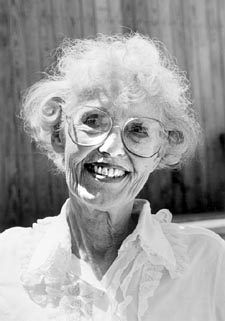 Linder
(Photo by File photo / Randy Shulman)
Linder, a longtime National Geographic curator and photojournalist, left behind no next of kin nor a will, complicating disposition of both her estate and her remains. What Linder — a Capital Pride Hero for her work with the previous Gay Community Center, with GLBT arts and women's issues, and in helping to found the D.C. chapter of the National Lesbian & Gay Journalists Association, among other efforts during her more than 50 years in the District — did leave behind was enough respect for her legacy that community leaders were concerned about where her remains may have wound up. Initially, says Mark Meinke of the Rainbow History Project, the task of securing Linder's remains was in Rob Bruening's hands. Metro Weekly's attempts to contact Bruening for this story were unsuccessful.
"Rob offered to help when we announced that Jerrie had died," recalls Meinke, who knew Linder personally. "[He] was involved for quite a while…with trying to get the body released. [After Sessa terminated Bruening's contract with The D.C. Center] we lost contact with him…. We just got no answers. We just hoped for the best."
According to the charging document released by the U.S. Attorney's office, Breuning is accused of defrauding Linder's estate at the same time he was to be securing her remains on behalf of the community.
"In March and April, 2005, [Bruening], while posing as Linder, instructed financial institutions which held decedent's money and assets to close the accounts and to send all funds to the defendant's address in Washington, D.C., in Linder's name," the document reads in part. "In or about March 2005, defendant opened an account in New York … and deposited the stolen funds in that account."
Meanwhile, Brother Help Thyself (BHT), a local non-profit organization helping gay-related charities, was managing an account of its own. Specifically, it became the caretaker of funds raised for burial or other final arrangements for Linder's remains.
"We've been holding it for quite some time, waiting for someone to tell us when we could use it," says BHT president JoAnn Kokindo, estimating the account to be holding an amount between $1,000 and $2,000. "People gave it on her behalf. We're willing to do whatever works, [but] we can't go forward and put a headstone up. We don't have the authority."
BHT's impotence in this situation is indicative of how society has structured such vital life-and-death events around "next of kin." While BHT's hands remain tied, the office of D.C.'s chief medical examiner is reluctant to share much information about what did, in fact, happen to Linder's remains.
Beverly Fields, the chief of staff in that office, did confirm that Linder's remains were cremated, though she declined to say when. She did offer, however, that cremation was delayed beyond 2005. Fields insists any further information regarding Linder's remains is reserved for "next of kin, law enforcement or the mayor's office."
One member of Mayor Adrian Fenty's administration did offer, anonymously, that Linder's ashes are likely interred in a cemetery near Baltimore, following a usual "public disposition" protocol.
"My fear was that her body was lying somewhere, without anyone caring," says Sessa, expressing some relief upon hearing that her remains were cremated and interred. He adds that he did not know Linder personally, but feels a sense of obligation to the community hero.
Christopher Dyer, director of the Mayor's Office of LGBT Affairs, offers a similar assessment: "We as a community have an obligation to honor the memories of our heroes. While I didn't know Jerrie personally, there is a value in making sure that she does rest in peace, that her contributions are recognized in some way."
Meinke, seeming content with the memorial service held for Linder in April 2005, says he's relieved to know Linder's remains have found a resting spot of some sort.
"My only concern has been Jerrie Linder," he says. "She was really a delightful person. She was old-school courteous, polite, interested and interesting…. Her friends at National Geographic said she always wanted to be cremated. That's good news. Her estate is a completely different issue." Listing three points he hoped the community would manage — respecting, remembering and burying Linder — Meinke notes, "We managed two out of the three."
Michele Zavos, a local, lesbian attorney with expertise in estate planning, says Linder's case of having neither next of kin nor a will is not as odd as it might seem.
"It's not uncommon," she says, adding that there seems to be a sort of death-wish stigma concerning one's last will and testament. "Somehow people believe if they do these documents they're going to die the next day. We're all adults and we have to take responsibility. It's not going to bother you because you're not there, [but] you can leave real messes for the people who survive you."
Kokindo, Meinke and Zavos all specifically mention the Wanda's Will Project in the course of discussing Linder's situation. The program, operated by the local non-profit Women in the Life Association, is named for Wanda Alston, former director of the Mayor's Office of LGBT Affairs. Alston, who was killed in her home by a drug-addled neighbor in 2005, left no will. The namesake program uses pro bono legal assistance to help members of the GLBT community create legally binding wills.
While that effort is too late for Linder's situation, there may yet be some more community-centric closure for her remains.
"It seems we could use the money to have the ashes disinterred," says Kokindo, suggesting that Linder's ashes could be scattered in a sort of ceremony and adding that she and Sessa have been discussing ways to bring the local gay community into a final disposition of Linder's remains. She emphasizes, however, that merely knowing what has so far happened to Linder's remains does nothing toward giving Linder's community access to them, stressing that "D.C. is not going to say anything to anyone who is not next of kin."
For more information about the Wanda's Will Project, visit www.wandaswill.org.