Tim's Best
Good movies make you cry, or laugh, or jump out of your seat in fear. Sometimes they just make you think. What makes a movie great is wanting to stay in your seat straight through to the next screening. There were a number of films in 2007 that deserve a second, or even third, viewing — thank goodness for Netflix.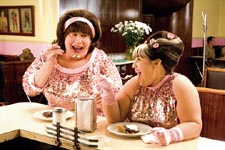 Travolta and Blonsky in the movie musical 'Hairspray'
1. Hairspray — Hairspray rightfully had audiences singing and dancing in the aisles. Adam Shankman directed a stellar all-star cast beautifully lead by Nikki Blonsky in the role of the hefty Tracy Turnblad as they dance segregation away. All the of the talk about John Travolta's cross-dressing stole the spotlight away from other wonderful performances, including Michelle Pfeiffer and a slew of young talented actors, but even the most reluctant filmgoer couldn't deny that this was a catchy number.
2. Juno — Just squeaking in during the final weeks of December, Juno is sure to capture its place on more than one top films of the year list. Ellen Page is a wonder as the pregnant teen Juno, who is not sure what she's doing in life but knows that a baby is not part of her short term goals. Arrested Development alums Michael Cera and Jason Bateman are both great, and even Jennifer Garner eventually thaws. Allison Janney wins hearts with her small, but inspired, role. Brilliantly scripted by Diablo Cody with a kickass soundtrack, Juno was a wonderful holiday present to audiences.
3. Atonement — Beautiful and haunting, Atonement lives up to the hype. Set in England during World War II, director Joe Wright turns Ian McEwan's novel into a stunning period piece of misunderstanding and betrayal. James McAvoy gives an Oscarworthy performance as a wrongly accused lover, torn away from his beloved. Keira Knightley, distractingly thin, also gives the performance of her career. Supporting performances by Vanessa Redgrave and Saoirse Ronan cement the film's excellence. The only thing unforgivable about Atonement would be to miss it.
4. SiCKO — Say what you will about Michael Moore's politics, he is great at telling the story he wants to tell. Experts galore tried to punch holes in SiCKO, and unfortunately Moore fought back in what became a numbers game around the facts. Regardless, Moore's film raised important points about America's healthcare system. Told with Moore's usual confrontation style, and featuring a lot of Michael Moore, it was a bit preachy at times but still a compelling and effective film.
5. Transformers — It was the best of the mega-budget summer blockbusters which otherwise disappointed. Clever enough to entertain audiences who played with the toys twenty years ago, and action-filled to the brim for younger crowds, watching Optimus Prime and Megatron duke it out was pure movie magic. Shia LaBeouf managed to claim his role in a movie that was otherwise dominated by the larger-than-life alien robots.
Tim's Worst
There are so many mediocre films every year, it can be difficult to distinguish which ones rightfully earn the "worst of the year" label. While some films fall victim to inexperience or poor funding, it's those that squander their potential — actors, writers, directors — that truly earn their placement at the bottom of the list. This year's list spans multiple genres, but all made audiences roll their eyes and race for the exit.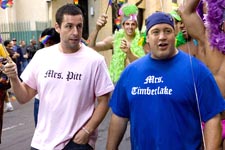 Sandler and James in 'Chuck and Larry'
1. I Now Pronounce You Chuck and Larry — Without a doubt, this was the most offensive movie of the year, in large part due to its efforts to hide its homophobic jokes and gags in a mantle of gay friendliness. Had it at least been a funny movie some allowances might have been made, but infantile humor and flimsy plotlines dragged the film down to the bottom of the 2007 movie pile.
2. Fantastic Four: Rise of the Silver Surfer — There was simply nothing fantastic about this sequel. Poor acting by all the leads demonstrated that they didn't care, so how were audiences supposed to? Hopefully the actors will decide the paychecks aren't worth it and these superheroes get stopped in their tracks.
3. The Ex — Jason Bateman has the distinction of being in both a best and worst movie pick. His turn as the wheelchair-bound nemesis opposite Zach Braff will hopefully be forgotten. Over-editing left a short, choppy film that was still 90 minutes too long. Some wheelchair jokes, a spineless leading man in Braff, and an absolutely dull climax made The Ex the movie you never should have flirted with in the first place.
4. Hostel: Part II — The sequel to the terrifying and inventive Hostel takes gore-porn to a new low. Director Eli Roth lost his grip on fear, leaving the audience laughing at a bare-chested Heather Matarazzo hanging upside-down as she's sliced with a scythe. Gender switching and attempts to show the softer side of the killers isn't enough to justify this blood-soaked stinker.
5. Evening — This deserves special distinction as there was so much potential for it to be utterly amazing. Adapted from Susan Minot's novel by Michael Cunningham, and starring a bevy of leading ladies including Vanessa Redgrave, Meryl Streep and Toni Collette, Evening could have been a cinematic tour de force. Instead, a convoluted plot, dull performances, and uninspired direction make a movie that could have sparkled brightly into a black hole.
---
Randy's Best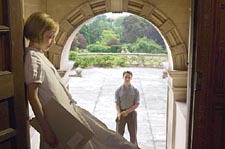 Attonement
For me, 2007 will always be remembered as the year The Simpsons finally made it to the big screen. (Cow-a-bunga!) But while good, it really wasn't one of the year's best. (D'oh!) No, that honor is reserved for a rare few that, quite frankly, captivated my attention in various ways, keeping me engaged, excited and, most of all, entertained.
1. Atonement — A rich, epic tapestry of extraordinary power and beauty, fueled by a stark, tragic undertow. It blew you away with its narrative and cinematic riches, and stunning performances from James McAvoy and Keira Knightley. Atonement is what we go to the movies for.
2. The Savages — Two semi-estranged, dysfunctional siblings contend with the dementia of a parent in this character-driven masterpiece from Tamara Jenkins (Slums of Beverly Hills). Simultaneously sour and funny, it's an utterly absorbing piece of work. Laura Linney is flat-out superb, as is the dour Philip Seymour Hoffman. But it's Philip Bosco who gives the performance of his long, esteemed career as a parent slipping into senility.
3. Superbad — The funniest movie of the year, hands down. Its super-uber-profanity is offset by the underlying sweetness of its three core characters as they make the formidable first steps from awkward adolescence into awkward manhood. Michael Cera gives a comic performance worthy of an Oscar, but it's Christopher Mintz-Plasse's lovable nerd McLovin who steals every scene he was in.
4. Eastern Promises — David Cronenberg's potent, compelling story of a young woman who gets caught up in a dank underworld of Russian mobsters combines the best of the director's sense for the unsettling and sinister with his new fascination for rock-solid storytelling. Viggo Mortensen is brilliant, as is Armin Mueller-Stahl. And one unforgettable scene in a sauna finds Cronenberg channeling Hitchcock with uncanny mastery.
5. Grindhouse — Yes, it bombed big time at the box office, but not in my heart. Robert Rodriguez and Quentin Tarantino jointly provided the year's most unique moviegoing experience — a deliberately cheesy, way over-the-top, faux double-feature that might have played your local drive-in in the '70s. There was, to my mind, no finer cinematic sight in 2007 than that of Rose McGowan, leg supplanted by a machine gun, mowing down a horde of zombies.
Randy's Worst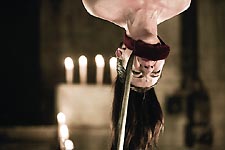 Matarazzo: Hostel II
1. Hostel: Part II — How could Eli Roth, whose original Hostel was genuinely terrifying, screw up the sequel? Well, for one, he abandoned all sense of reality to the point of absurdity. The terror turned laughable — we shouldn't be busting a gut at the sight of Heather Matarazzo being juiced of her blood by a naked woman in a bathtub. And yet, there it was, one of 2008's funniest moments. The rest of the movie? Pure torture.
2. Hannibal Rising — It should have been called "Hannibal Mind-Numbing." This was the year's most pointless entry into the official film register. Luckily for Anthony Hopkins, he was too old to play his younger, cannibalistic self.
3. 30 Days of Night — Vampires on steroids invade an Alaskan town that plunges into darkness for 30 days. Hide and seek ensues for the predator and prey; boredom ensues for the audience. They don't call them bloodsuckers for nuthin'.
4. Spider-Man 3 — Okay, so while maybe not the worst film of the year, Spidey 3 was without doubt the most disappointing, especially given all the hype (and the two masterful films) preceding it. What a sinful waste of talent.
5. Pirates of the Caribbean: At World's End — Actually this trilogy-closer was an even more sinful waste of talent. The narrative was cluttered, the filmmaking clamorous, the experience without a drop of the joy and filmmaking nuance that made the first two Pirates movies such absolute fun. Well, I guess we can thank god it's over. It is over, right?
From YouTube: Hairspray Trailer
From YouTube: Atonement Trailer