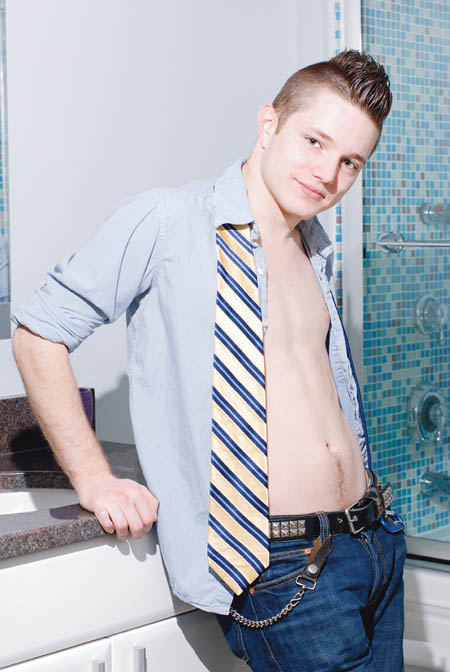 Ben Heisler
Ben Heisler likes to live his life with full honesty — and expects others to keep it real, too.
And real, in his case, is gay with no pretense. When anyone tells him they're surprised to find that he's gay, Heisler says, "I'm like, 'I'd appreciate your honesty even more, because it's really obvious."'
Heisler says he's always been "pretty quintessential," from interests in theater and fashion to just general flamboyance. It's naturally who he is. It's also something the 20-year-old has had years with which to get comfortable, from his days as the only openly gay kid at New Jersey's Ocean City High School.
"My parents confronted me about [being gay] when I was 12," Heisler says. "They found my Internet history — at some point I stopped deleting it. I think subconsciously I wanted them to know, I didn't want to hide. My parents have always been really cool with it, it's never been an issue with them."
Calling his parents "my best friends," Heisler says he would consider moving closer to them after he finishes his undergraduate studies at American University — if they didn't live in south New Jersey. "What I hate about it is the people. It's a beautiful place to live. If we could relocate everyone in south Jersey and put in interesting, liberal people, I'd move back there in a heartbeat."
Until that happens, Heisler expects to eventually move to New York to pursue a career in fashion — probably fashion journalism, not design itself. He's not a young prodigy destined for Project Runway and greater fame down that road. "I'm like the 20-year-old prodigy who can hem on an okay level. So if they had a hemming challenge, I might do all right."
Heisler is currently studying political science and communications at AU, and he's as surprised by that as anyone. "For the past three years I've been fighting my extreme aversion to politics — I fucking hate politics. Oh my God, [a political job] would be mind-draining. I just imagine my life going to this poorly ventilated government building every day, to some job that I hate."
Heisler knows why a political career doesn't seem like a good fit for him: "I've always been kind of averse to social conventions — about what's appropriate and what's classy and what's tactful. I just don't care. I really don't." He supports himself through college by serving as the Web site coordinator for the GLBT Resource Center at AU, as well as working at Be Bar. "My mom," according to Heisler, "really gets a kick out of the fun alliteration of that: Ben, the bar back at Be Bar."
Beyond work at Be Bar and catching an occasional indie-rock show at the Black Cat, Heisler doesn't go out much. He spends much of his free time exploring his interests with fantasy and comic tales. He says he's the reigning D.C.-area Buffy the Vampire Slayer trivia champion, which remains his favorite TV show.
When he does entertain himself with something more "typical," chances are he'll have an atypical dramatic reaction. "My friends laugh at how completely emotional I am. I cry when I listen to Bright Eyes like you wouldn't believe," Heisler says of his favorite band.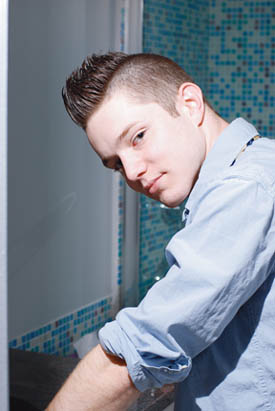 And then there was the time he became inconsolable after watching a big-budget action film not generally considered a tearjerker. "I was on a second date with a guy and he wanted to stay in and watch King Kong," says Heisler. "I said, 'Okay, but just to warn you, I'm going to cry.' And he was like, 'Oh that's cute.' What he didn't expect was that I just lost it. I don't know if I was having a bad week, but I lost it."
That second date was their last.
"I just accept the fact that by society standards I'm not into typically cool things, and I love that about myself, and I love that about my friends." That includes hanging out on the beach, even if he did grow up there. "I hate the beach — well, I hate the sun, as you can tell from my pasty pigment. I cannot remember ever being tan in my entire life. I've always been as white as a ghost. And I'm fine with that."
While you won't find him on the beach or in a tanning booth, you may soon find Heisler in a gym. "I think my metabolism is slowing down," he says. "And that's bad news bears because I've never worked out a day in my life, and I've always coasted on the fact that I had a nice body naturally. But that's going to stop soon, so we're going to need to see what I do about that."
Heisler admits he didn't expect enough other people agreed — he never expected to make the Coverboy of the Year finals. "Oh my God, I was shocked," he says. "I just never thought of myself has having mass marketability. I was so surprised."
He didn't campaign for it, either.
"I told my friends and family, 'Hey, vote for me,' but I said under no circumstances will I be campaigning," he laughs. "I just never thought I'd be here."
Prize Package – 2nd Runner Up
$150 Cash · 18th & U Duplex Diner — $50 Dinner Certificate · Apex — $25 Bar Tab · BeBar — $50 Gift Card · Cherry — 2 Tickets to Saturday's Main Event · Club Fuego — $25 Bar Tab · Cobalt — $25 Bar Tab, 5 complimentary entry passes · D.C. Eagle — Black Eagle Sweatshirt · Freddie's Beach Bar — Sunday Champagne Brunch for 2 · Halo — $50 Bar Tab · JR.'s — $50 Bar Tab · Landmark Cinemas — 10 VIP Passes · Leather Rack — $25 Gift Certificate · Mid-Atlantic Leather Weekend 2008 — 2 Tickets to Reaction Dance · Nellie's Sports Bar — $25 Bar Tab · Reel Affirmations XVII — 2 tickets to 2008 Opening Night (including party) · Signature Theatre — 2 Tickets to any of the shows in the Kander-Ebb festival · SKIN: Cosmetic Dermatology of Georgetown — $50 of professional skin care products · Town — $50 Bar Tab · Woolly Mammoth Theatre Company — 2 Tickets to Measure for Pleasure ·
Please Note: Some restrictions may apply to certain prizes.
Our thanks to all those businesses and performing-arts venues who graciously provided prizes to this year's Coverboy winners.