If Joey Oldaker — better known as Joey-O — wasn't born to be a DJ, it's at least something that he aspired to from an early age.
"I would put speakers out my bedroom window, with two record players sitting side by side and a microphone," says Joey-O, recalling his antics at 10 years of age, near Pittsburgh. "My neighborhood was my audience. It would just end up with my next-door neighbor calling my mom to tell me to turn the music off."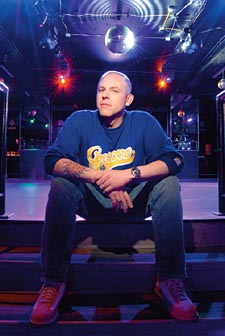 Joey-O
Thirty-one years later, no one's asking him to turn the music off. Joey-O has become a regular club DJ, with gay Washington his willing audience. He spins every Wednesday at Omega's Shirtless Men Drink Free and every Saturday at Apex, the nightclub he's managed for over a decade now. In fact, Joey-O is most excited by the changes and upcoming additions to the club, which next year will celebrate 25 years of business.
"We're doing little things right now," Joey-O says. "We just put in a whole new phenomenal light show" with all-computerized, LED lighting. Next year Apex will launch two new monthly parties: a women's tea dance the second Sunday of the month, starting Jan. 13; and DC Roundup, a country dance party the first Sunday of the month, starting Feb. 3.
Thursdays through Saturdays remain as strong as ever, drawing people out to dance whether they're college kids, muscle daddies or drag queens. Joey-O has been spinning after the Saturday night drag shows for over a year now, "playing a lot of club house, a little bit of hip-hop, just uplifting music" to make patrons happy.
"I like to say my music kind of has a gallop to it," he says. "You want to bop up and down when you hear it." Now esteemed as a Billboard Reporter, helping to compile the magazine's influential club chart, Joey-O says Apex's veteran DJ Randy White is his musical mentor. "He's so flexible, he's pretty much taught me everything I know, whether he knows it or not. I'll sit up in the booth and just watch him. To me that's a DJ, one who can just bend and play to any crowd."
For more information on Joey-O and on Apex's upcoming special nights, visit www.apex-dc.com.