In one of the more poignant moments of a motion picture that I hold dear — a staple of my personal cinematic catalog — there is a touching scene where a father and mother are discussing the impending end of their marriage. The children, overhearing the conversation, are understandably emotional about this news."Yay!" they exclaim in unison, "two Christmases!" In my house, it was a little bit different. Christmas was probably the furthest thing from my brother's mind when our parents told us they were divorcing. I know it was the furthest thing from my mind, because I was about 5 years old and I had no idea what "divorce" meant. I was too preoccupied with why everyone else, including my dad, was crying.
But two Christmases soon became our reality. My dad moved quickly into a relationship with a woman who had two kids close in age to my brother and me. For the most part, this worked out well. Most years we spent Christmas Eve at my dad's house and would come home late on the 24th to wake up at home with my mom. One minor glitch to the arrangement was that my step-sister, Kim, happened to have been born on Dec. 24, which meant that — depending on your perspective — either she stole the limelight from our Christmas or our Christmas stole the limelight from her. But she was pretty stoic about it and we were always careful to differentiate her birthday presents from her Christmas presents, and tried hard not to stiff her.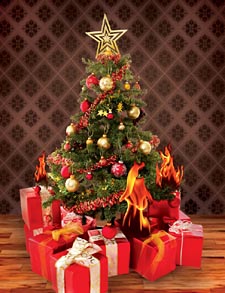 Two Christmases meant coming up with two wish lists, and I was never especially good at that task. I probably found it easier to compose a robust list for my mom, because I lived with her and was more comfortable spouting off my considerable material desires to her.I don't so much remember taking in twice the haul compared to my friends whose parents were still married, but that was probably true to an extent. There was the uncomfortable reality, however subtle, of my parents competing with each other to give us gifts that would secure our love and make it more difficult to pick a favorite. For this reason — and perhaps also because my mother's generosity (read: shopping addiction) knows no limits — sitting in our living room on Christmas morning was often a little bit like immersing ourselves in a corner of FAO Schwartz, without the outrageous price tags. Maybe it was more like a corner of Toys R Us.
(For the record, my mom still asks for wish lists and I still struggle with what to say I want, even though my material desires are still considerable. The problem now is that I tend to buy whatever I want when I want it, making Christmas a bit of a non-event from an acquisition standpoint. Because my brother and I share a penchant for electronic gadgets, the years we all spend Christmas together these days leave us immersed instead in a facsimile of a corner of Best Buy.)It could be that all the two-Christmasing left me a little bit ambivalent about the holiday. In my adult years, my best Christmases have been the ones that included sharing the holiday with a young niece or two, especially (SPOILER ALERT) when they're still young enough to believe in Santa Claus. There are two reasons for this: 1) It's awfully cute, and 2) The adults get to eat the cookies left out for Santa after the kids go to bed.
At my house these days, there isn't a lot of Christmas hoopla. Because we have mischievous cats, we tend to stay away from trees and decorations. There isn't a religious tie to the holiday for us, and we keep gift exchanges pretty low-key. I can't remember the last time we've actually wrapped presents for each other instead of saying "Close your eyes!" and placing goodies in outstretched hands.This year's holiday for me will be particularly uneventful, or at least I hope that's the case. Because I chose the journalistic lifestyle and work for a daily operation that doesn't rest for the holidays, I got tapped to work Christmas Day. I don't really mind this — Christmas 2007 is on a Tuesday, making travel inconvenient unless I take lots of surrounding days off, and those got snatched up by others in my department months ago. The thing I dread most about it is the prospect that something big and newsy will happen while I'm single-handedly staffing our operation. In this situation, no news is in fact good news. When people have asked me this year what I'm doing for Christmas, my response is succinct: "Working." Their reactions range from mild sympathy to full-throttle pity, which makes me pause and wonder if I should be disappointed too.
I'm not. Maybe all those years of two Christmases have caught up with me, and I'm content to have a year of no Christmases. Don't get me wrong: There will still be gifting. My mom is clamoring for me to add items to my wish list even as I type these words. But it won't be the typical big hoopla with lots of people and coordinating schedules and sitting down for elaborate meals. That's all okay, as I've often thought it's nicer to see the people I love when there's not something as distracting as a big holiday celebration going on.Maybe that's twisted, and maybe it's not. This year, I don't really care. There's free instant cocoa in the break room at work and I'll pick up some fun catnip mousies for the mischievous cats and delicious chewy bones for the dogs.
And I'll probably catch up with my mom sometime in January. I'll be sure to bring a large empty suitcase with me.