Is there anything more ubiquitous on American highways than the twin titans of Japanese sedans, the Honda Accord and Toyota Camry? It's hard to imagine even a short drive without passing at least a couple of these stalwarts, both new and old.
A redesigned Camry hit the streets not long ago, and now it's the Accord's turn to follow suit. Leaving behind some of the more roundly bland aspects of the previous Accord, the new version adds some sharper angles and edges, bringing it in line with the overall Honda design cues found from the Civic to the CRV.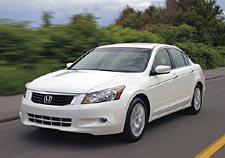 2008 Honda Accord
That's not to say that the Accord is a piece of high design on the highway. It is, after all, an Accord — sedans don't achieve ubiquity by love-it-or-hate-it design. Instead, the Accord appeals to drivers who want a car that's dependable and familiar, yet packs just enough visual punch to make you think, "That's a nice car." And, like the Accords of the past 20 or so years, that design approach will likely hold up well over time.
If you look a little dated to begin with, you don't look so dated down the line.
Behind the wheel things are also as you would expect from an Accord: dependable, familiar, comfortable. The Accord's interior is nicely filled out with soft-touch plastics and appropriately tasteful trim. It feels roomy and offers plenty of small storage spaces for both the driver and passenger to stash their stuff.
The Accord handles itself well on the highway, with a comfortable ride and solid handling. The engine comes in two flavors, four-cylinder and six, in multiple configurations. The hybrid version, however, has been dropped. You'll need to check out the Honda Civic if you're looking for a green electric boost. (Check back for a full review of the Civic hybrid in January.)
Depending on your configuration, however, you can get up to 31 miles per gallon in highway driving, 21 mpg city.
2008 Honda Accord
Base MSRP: $20,360-$28,310
MPG city/highway (est.): 21/31
Highlights: Familiar, dependable and comfortable — it's an Accord, after all.
Lowlights: A little overly familiar for those looking for a more scintillating driving experience.
If you're hoping for better gas mileage and might be interested in a smaller car for zipping about the city, you may want to test drive the Honda Fit Sport instead. Starting out at just over $15,000, the little 5-door scooter offers good gas mileage — 27 city, 33 highway — and a good bit of convenience.
Stylistically, the Fit falls into the "youth branded" mode, with design cues leaning toward the cute and toy-like. It doesn't quite hit the hipster-wannabe visual appeal of its Scion-brand competitors, but it holds its own.
More appealing is the room inside the Fit, where you can, well, fit a whole lot of stuff in a very little car. While the ride is on the rough side and the road noise a little high, the Fit is more comfortable than expected for driver and passengers.
While it's not a road racer, the Fit can get a little zippy, particularly in the first two gears, though you won't be doing any wild passing maneuvers at speed on highways. As always, I'd recommend opting for the manual — you'll get the better gas mileage numbers (if you use it appropriately) and have more control for merging and passing.
Just don't expect the Fit to become as ubiquitous as its big brother.