This week I'll be heading to New Port Richey, Fla., to spend Christmas with my widowed mother who lives alone in a "55 and older" age-restricted community. Not quite 55 myself, it feels as though she has to hide me behind drawn curtains, even when she's showing me off. "Look! Unlike yours, my children come to visit!" She tells me that sort of bragging right is a big deal down there.
During my short stay, we have a couple of tried and true traditions. First, we see a lot of movies at her local six-screen cinema, which is getting shabbier by the year. We'll likely have a night out at Carrabba's, the chain-restaurant hot spot in my mother's town, where a Friday-night waiting time of three hours or so is the norm. We'll go to the Dudleys' home, a lovely mother-daughter pair of Canadians, who'll offer us hors d'oeuvre and cosmopolitans with fresh lime juice. And we'll spend Christmas Eve at a hotel near the airport to allow for a leisurely morning before my Christmas Day flight back to D.C.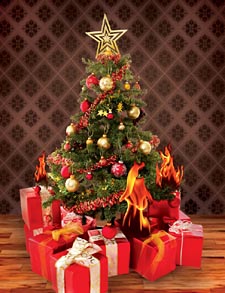 Looking about for some other fun agenda items, I noticed that the Tampa Theatre — a beautifully restored, rococo venue built in 1926 — is offering It's a Wonderful Life during my stay. But I'm hesitant.
Since one fateful Christmas Eve, I think it was 1990 or '91, I've wondered if the Jimmy Stewart Christmas classic is bad luck for me. It may be a bum rap for the 1946 movie, as I'm only basing this on a single experience. It was just so awful.
My first apartment was in what was then a crappy part of Tampa, just off the male-prostitute populated segment of Kennedy Boulevard. My little four-unit building shared the block with a crack house and a KFC, among others. But my then-boyfriend and I, being so gay, adored the charm of this little building with its fireplaces and hardwood floors.
We were only there for one year, if that, and Christmas marked the midway point, roughly. He was back in Boston with family for the holiday and I was on my own with the dog, Run. The landlord allowed the dog as he once belonged to her neighbor's son, and this neighbor was desperate to get rid of him. Notably, it was her son who named the dog and the rest of the litter of German shepherd-pit bull puppies: Run, D, M and C. (If that doesn't date this story, nothing will.)
To make the holiday festive, Run and I were to host a few people over to eat lasagna and watch It's a Wonderful Life for Christmas Eve. What a wonderful tradition to begin as I explored my independent domesticity, I thought.
The first stroke of bad luck was the weather. This particular Christmas Eve, Tampa temperatures actually plummeted to the freezing point. And while the apartment had the charming and dormant fireplace in the living room, there was otherwise no way to heat the place.
Wonderful — I'll just light a fire. Wait — what's that little pipe in there? Is this a gas fireplace? I'd better call the gas company. "Hello, you've reached the Gas Company. We are closed for the Christmas Holiday, blah blah blah."
With my breath condensing — seriously — as I paced the living room trying to think of a Plan B, it occurred to me that my upstairs neighbors, Marta and Etna, would be out for the evening and had electric-baseboard heating. I'd just move the whole shebang upstairs!
With my friendly neighbors readily allowing me to annex their home, I packed and moved. I took everything I needed for cooking, the TV, the VCR, my rented copy of It's a Wonderful Life, my cocktail and Run. I would've left the dog, but it was so, so cold in there and he had a very short coat. I'm no monster.
Upstairs, happily cooking away, all my preparations coming together nicely, a little stoned — I was in college and this was Florida — I realized I'd forgotten my spatula. Can't serve lasagna without a spatula! But I was man enough to brave the chill long enough to run into my kitchen to retrieve it.
Upon opening my front door, I noticed that a floor lamp had been knocked over. Damn dog. Wait, the dog was upstairs. And the phone that sits next to the lamp is gone. Ho, ho, ho, I've been burgled! Being young and high, rather than mature and sober, I did what you're not supposed to do: I ventured deeper into the apartment. Lucky for me, the perpetrator was gone. This, in retrospect, is so very surprising, as he/she/they certainly took his/her/their time.
What I discovered was the back bedroom window had been broken, allowing someone in to unlock the back door of this ground-level apartment. Either multiple robbers or multiple trips allowed for thorough scavenging. For example, a jar of pennies easily weighing more than 5 lbs. had been nabbed. Clothing had been surveyed. What I found most galling was that a sizable stack of magazine porn in the back of a closet had been sorted. All the straight stuff — hand-me-downs from Dad — was gone. All the gay stuff — my own budding collection — remained, strewn about the floor.
The icing on my Christmas cake came after I phoned the police, upstairs on my neighbors' phone. (Remember, I no longer owned one.) I tried to calm down before the police arrived by walking the dog in the alley behind the house. Run, while pretty timid, at least looked very intimidating so I was comfortable walking in the same alley the robber had just been in. I thought I might even find some bit of my belongings dropped during the haul. While I found nothing, Run seemed to find something of great interest and began rolling around in the dark grass before I could stop him. Back in the light of apartment, I could see that what he'd discovered was a scintillatingly scented pile of shit he could not resist. Why he chose this horrible night to express this never before (and never after) evidenced fetish I do not know. Scrubbing feces off my dog in the bathroom of my ransacked apartment did, at least, give me a measure of poetic closure.
After filing my report with the police, my friends arrived. I tried to soldier on, but my heart wasn't in it. About a third of the way into It's a Wonderful Life, I gave up. I'd seen it before. I knew the uplifting ending to come, and I wanted no part. Aside from channel-surfing snippets, I've maintained this boycott.
Here I am, nearly 20 years later, and I'm still scared. I can't imagine driving the half hour from my mom's house to Tampa Theatre to see this movie without also imaging a car crash. Or a theater fire. Or her home being robbed while we're at the movie.
Despite hardships, deaths, all the rest, I've learned the lesson that it is a wonderful life. I've also learned that, like President Roosevelt said, we've nothing to fear but fear itself. I don't put much stock into angels getting wings when bells ring, but I know that my own wings get a bit stronger with every fear I overcome. So perhaps this is the year to conquer another and stick it out with Jimmy Stewart and Donna Reed. If I get scared, I'll hold my mother's hand.