When Maryland's equal rights organization, Equality Maryland, approached democratic State Senator Gwendolyn T. Britt in September about being a lead sponsor of a bill that would legally recognize same-sex marriage in the state, she did not hesitate to sign on.
Britt, a Civil Rights activist and native of Washington D.C., had been fighting for equality all of her life.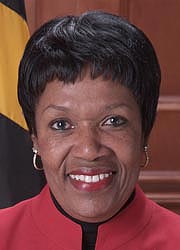 Gwendolyn Britt from msa.md.gov site
On Saturday, January 12, Britt succumbed to heart failure or stroke, at Doctors Community Hospital in Lanham, Md., according to her husband, Travis Britt. She was 66.
In the '60s, long before becoming State Senator of Prince George's County (District 47), she was arrested and jailed on more than one occasion for breaking Jim Crow segregation laws in Glen Echo, Md., and Jackson, Miss.
"She was the real deal," said Dan Furmansky, executive director of Equality Maryland, in an e-mail message. "When she sang 'We Shall Overcome' at Equality Maryland events, it was a harkening to a time when she was struggling to be treated as a human being worthy of sitting at a lunch counter or drinking from a water fountain."
"Her fight for civil rights never abated," Furmansky added.
In addition to Britt's latest effort to restore voting rights to ex-felons, Furmansky said she was "excited to take the lead on sponsoring a marriage bill in the Maryland Senate."
The Religious Freedom and Civil Marriage Protection Act, which was sponsored by Britt in the Senate, along with Del. Victor R. Ramirez (D-Prince George's County) and Del. Benjamin S. Barnes (D-Anne Arundel and Prince George's County) in the House, would allow any "two people" to legally wed, in addition to allowing churches in the state the right to marry any two individuals, including same-gender couples.
The bill is slated for introduction this week, according to Equality Maryland.
Furmansky, who describes Britt as a "beautiful and warm human being," said that while the GLBT community has lost one its biggest allies, the fight for equal rights shall continue.
"This is a devastating loss, but civil rights struggles are greater than any one person, and as our fight for equality in Maryland continues, her spirit will be with us."