In the summer of 2005, HBO's Six Feet Under ended on a haunting note, with its characters' deaths foretold in a montage that un-spooled to the ethereal tune of "Breathe Me." In short order, the series' second and final soundtrack became a bestseller, and the song became so popular that the artist album from which it originally came was primed for release stateside. (Australian singer Sia Furler's Colour the Small One had been released elsewhere in 2004.)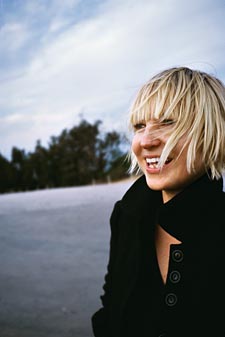 Better late than never: Sia
It didn't help that Astralwerks waited to release the album nearly half a year after the series' finale and many months after the single charted. That's too long for a short attention-span pop culture, when so many other artists are clamoring for their five minutes of fame. Though Sia's subtle music has also soundtracked other TV series, including Grey's Anatomy, two years have come and gone and this is probably the first time you've heard her name again.
You're hearing her name again thanks, improbably enough, to both Starbucks and Perez Hilton. Hilton linked from his popular blog to Sia's quirky video for infectious single "Buttons," which is the "hidden track" on her new album. And that album, Some People Have REAL Problems (




), which was passed over by Astralwerks, has been released by Hear Music, the music label with the built-in buzz machine from a certain ubiquitous coffee chain.
Her last album was noteworthy if not a bit too studied and sleepy. But her latest definitely deserves the wider exposure it's promised to get via Starbucks. Sia is much more of a presence on this album, both as a singer and as a songwriter. Most of the time Colour the Small One sounded serious, with songs constructed with intricate and delicate instrumentation. They seemed focused on sounding polite and gorgeous.
By contrast, Some People Have REAL Problems makes you admire how creative and clever — even cheeky — Sia is. On "Academia," her lyrics are intentionally a "cryptic crossword" — of course, here and elsewhere her cloudy and contorting delivery doesn't help make the puzzle any easier to solve. One of two tracks to feature Beck on backing vocals, "Academia" is a sweet song about the limits to language and learning. What's really needed is love. "It appears to me the pen has over-analyzed again," she sings. "If you are five words you are: afraid to be the one… If I am four words then I am: needing of your love."
She knows how to impress with intricate music-making and smart lyric-writing throughout the new album. First single "Day Too Soon," a love letter to someone who came at precisely the right moment in her life, is nearly as gorgeous as was "Breathe Me." Sia has found her muse. Increasingly, you may find her to be yours.
Advertisement

| | | |
| --- | --- | --- |
| Sia: Some People Have Real Problems | Juno: Soundtrack | Olivia Newton-John Live (DVD) |
Before Australia gave us Sia, it gave us Olivia Newton-John. And Newtown-John is still giving it to us, at least if you're of a certain age and appreciative of her dated repertoire of hits, including "Physical," "Xanadu" and "Heart Attack." Her audio-visuals are nearly as dated on the DVD Live at the Sydney Opera House (


), despite its stunning and superb locale. In between her concert numbers, the filmmakers follow her on a tour of Australia, showing places of significance to her and her family, but mostly just showing her being adored by fans — just in case, you know, you forgot she's still recognizable.
Newton-John, who will be 60 in September, can also still hit piercing high notes, in a voice still as glassy and bright as you remember it. But the concert itself is mostly a bore, with merely serviceable accompaniment and arrangement from the Sydney Symphony Orchestra. And then it gets downright embarrassing: Newton-John projects dolphins swimming on a screen overhead while performing the hokey "The Promise (The Dolphin Song)." She introduces the performance as a way to demonstrate concern for the environment. Go Flipper go! Now that's entertainment!
From YouTube: Sia – Buttons