When Rev. Christine Wiley took her turn to speak at a recent HIV/AIDS town-hall meeting called to address the alarming data recently cited in a report from the District's HIV/AIDS Administration, she took her cue from Jesus and offered her "righteous indignation."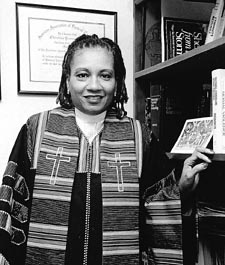 Rev. Christine Wiley
Wiley pointed to ongoing stigmas, a lack of serious response to HIV in the District from some of her fellow clergy, and other pieces of the HIV puzzle in the nation's capital. She explained that some of her indignation comes from always seeing familiar faces at these HIV/AIDS meetings, not having found ways herself to break into the top-tier hierarchy of many of the city's black churches. It's a realm where she and her husband and co-pastor, Rev. Dennis Wiley, offer one of District's exceptions, rather than the rule.
"Over the last 23 years, we have made it our mission to open minds, to meet people where they are," she says today of the job with which she and her husband have charged themselves, as well as their Covenant Baptist Church. "[Our congregation] voted to become an 'inclusive' congregation. That's almost an oxymoron in the black church….
"And especially when we look at the issue of AIDS," she continues, "it's a pandemic in the black diaspora across the world. Continuing to have a very conservative theological stance, especially concerning the issue of homosexuality, that's one thing. But how do we deal with AIDS? What are we going to do about that? Because the African-American community has quite a stigma on both AIDS and homosexuality."
The topic comes to the fore by design on National Black HIV/AIDS Awareness Day, Thursday, Feb. 7. For Wiley, one day doesn't necessarily mean much, considering she lives a "black HIV/AIDS awareness" life. Consider that it must, after all, be a relatively small club of clergy who have had themselves tested for HIV repeatedly in front of their parishioners. And it's a "lifestyle," to borrow a phrase from some who would likely not agree with Wiley's theology, she's been living for some time.
"I was in seminary at the same time I was working at the South Community Health Center on the grounds of D.C. General [Hospital]. Many of the clients were in the hospital with this new disease," recalls Wiley, who earned a doctorate in pastoral psychotherapy, tracing the years back to the dawn of AIDS in the District. She says the onus fell to her as clergy to lead in showing compassion. "[Co-workers] were afraid to go and see them, because nobody knew much about [HIV/AIDS]. But they knew I was a minister, so they would ask me. I didn't know much about it either, but I felt the need to embrace those patients. And they were literally disappearing before my eyes each time I would go to see them….
"I would embrace people, but I didn't know much about it. But I also felt it was the right thing to do. When you look at Jesus, he always touched people. He touched those people most said were 'untouchable."'
Wiley may not have known then that the District's battle against HIV was just beginning, and that it was going to come knocking on her Anacostia church's door. In the early 1990s, the roof collapsed on Whitman-Walker Clinic's Max Robinson Center, also in Anacostia. As the saying goes, when God closes a door, in some way he opens a window.
"It was one of the coldest Januaries we've had," remembers Wiley, going back to the beginning of her relationship with the Max Robinson Center. "They called us, and my husband said, 'Certainly you may come.' They had the bottom floor of the church. It turned into a really wonderful relationship, because we were in the midst of developing our AIDS ministry. It was really something that helped us keep AIDS in front of the congregation. We couldn't objectify it.
"It was a good relationship, and we've continued it over the years. I continue to do a spirituality group there every week."
From her days at D.C. General to today, Wiley continues to go against the grain of convention, pushing for HIV testing in her church regularly, gently nudging even the eldest "church ladies" to get tested as an example to younger congregants. Wiley is the first to attest that while many religious communities may embrace convention, that's not the path that she and her husband have found brings them closer to God.
"We are very clear — and probably most of our colleagues do not agree with us — that we do not believe homosexuality is a sin. We do not believe that the condition of homosexuality was addressed in biblical times at all, because they were talking about behavior. They were not talking about an orientation. They were not talking about same-gender-loving relationships.
"As I say that, I'm aware that there will be a hundred other black ministers who would not agree — white ministers, too. But we believe that we're bringing forth the Gospel. We believe that we are sharing our faith, and witness the way Jesus Christ would have us do. People criticized him for all the people they felt he was hanging out with who were undesirable people: those people with leprosy, people who they felt were stealing money, tax collectors, prostitutes. And the only people he criticized and called hypocrites were the religious people."
For more information about National Black HIV/AIDS Awareness Day, including local events, visit www.blackaidsday.org. For more information about Covenant Baptist Church, visit covenantbaptistdc.org or call 202-562-5576.