As the mysterious caller asked the isolated teenager: Do you like scary movies? If you do, then you've probably already seen everything that takes place in the Spanish-language film, The Orphanage (El Orfanato). But see it again. Because in the hands of director Juan Antonio Bayona, it's much more masterful and artful than most thrillers out there.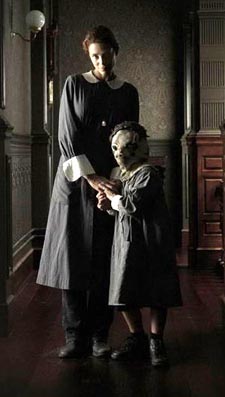 Lonely child: The masked kid.
Boosted by the fame of executive producer Guillermo del Toro, director of last year's hit Pan's Labyrinth, The Orphanage is also a creepy yet visually gorgeous film that blurs the lines between reality and other worlds. To be fair to director Bayona, it's more accurate to call The Orphanage a horror film rather than a scary movie. The film is simply horrifying; you're less likely to jump out of your seat than you are to be stricken by the horrible events transpiring.
Laura (Belén Rueda) returns to the orphanage of her youth with husband Carlos (Fernando Cayo) and young son Simón (Roger Príncep) intent on turning the rotting mansion into a home for youth with special needs. In a heartbreaking turn, Simón is actually one of these children, adopted by Laura and Carlos and stricken with a life-threatening virus. Soon after arriving at the house, Laura begins to worry that Simón's imaginary friends are too real. The question of just how real they are is what makes a horror film. When Simón disappears, Laura is thrust into a living nightmare where reality and fantasy are separated by a line just as thin as the line between sanity and insanity.
Orphanages and hospitals are quickly replacing Indian burial grounds as the place for hauntings and general multi-dimensional shenanigans. The locale is perfect for the echoes of children running through halls and mysterious sightings such as the little boy in a frightening mask that appears out of nowhere. What saves The Orphanage from being a cliché is the careful direction of Bayona and the exceptional performance by Rueda.
Bayona does an excellent job at slowly increasing the tension. Rather than try to shock you with things jumping out of the dark, he methodically guides Laura through a slow, downward spiral into a world that could be filled with spirits or just her own mind unraveling. Though he relies on some of the same shots over and over again — waves crashing on the rocks, for instance — he ably turns Laura's idyllic surroundings into a menacing landscape.
Rueda's portrayal of Laura is measured by the same temperance. Her determination as a mother frantic to find her son drives her to the edge and to do the things that, while central to all horror films, normally would be idiotic. The scantily clad teenager going to explore the mysterious noise is ridiculous; the mother intent on recovering her son is compelling. Rueda conveys desperation with a powerfully convincing performance.
As the young Simón, Príncep is both adorable and a little creepy. While leading his mother on a scavenger hunt around the old house, he is filled with pure joy; when calmly explaining to his mother that he will never grow old, he demonstrates a maturity beyond his age.
THE ORPHANAGE

Starring Belén Rueda,Roger Príncep
Rated R
100 Minutes
Subtitled
Area Theaters
For all its fine qualities, The Orphanage is still ensconced in its genre and some of the tried-and-true horror film components cause unintentional laughs. For example, when Laura is introduced to a medium who is brought into the house to look for Simón, it's impossible not to expect short, stout Zelda Rubinstein from Poltergeist to walk in looking for Carol Anne. Simón, entrar en la luz!
Like many horror films, The Orphanage has a surprise twist ending. Though echoes of The Sixth Sense can be heard, The Orphanage's final moments are filled with events that are both terrifying and terrible. It's possibly one of the most fitting endings to a film in this genre in many years — and actually transforms the film into a story of love rather than just another thriller. And it's this twist that actually makes the film all the more haunting.