Fair? Hardly. This Lady is fabulous.
From the first note to the last, My Fair Lady, now in the Kennedy Center Opera House, is a wonderful theatrical experience. Visually stunning, incredibly staged and beautifully sung, there is little to find fault with in this production from Cameron Mackintosh and The National Theatre of Great Britain. Renowned director Trevor Nunn has taken Lerner and Loewe's beloved musical and given it new life with a stellar cast.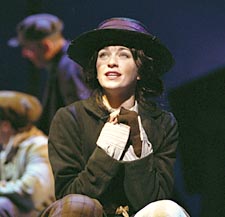 Based on George Bernard Shaw's play Pygmalion, My Fair Lady is the well-known transformation musical of Eliza Doolittle (Lisa O'Hare), a poor flower seller who's taught to behave like a prim and proper lady. Her mentor, when describing him charitably, is the overbearing phonetics professor Henry Higgins (Christopher Cazenove). Higgins accepts a challenge from Col. Hugh Pickering (Walter Charles) to recreate Eliza and the end result is a complete makeover, revealing the heart of gold that was overshadowed by her cockney accent. But while Eliza has changed, the world around her has not. The ultimate question is one of belonging. Is it with her suitor Freddie (Justin Bohon), with Prof. Higgins, or on her own?
O'Hare and Cazenove are wonderfully cast as the leads. O'Hare, who's also portrayed Mary Poppins on stage, stands up to Julie Andrews' formidable stage legacy as Eliza, filling the role with spunk, utter excitement and steely determination to improve herself. O'Hare's voice resonates strongly through the theater whether it be wistfully in "Wouldn't It Be Loverly?" or brimming with joy in "I Could Have Danced All Night." Opposite O'Hare, Cazenove is equally powerful, infusing just enough heart into Higgins to make his otherwise callous character understandable.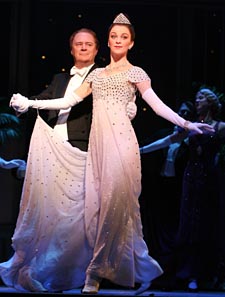 The entire scene at the Ascot racecourse, Eliza's first test run in public, is by far the most comical of the show. Starting with an elaborate dance number featuring the cast in high fashion wear, Eliza's entrance in the hat from hell (or, as the old Eliza would say, "the 'at from 'ell") is fantastic. Her introduction and experience at the races is superbly staged, eliciting laughs and gasps as she both charms and alarms her companions. When compared to Eliza and Higgins' confrontation at the end of the show, it's evident the two have chemistry that extends to both mirth and ire.
As wonderful as O'Hare and Cazenove are, it's Tim Jerome as Eliza's father, Alfred P. Doolittle, whose numbers steal the show. Choreographer Matthew Bourne turns "With a Little Bit of Luck" into a scene out of Stomp with clashing dustbin lids and other odd instruments, almost bringing the show to a halt with audience cheers. The equally mesmerizing "Get Me to the Church on Time" rounds out his story with another outstanding performance.
Pickering's sexuality is played up to elicit additional laughs, questioning whether his interest in shopping is for Eliza or for himself. It's a joke that Charles plays more as a subtle wink than an overdone gag. Bohon plays Eliza's admirer Freddie with undisguised glee. Though overpowered by the orchestra at times, his rendition of "On the Street Where You Live" is filled with passion.
In addition to the wonderful numbers and precise choreography, designer Anthony Ward has created an amazing world for the play. His sets are visually stunning, transforming the stage seamlessly from Higgins' study, to the street outside, to the racecourse, and back to the study. The study, initially a mammoth, multi-level room for Eliza's tutoring, ends up feeling small and cramped when compared to the wide-open spaces Eliza eventually explores. Ward's costumes are equally marvelous at capturing the period with extra flair added to make them really sparkle.
At the heart of My Fair Lady lie a number of weighty themes, including the treatment of Eliza and the greater role of women in society. Eliza's trials and her ultimate fate, which certainly leaves great room for debate, is not to be lost in the amazing show and production.
If My Fair Lady is the first show you see this year, you're going to be hard pressed to find its equal. But you might as well start off the theater year right.